5 Best Passive Income Streams for Retirees To Gain Wealth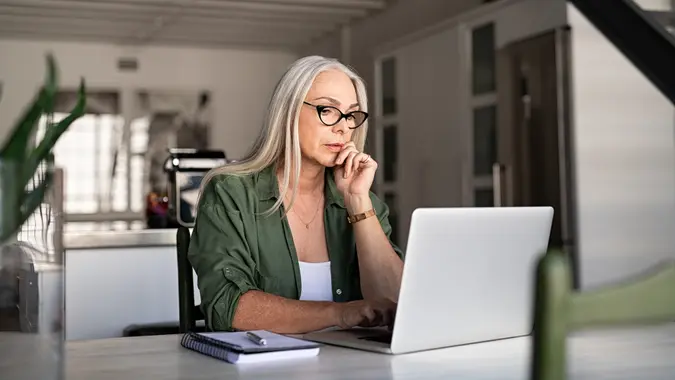 Ridofranz / Getty Images/iStockphoto
With inflation and the cost of living on the rise, retirees are feeling the pressure to make ends meet. In fact, some investors today say they'll need as much as $3 million saved up to comfortably retire.
Don't have millions in the bank? That's alright — there are plenty of ways for a retiree to build wealth without going back to the workforce. It's never too late to start earning passive income and grow your retirement savings. This guide will walk you through five profitable passive income opportunities for retirees to gain wealth. 
5 Simple Passive Income Streams
Real estate investments — Earn through REITs or by buying properties directly. 
Writing and self-publishing a book — Get paid royalties for each sale.
Airbnb and short-term rentals — Earn rental income without being a full-time landlord. 
Peer-to-peer lending platforms — Invest in P2P platforms and earn interest. 
Starting a blog — Earn commission through ads and sponsored content. 
1. Invest In Real Estate
Real estate investment can be a full-time job.
However, you don't have to be a full-time professional to dip your toes in real estate investment. You could invest in a real estate investment trust or use an investment app to get started. If you have room in your budget, buying and flipping a house can also be a great way to earn extra cash. 
Are You Retirement Ready?
Take Our Poll: As a Retired Person, Are You Comfortable With Your Monthly Income?
2. Self-Publish an eBook
Love to write? You can earn passive income by writing and publishing your own book. 
Traditional publication routes take a long time and aren't guaranteed. But self-publication is increasingly accessible. You will have to do a lot of the legwork yourself — that includes writing, editing and marketing — so this option is best for a creative person who enjoys working on their own. 
When you publish an eBook through Amazon, you can earn up to 70% royalties on each sale. With enough sales, that can turn into a steady stream of passive income. To get started, you might want to invest in a self-publishing service that will help with marketing and get your first book off the ground. 
3. Rent Your Property on Airbnb
You don't need to be a real estate mogul to gain wealth with rental properties. If you have an ADU, basement apartment or spare room, you could potentially earn over $9,000 per year as an Airbnb host. 
Are You Retirement Ready?
Hosting Airbnb guests takes a little overhead investment. You'll want to keep your rental space clean and well-stocked, and it might be worthwhile to invest in new furniture or renovations. As your guests leave positive reviews, your space will become more attractive to new renters. 
If Airbnb isn't your thing (not everyone wants guests coming and going all the time), consider renting your space to short-term tenants like traveling nurses. That way, you can earn rental income without the full-time commitment of being a landlord. 
4. Invest In Peer-to-Peer Lending
Peer-to-peer (or P2P) lending offers an alternative to traditional bank loans. These platforms connect borrowers directly with lenders. With P2P lending, you can fully or partially fund a loan and earn interest as it's paid back. There is some risk of the borrower defaulting, but that risk is minimized if you invest across a diverse portfolio. 
The best P2P lending platforms allow investors to buy shares in multiple loans and earn a steady return over time.  
Are You Retirement Ready?
5. Start a Blog
Another good option for a retiree who loves to write, consider starting a blog. It can be about your family recipes, local history, travel experiences, diet, exercise or any other niche. Successful bloggers can earn extra money every month with ads and sponsored content. 
Of course, it takes some time and a lot of posting before your blog is profitable. But if you enjoy writing and have the time, this can be a fun way to earn some extra spending money or boost your retirement savings.
Final Take: Take Advantage of Passive Income Opportunities
There are plenty of ways to continue growing your wealth after retirement. Whether it's an investment, rental income or a creative pursuit like self-publishing, you should take advantage of every passive income opportunity that fits your lifestyle. The more you earn, the more you'll be able to enjoy your retirement. 
More From GOBankingRates
Are You Retirement Ready?
Are You Retirement Ready?