Best and Worst States for Senior Care

8 min Read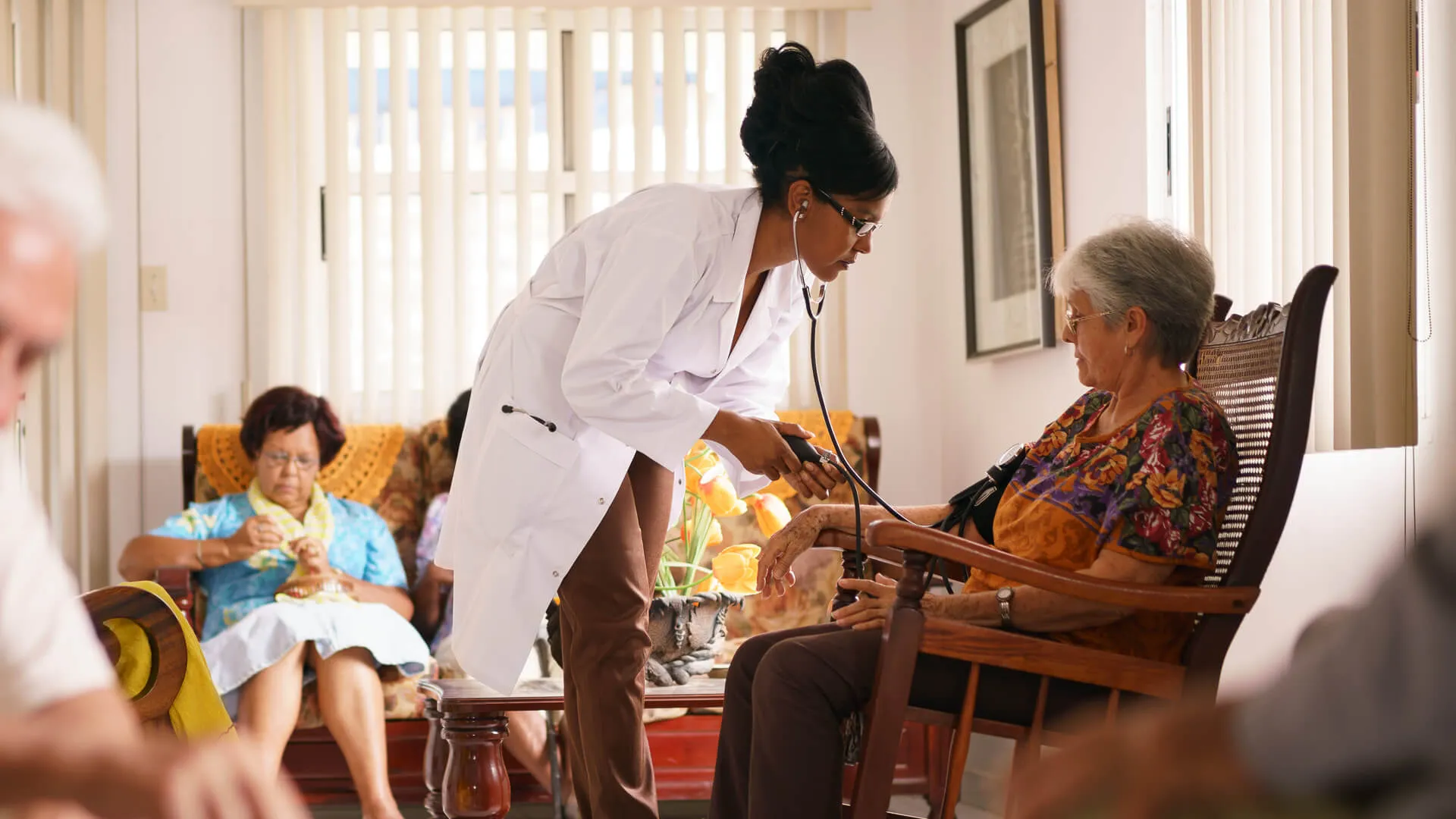 The cost of elderly care is downright frightening. From home healthcare to assisted-living facilities and nursing homes, it is not cheap — and it could make a large dent in your retirement savings.
GOBankingRates has identified the best and worst states for senior healthcare by averaging the monthly costs of six critical needs: home healthcare, home health aid services, adult day healthcare, assisted living and semiprivate and private-room nursing homes.
Retire somewhere that won't break the bank if you need healthcare. Here are the 10 best and worst states you can move to, according to the average cost of senior living. If you don't want to go broke paying for long-term care during your retirement, consider a move to a state that's more affordable.
What Is the Average Cost of Senior Healthcare in the US?
In May 2017, GoBankingRates determined the national median monthly cost of six services seniors typically need at some point, based on the 2016 Genworth Cost of Care Survey. Here are the national costs for those services:
Home healthcare: $3,813
Home health aide services (including homemaker services): $3,861
Adult day healthcare: $1,473
Assisted living: $3,628
Semiprivate room nursing home care: $6,844
Private-room nursing home care: $7,698
Don't Miss: The Average Cost of Senior Care in Every State
No. 10 Best: Tennessee
Just one state in the top 10 has an average cost that passes the $4,000 mark, and that's Tennessee. The $3,780 price tag for assisted living is the only service across all six categories that Tennesseans can expect to pay more for than the national median.
No. 9 Best: Kansas
In Kansas, residents can expect to match the national median cost of home health aide services and homemaker services. Kansas makes the list, however, because residents get a significant break on private nursing home rooms, which are among the cheapest in the country.
Don't Miss: Major Medicare Changes Coming Under the Trump Administration
No. 8 Best: South Carolina
Residents of South Carolina enjoy less-expensive prices — across all six categories — than the national median costs. Older residents in the state save the most when it comes to adult day healthcare and private nursing home rooms, the latter costing almost $1,000 less than the national median.
No. 7 Best: Georgia
Georgia has cheaper costs than the national median for all six services. Georgians also enjoy savings of more than $1,000 for private and semiprivate rooms in nursing homes. Home health aide and homemaker services are also significantly less expensive.
No. 5 Best: Texas
Rounding out the top five is Texas, where residents enjoy lower prices across the board. The state's average cost is a low $3,650, thanks mainly to big savings in private and semiprivate nursing home care — and its $715 for adult day healthcare is the country's second cheapest.
No. 4 Best: Alabama
In Alabama, senior living costs are forgiving in several categories, including a remarkably cheap $2,900 a month for a stay in an assisted-living facility. The real savings, however, are found in adult day care, which is $596 per month, and which is the cheapest in the country, making Alabama one of the best states in which to retire.
No. 3 Best: Oklahoma
Reasonable costs for assisted-living facilities help the state rank high on this list, but savings in nursing home care are the most dramatic. Private rooms are $2,600 cheaper than the national median, and semiprivate rooms are $2,400 cheaper.
No. 2 Best: Missouri
Although Missouri is near the top of the list, residents there actually pay more for adult day healthcare than the national median price. Missourians enjoy in all other categories, however, particularly for semiprivate-room nursing home care, with rates only two other states can beat.
No. 1 Best: Louisiana
Although cost isn't the only factor in determining the best retirement cities and states, it's definitely a major consideration. Louisiana tops the "best" list, thanks in large part to its homemaker services price — $2,908 — which is lower than all 49 other states and the District of Columbia.
That's not the only category that makes Louisiana the most attractive state for older Americans, though. Residents of the state enjoy costs that are cheaper than the national median in all but one category: adult day healthcare.
Related: Secrets About Retiring That No One Wants to Talk About
No. 10 Worst: Delaware
Delaware residents can expect to pay less in just one category out of six: adult day healthcare. They pay more for everything else — and they get clobbered in nursing home care, which costs more than $9,500 for private and semiprivate rooms.
No. 9 Worst: New Hampshire
Residents of New Hampshire don't get a single break in any category — all six services are costlier than the national median. Nursing home care, however, is where costs really sting. Semiprivate and private room nursing home care are among the costliest in the country — the cost for a private room is more than $10,000 per month.
No. 8 Worst: New Jersey
New Jersey residents pay more in every category of services. Private nursing home rooms cost even more than they do in New Hampshire, and semiprivate-room costs aren't far behind. New Jersey is the first state on the list with average costs that exceed $6,000.
No. 7 Worst: New York
Semiprivate and private nursing home rooms run deep into five-figure territory in New York — a private room costs a whopping $11,330. That's not the state's only pitfall, however: New Yorkers pay more than the national median in all categories. If you live here and plan to stay, look into reducing your healthcare costs any way you can.
No. 6 Worst: District of Columbia
The No. 6 most expensive state in the country isn't a state — it's the District of Columbia, where residents of the nation's capital pay $6,700 to stay in an assisted-living facility, which is highest rate in the country. Five-figure nursing home care costs — for both types of rooms — don't help D.C.'s standings, either.
No. 5 Worst: North Dakota
In North Dakota, semiprivate-room nursing home care costs more than private-room care, a unique peculiarity. But that's not what lands the state a spot among the nation's top five most expensive. Assisted living is the only category in which North Dakotans fare better than Americans on average — everything else costs more.
No. 4 Worst: Hawaii
If your dream is to retire in exotic Hawaii, you'll get a break on the price of adult day healthcare — $10 to be exact — compared with the national median. Everything else costs more — much more when it comes to nursing home care. Both private and semiprivate rooms are among the priciest in the country.
No. 3 Worst: Massachusetts
Adult day healthcare is slightly less expensive in Massachusetts than the national median cost, but that's where the savings stop. Residents of the state pay far more for care across all other categories, with the cost of a private nursing home room at more than $12,000.
No. 2 Worst: Connecticut
Connecticut residents pay more for nursing home care than virtually anyone else in the country. Semiprivate rooms cost more than $12,000, and the cost of private rooms jumps to more than $13,000. Assisted living and adult day healthcare costs are also high, but as No. 2 on the list, Connecticut residents know it could be worse if they lived in Alaska.
No. 1 Worst: Alaska
Alaska's median homemaker services cost is tied for highest in the nation. Adult day healthcare is far and away the costliest in America — as is the cost for nursing home care, with private and semiprivate rooms topping the charts at more than $24,000 each.
Costs in the Other States
Twenty-four states have an average cost for senior care that ranges between $4,000 and $5,000 per month, which is what you can expect to pay for senior care in most of the country. But if you happen to live in one of the states with more unforgiving senior care costs, visit the AARP website for tips on living on a budget during your retirement. If you're not quite there yet, the AARP also provides comprehensive information on how to save for retirement.
Next Up: From Healthcare to Groceries: Brilliant Ways Seniors Can Save Money
Methodology: GOBankingRates assessed the cost of elderly care in every state by finding the average, monthly cost for six critical services: (1) home healthcare, (2) home health aides — including homemaker services — (3) adult day healthcare, (4) assisted-living facilities and (5) private- and (6) semiprivate nursing home rooms. Because virtually everyone would require one of these six services, GOBankingRates used the average cost for individual services in the state, not the sum of all six services.
About the Author