Can You Retire in Thailand for Less Than $2,000 a Month?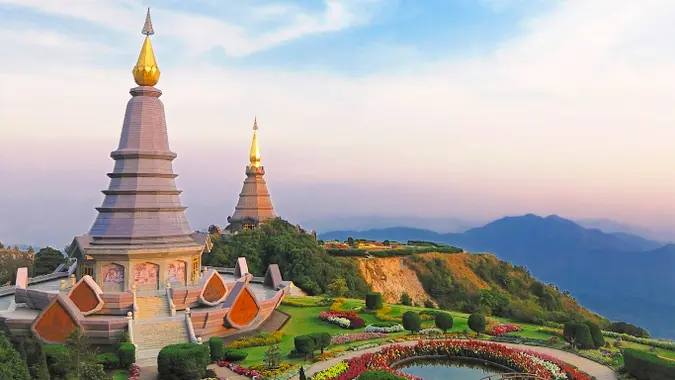 phittavas / iStock.com
With its lush landscapes, rich culture, and a cost of living that promises more for less, Thailand has increasingly become a hotspot for retirees from around the globe.
The question that frequents the minds of many considering this Southeast Asian paradise for retirement is: Can one feasibly retire in Thailand with less than $2,000 a month?
Housing: A Spectrum of Affordable Options
An essential factor when considering retirement abroad is the cost of housing. Thailand offers a wide array of options, from city apartments in bustling Bangkok to serene bungalows in Chiang Mai or beachfront properties in Phuket. On a budget of $2,000 a month, retirees can secure comfortable housing for anywhere between $300 to $700 per month, depending on location and amenities.
Food: A Culinary Adventure on a Budget
Thai cuisine is renowned for its explosion of flavors and availability at every corner. Street food is not only a cultural experience but also a highly affordable dining option. A meal from a street vendor may cost as little as $1-3, while dining in restaurants may range between $5-15 per person. Thus, indulging in the local cuisine and even occasional western dining is easily manageable within a $2,000 monthly budget.
Healthcare: Accessible and High-Quality
Thailand is celebrated for its high-quality healthcare at comparatively lower prices than Western counterparts. Health insurance is vital for retirees, and varied options tailored to different needs and budgets are available. Comprehensive health insurance may cost anywhere from $100 to $300 per month for retirees, depending on the coverage and the individual's health status.
Are You Retirement Ready?
Transportation: Efficient and Economical
From tuk-tuks and taxis to the BTS Skytrain in Bangkok, transportation in Thailand is widely available and reasonably priced. Monthly costs for local transportation can be kept under $100 for retirees who utilize public transportation and occasional private transport services.
Lifestyle and Entertainment: Enriching and Affordable
Thailand presents a myriad of lifestyle and entertainment options that can suit varied interests and budgets. From exploring local markets and historical sites to joining clubs and expat communities, the possibilities are ample and often affordable. Allocating $200-300 monthly towards entertainment and social activities would allow retirees to immerse themselves in the local culture and community.
Unexpected Costs: Planning for the Unforeseen
It's crucial to budget for unexpected costs, such as home repairs, healthcare needs, or unplanned travel. Having an emergency fund and allocating a monthly buffer of around $200 will ensure that retirees are prepared for unforeseen expenses.
Putting It All Together: A Feasible Financial Picture
Housing: $300-$700
Food: $150-$300
Healthcare Insurance: $100-$300
Transportation: $50-$100
Lifestyle and Entertainment: $200-$300
Unexpected Costs: $200
On the lower end, these costs can total around $1,000, leaving ample room within a $2,000 budget for additional spending, saving, or investing.
Thailand, A Viable Option for Budget-Friendly Retirement
Retiring in Thailand for less than $2,000 a month is not only feasible but can also offer a comfortable and enriching lifestyle for retirees. With affordable living costs, diverse experiences, and a welcoming culture, Thailand presents a viable option for those seeking a budget-friendly, yet vibrant retirement abroad.
Nonetheless, thorough research, financial planning, and a clear understanding of visa regulations and legalities are vital in ensuring a smooth and joyous retirement in the Land of Smiles.
Are You Retirement Ready?
Editor's note: This article was produced via automated technology and then fine-tuned and verified for accuracy by a member of GOBankingRates' editorial team.
More From GOBankingRates