I'm a Financial Planning Expert: These 6 Choices Could Derail Your Retirement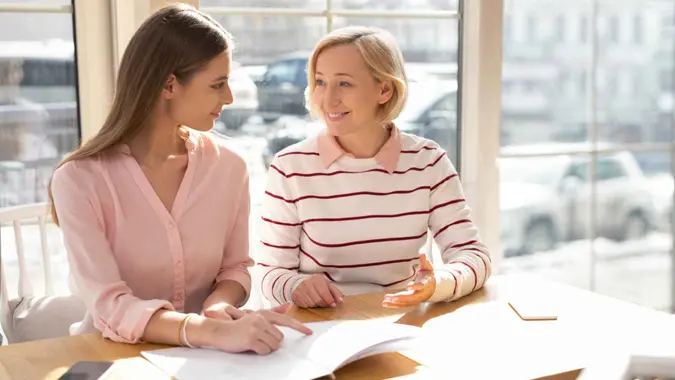 yacobchuk / Getty Images/iStockphoto
As you think about your retirement, you may wonder about the choices you'll have to make while you're still working to ensure you have a comfortable life when you stop. Unfortunately, many choices could derail your retirement if you don't correct them while you're still young enough.
The good news, however, is that you can correct them after reading this article. Here are six choices that could derail your retirement if you're not careful.
Financing Your Adult Children
Finance expert Suze Orman believes those close to retirement need to accelerate the process by not financially supporting their adult children. Orman has recommended that you notify your children that you're no longer their bank account and that it's time for them to figure out their finances since they're at the appropriate age.
If you want to enjoy your retirement, you have to focus on increasing your contributions as much as possible to have enough income from your investments when you exit the workforce. One of the best ways to do this involves emphasizing your investments instead of trying to support your children. You're going to have to make a few difficult decisions to improve the quality of your golden years. 
Purchasing New Vehicles Frequently
"I think one of the biggest choices that's impacting people's ability to save for retirement is cars," commented Lee Huffman, a personal finance expert at BaldThoughts.com. "People often buy a car that is too expensive and finance it for a longer period of time in order to make the monthly payment more affordable. What used to be a 4-to-5-year loan is now a six-or-7-year loan. And then they trade them in once the car is paid off (or even before). Even worse, they lease cars for a few years and never actually own anything."
Are You Retirement Ready?
So what's the solution to this? Huffman shared what he's doing to prepare for retirement.
"My family buys cars on a five-year loan, and we try to keep them for ten years. That allows us to have multiple years without any car payments where we redistribute that cash to focus on paying down other debt (like accelerating our mortgage payoff) or adding more to our retirement or college savings goals."
To have a more comfortable life in retirement, you have to find ways to save money when you're working to increase your contributions to your retirement income sources. If you're living beyond your means and spending more money than you need to on vehicles, you're only going to derail your retirement. 
Not Investing Enough
Many people aren't investing enough because they're spending frivolously when they should be focusing on increasing contributions. One typical example of spending too much before retirement is allocating funds to eating out and expensive dining that could be used towards speeding up your retirement goals.
"Some people are 'eating' their retirement," according to True Tamplin, a Certified Educator in Personal Finance (CEPF) and founder of FinanceStrategists.com.
How can you avoid this mistake? According to Tamplin, "Spending $100 plus on a nice dinner once or twice a week can add up to nearly $1,000 monthly. If you put $1,000 into retirement savings each month for 30 years, you'll have more than $1 million by the end, assuming a 6% annual rate of return."
Are You Retirement Ready?
While treating yourself occasionally is essential, it's worth reminding yourself that sometimes delayed gratification is the way to go. By sacrificing a little bit today, you can have a better retirement or possibly retire sooner.
You can also review your budget and spending to see if any other problem areas are slowing down your retirement contributions. When you invest more money into retirement during your career, you improve your financial security when you're done working.
Not Investing the Right Way
"In their enthusiasm to grow their retirement nest egg, I've seen investors dive into investment opportunities without adequate research," according to Jeff Rose, CFP and founder of Good Financial Cents. "This often leads them to high-fee funds or investments that don't align with their risk profile. In one extreme example, an investor poured $200,000 into a private REIT without understanding the huge risk, only to lose it all. Such decisions not only hinder the growth of their portfolio but can also introduce unnecessary financial stress."
The allure will always be there to take significant risks, but it's critical that you work with a tax specialist who can assist you with risk tolerance and balancing your portfolio as you get closer to your retirement. You don't want to derail your retirement because you took unnecessary risks. As your retirement age gets closer, you will also want to assess your risk tolerance because you don't want these mistakes near the finish line to hurt your chances of a comfortable retirement.
Retiring With Debt
One of the biggest issues preventing people from enjoying their golden years is retiring with debt. This could happen because you accumulated too many things or expenses in your working years.
Are You Retirement Ready?
While there's an endless debate when deciding between investing your money and paying down your debt, it's worth considering emphasizing tackling debt when interest rates are high.
Not Maximizing Employer Matches
It's essential that you sign up for the 401(k) that your employer offers and that you take advantage of the matching if it's available to you. For those who work in a company with a respectable matching program, you're earning free money for your retirement.
While you should consult a tax professional about maximum contribution limits, it's important that you don't miss out on this opportunity.
Closing Thoughts
If you're planning for retirement, then it's important that you start making the right decisions earlier in life. You will want to avoid making the choices mentioned in this article if you don't want to derail your retirement.
More From GOBankingRates