5 Creative Ways ChatGPT Could Help You Retire Early, According to Experts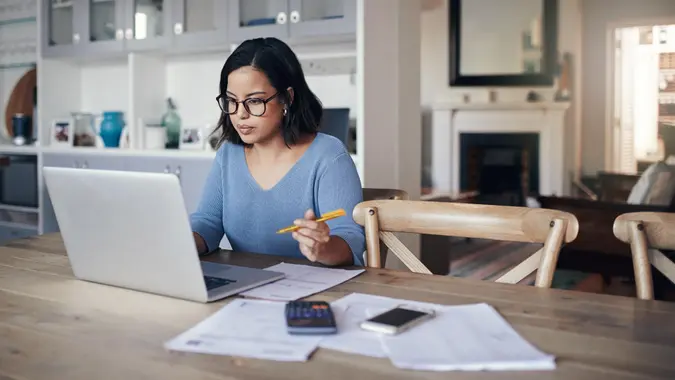 mapodile / Getty Images
ChatGPT, the AI-powered auto-generative text system, has become the new buzzword on Google since its launch in 2022, taking the world by storm with its impressive abilities.
I'm a Financial Planning Expert: 9 Things You Should Never Buy If You Want To Retire Early
Learn: 3 Ways To Recession-Proof Your Retirement
Not only can the chatbot write code, translate texts and provide personalized recipe recommendations, it can even help you escape the 9-to-5 rat race early.
Here are a few unique ways you can use ChatGPT to achieve financial freedom and retire on your terms. 
Create a Lucrative Printables Business
If you're looking to explode your income and reach your retirement savings goal early, consider starting a printables business using ChatGPT.
Becky Beach, a financial blogger and AI enthusiast, has personally used this strategy to help her reach five-figure months. By using ChatGPT in conjunction with free design tools such as Canva to create printable workbooks to sell on Etsy, she began earning an impressive $10,000 a month selling these digital products in her blog's online store. 
Learn: 5 Ways To Use AI To Generate Passive Income
"Anyone can get started with ChatGPT to create printables," she said. "All you do is ask it to write you questions for your workbook on any topic. Then, take that text and put it in Canva. Create a new document and put each question on one page. Lastly, present the text at the top as a prompt with lines below so someone can write the answer."
Are You Retirement Ready?
Beach encourages everyone to give this method a try.
"I have many people in my membership program who are 50 years old and above making money using my creative AI techniques." 
Example ChatGPT prompt: "Can you create a list of 20 self-reflection questions for a workbook on how to set boundaries?"
Build a Consulting Side Hustle
According to Glassdoor, business consultants in the United States make on average $107,949 a year. Consultants in lucrative industries like technology, sales or investment can cash in even more.
So, if you have expertise in a certain area, consider starting a consulting business to fast-track your early retirement. 
Esteban Pardo from Nuwiz, a small consulting group focusing on AI software development, has found success using ChatGPT to come up with consulting proposals.
"Even though we had to fact-check the text generated by ChatGPT, it helped us generate moderately complex paragraphs with an engaging flow," he said. "Thanks to AI technology, I think it's quite possible to have a consulting side hustle where you use ChatGPT as your personal assistant to draft consulting proposals, saving you time and energy." 
Of course, you can't just start a consulting side hustle without having any knowledge in the area you're consulting in. However, ethically incorporating ChatGPT in your consulting business can be a smart way to streamline your processes. 
Example ChatGPT prompt: "Can you create a consulting proposal template?"
Help You Become a Content Creator
We're in a creator economy, with new opportunities and revenue streams emerging all the time.
Are You Retirement Ready?
To achieve your dream of retiring in your 50s, 40s or even 30s, take advantage of this lucrative and ever-evolving space.
According to Zippia, an online recruitment service, the creator economy is booming like never before. As of 2023, the global creator economy is estimated to be worth an astonishing $104.2 billion, with 43% of content creators making $50,000 or more annually. Even if you don't have many original content ideas, ChatGPT can help. 
Pardo, for example, has found ChatGPT to be a valuable tool for generating content quickly and efficiently.
"Our consulting firm is starting to use ChatGPT to write blog articles and social media posts," he said, "which has made us much more productive."
He believes this AI tool makes becoming a content creator more accessible than ever before. 
Here are a few ways to use ChatGPT as a content creator:
Write YouTube video scripts
Brainstorm SEO blog topic ideas
Create blog outlines, meta descriptions and titles
Generate social media ad copy 
Write daily LinkedIn posts to engage with followers
Example ChatGPT prompt: "Can you write a detailed yet conversational script for my upcoming YouTube video titled: 5 Ways to Skyrocket Your Income This Year?"
Behavioral Finance Coaching 
If you're an impulsive spender, thrill-seeking gambler or shopping addict, the idea of early retirement can seem unattainable. Thankfully, these behaviors can be changed. James Allen, a certified financial education instructor, recommends using ChatGPT to jump-start your journey toward better financial choices. 
"ChatGPT can help users understand and overcome cognitive biases that often lead to poor financial decisions," he said. "It could provide insights into behavioral finance and guide users to make more rational decisions, thereby increasing their retirement savings."
Are You Retirement Ready?
However, it's important to note that ChatGPT is not a trained behavioral finance advisor (BFA), so you should always take its advice with a grain of salt. But if you're on a tight budget and can't afford to work with a BFA, ChatGPT can be a starting point for identifying emotional triggers and improving your relationship with money.
Example ChatGPT prompt: "What are the most common reasons someone becomes addicted to gambling, and what are a few steps the person can take to overcome this addiction?"
Lifestyle Optimization for Financial Freedom
Blake Whitten, financial advisor at Whitten Retirement Solutions, said, "ChatGPT can help optimize your lifestyle to align with your financial goals for early retirement. By analyzing your spending patterns, it suggests cost-saving measures and insights into frugal living without compromising your quality of life." 
For example, it could help you explore alternative living arrangements like downsizing, house sharing, living off the grid or affordable retirement destinations. And, if you're interested in joining the FIRE (financial independence, retire early) movement, ChatGPT can give you ideas on making lifestyle choices and also provide detailed tips on how to free up more funds to invest and achieve early retirement.
But remember: ChatGPT is not a licensed financial advisor. If you need personalized financial advice tailored to your specific situation, it's best to consult a professional.
Example ChatGPT prompt: "How much does living off the grid cost per month in New Mexico? And how much will I need to save if I'm 25 now and plan to retire at 45 to pursue this lifestyle?"
Are You Retirement Ready?
More From GOBankingRates