The Financial Pros and Cons of Moving Into a Senior Community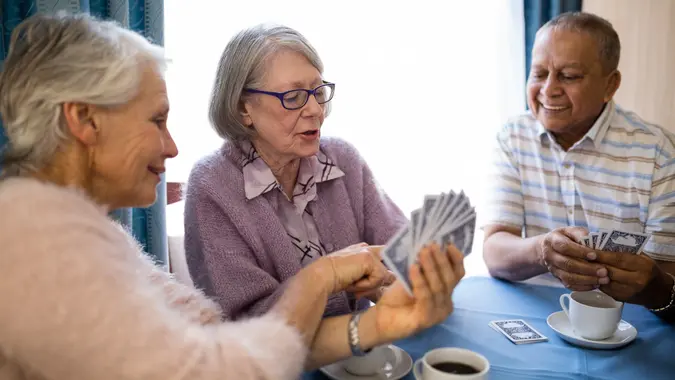 ©Shutterstock.com
There might come a time, as you near retirement age or are retired, that you will want a change of lifestyle. You don't need the big house you had as your children were growing up, and the maintenance that comes with it is now too much. Who needs to mow the lawn or shovel snow or keep putting aside money for major home repairs such as a new roof?
Social Security Schedule: When the First COLA Checks Will Arrive in January 2022Social Security 2022: How the COLA Will Increase Benefits for the Average Senior Couple
If you decide to downsize, you have some options. You could sell your home and buy a maintenance-free condominium, rent an apartment while you figure out the retirement lifestyle that will best suit you or move into a senior living community for those who can live independently without need for medical assistance.
Just what is a senior living community? It's an area geared to people typically ages 55 and older and includes types of housing and amenities that meet their needs.
Are You Retirement Ready?
They come in a variety of shapes and sizes, such as luxury communities, ones tailored toward people of a specific faith, RV retirement parks, and golf and retirement communities. Senior communities often offer organized activities to keep the residents happy and healthy. Some senior living communities are tailored for renters. Others are individually owned homes.
Read More: $1M Is No Longer the Standard Nest Egg – Here's How Much Most Americans Think You Actually Need To Retire
But, financially, is moving to a senior living community the right move to make? There are pros and cons, of course.
The Pros
As with all housing options, the cost of housing in a senior living community will depend on the number of bedrooms, square footage, amenities and location. A Place for Mom, which focuses on senior care, said in an August 2021 report that the median monthly cost of senior independent living in the United States is $2,552. If you buy a home in a senior living community, you likely will have a homeowner's association assessment to cover things such as lawn care. If you live in a rental community, your monthly fee will include extras, such as maintenance, utilities and perhaps even meals.
Are You Retirement Ready?
"A financial benefit of relocating to a senior community is that you won't have to worry about upkeep fees, as much of the community's outside maintenance is taken care of," said Hutch Ashoo, the co-founder and CEO of Pillar Wealth Management. "Consider the weight of work that would be lifted off your shoulders. Exterior painting and repairs, roofing and lawn care are frequently included in the price. Additionally, communities may have security walls or gates."
Be Aware: All the States That Don't Tax Social Security
Rebecca Awram, a mortgage advisor at Seniors' Lending Centre in British Columbia, said the financial benefits come with other intangibles, such as stress relief.
"Moving to a senior community for the first time is a big decision, with many financial factors to consider. One of the advantages of this type of move is that your monthly price will cover most of your necessities without worrying about hidden costs or unexpected things that could come up. You will no longer have to worry about pesky bills such as property taxes, maintenance fees and internet bills," she said. "Another great thing about living in an independent living community is that most of your amenities will be taken care of, and you will live in close proximity to all of them. You will likely no longer need a vehicle, as you can quickly walk to get to your food, activities and entertainment. Worry-free living is incredibly valuable."
Are You Retirement Ready?
See: Jaw-Dropping Stats About the State of Retirement in America
The Cons
According to the National Council on Aging, citing 2019 figures, Americans 65 and older spent an average of $17,500 a year in housing-related expenses, or around $1,500 a month. That's about $1,000 a month less than the median monthly cost of senior living communities as cited by A Place for Mom.
So where does that $1,000 come from for those who have retired or are nearing retirement age?
One possibility is to tap into money from the sale of an existing home. The National Council on Aging report said nearly 80% of people 65 and older own their homes, and the average home equity is $143,500. If that's the route you choose to take, a financial advisor could help you figure out how to put your home equity to work for you and keep the money growing to last throughout your retirement.
Find Out More: All You Need To Know About Collecting Social Security While Still Working
If you choose a senior living community, it's vital to know just what is and isn't included in your costs to live there, especially since you likely will be paying more than the cost of living in your own home. You'll need to know the financials of the community and, for example, whether you could be hit with unexpected costs down the road.
Are You Retirement Ready?
"The fees that make it a convenient living arrangement can be quite hefty and can come with surprise assessments to manage the facilities," said Amy Ford, vice president at Silvernest and an expert on affordable housing for aging populations. "You have to keep a smart eye on the management of funds to reduce surprise billing for things like a new roof for the fitness facility or new landscaping for the community entryway."
"On balance, it's often more expensive to live in an organized community, and so it may be worth looking at how you can instead leverage your current home to design the living experience you want," Ford added.
Related: The Biggest Problems Facing Social Security
The Other Factors
It's also wise to weigh other considerations when moving into a senior living community. There are pros and cons there, too.
Among the pros is the accessibility to activities and a built-in group of potential friends who are at the same life stage as you are. Among the cons could be stringent regulations.
"There can be strict rules about the comings and goings of friends or relatives who are outside the recommended age frame of the community, which can limit the ability to host grandkids or other family members for periods of time," Ford said.
Are You Retirement Ready?
More From GOBankingRates