Haven't Turned 40 Yet? You Can Still Save $800,000 Before Retirement
Turning 40 can be scary, but it's not too late to save enough money for retirement.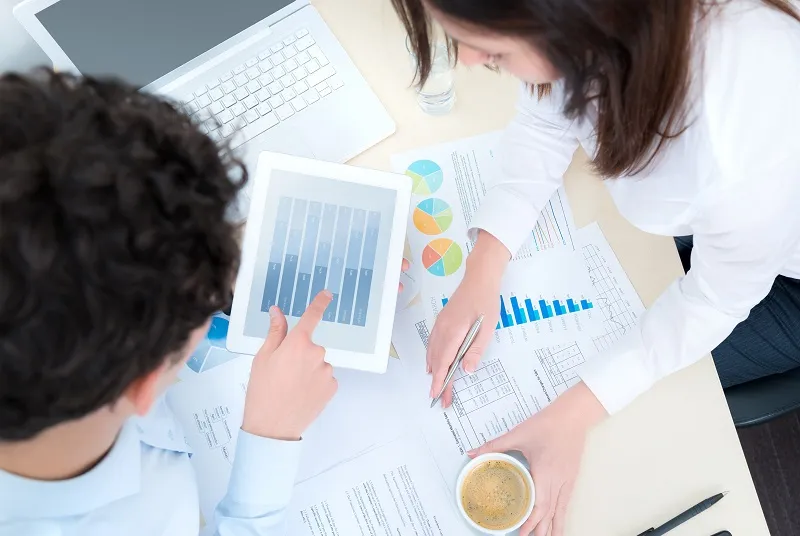 If you're almost 40, it's not too late to save almost $1 million for your retirement — but you have to start now. If you do, you still have time for compound interest to have a significant effect on your savings.
A 2015 report from The Center for Retirement Research at Boston College found that in 2013, the average retirement age was about 64 for men and about 62 for women. It also noted that your Social Security payouts can be as much as 76 percent higher if you don't retire until you turn 70. But you can't rely solely on Social Security; you need to kick your retirement savings into high gear in order to maintain a lifestyle similar to what you enjoy now once you retire.
Read: 10 Ways to Plan for Retirement in Your 30s
How to Save $800,000 for Your Retirement
According to Voya Financial, you should be able to access at least 70 percent of your preretirement income every year at the commonly suggested 4 percent annual withdrawal rate in order to maintain your current lifestyle. If you have saved $1 million by your retirement age, and you withdraw 4 percent during the first year, that gives you just $40,000 in retirement savings to live on. If you want to live the way you did when you made $100,000 per year, you would likely want to withdraw closer to 7 percent, or $70,000, instead.
If you currently earn $100,000 a year and start saving 10 percent of your salary over the next 25 years, you can amass $810,071 by age 63, said John Cavanaugh, a chartered retirement planning counselor and certified financial planner with Cavanaugh Financial Group in Plymouth, Minn. If you don't earn enough to save $1,000 every month, consider that you can still amass over $405,000 if you put away $500 every month using the same strategy, said Cavanaugh.
Cavanaugh's prediction assumes a healthy 7 percent rate of return over the period in question and also assumes you will have a sturdy risk tolerance. His projections also assume a well-diversified portfolio, which means having equity holdings in small-cap, large-cap and international stock funds, among other types of investments.
Why Getting Your Employer Contribution Match Is Crucial
If your employer matches your 401k contributions, you can earn more money over time with compound interest without having to save as much out of your own paycheck. Some of the most common types of fixed matches are $0.50 employer match per $1.00 contributed by the employee up to a specified percentage of pay or $1.00 per $1.00 up to a specified percentage of pay — commonly 6 percent.
Say your employer matches your retirement savings plan contribution at 100 percent up to a total of 6 percent of your salary, for example. In this case, if you earn $100,000 annually and put away $1,000 every month for 25 years from age 38 to 63, you could end up with a total of $1,215,107, said Cavanaugh. If you earn that same salary and save only $500 every month, reflecting a 5 percent contribution that gets the employer match, you could end up with $810,073 by the time you turn 63.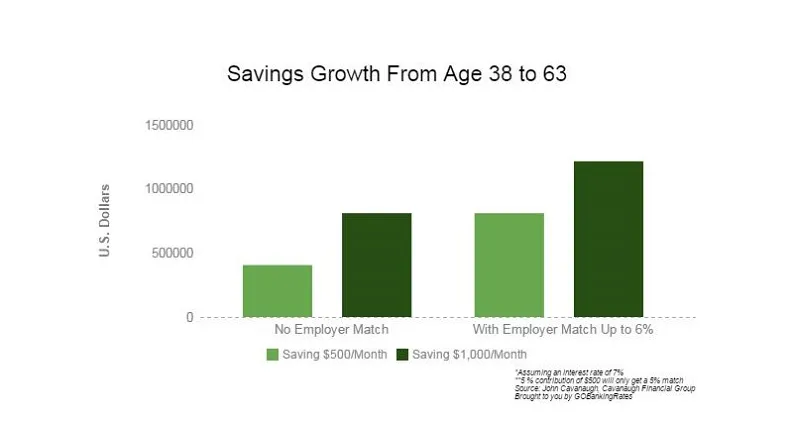 Do stock allocations high — for now. "We often see people holding in excess of 60 percent of their portfolios in equities at this stage," which makes good sense, said Cavanaugh. When you are five to 10 years away from retirement, however, you need to bring those allocations into more conservative territory because you might not have a long enough time horizon to balance out market downturns before you reach retirement age.
Related: 22 Most Important Retirement Planning Tips
When to Start Saving for Retirement
Your age is a major factor in terms of deciding how much to save for retirement because of how compound interest works. If you begin saving at 25 years old, you can put away just 10 percent of your annual salary to retire with at age 65 and achieve a replacement rate close to 70 percent, according to Investopedia. If you wait until age 45 to start saving, however, you would need to put aside 27 percent of your salary for retirement, assuming you don't have an employer matching your contributions. If you wait until age 45, you'd likely have to work until age 70, especially if you want to be able to set aside less than 27 percent of your salary, according to Investopedia.
Start Earning Compound Interest Now
Voya Financial's report offers this illustration of the power of compound interest: Two women begin working for the employer on the same day. The first one begins investing $1,000 as soon as she is eligible to participate in her employer retirement plan and stops after 15 years. The second woman waits 10 years before she starts to invest the same amount and invests for 31 years. They both make the same 8 percent rate of return.
The latecomer invests $31,000 for 31 years and ends up with about $125,000 with compound interest. The woman who started off early and saved only $15,000 ends up with more than $200,000 because her money was able to earn compound interest over a longer period of time.
Account Balance at 65 Having Saved $200/Month

Age Started Saving

Balance

*
25
$702,856
30
$461,835
35
$300,059
40
$191,473
Source: Voya Financial
*Assuming an interest rate of 8 percent
Turning 40 can be tough as you start reevaluating your life plans, but you still have a good opportunity to save nearly $1 million for your retirement if you start saving and investing consistently now. Don't let getting a late start discourage you; just make sure you start taking full advantage of compound interest and your employer 401k contribution match now.