Here's How Much Money Americans Actually Withdrew From Retirement Savings Amid the Pandemic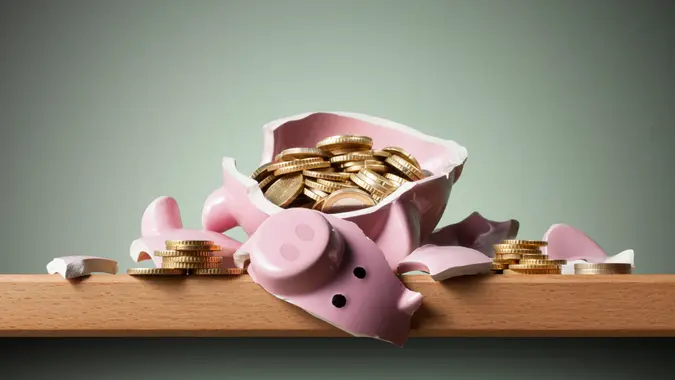 malerapaso / Getty Images
The 2020 CARES Act enabled Americans who had been affected by the COVID-19 pandemic to withdraw up to $100,000 from their retirement savings without having to face the usual 10% early withdrawal penalty that applies to those under the age of 59 ½. And with many people out of work, a lot of Americans did take advantage of this temporary pause on penalties. A recent survey conducted by Real Estate Witch found that over a third of Americans — 35% — dipped into their retirement savings to make ends meet during the pandemic.
Follow Along: 31 Days of Living Richer
Find Out: Here's Exactly How Much Savings You Need To Retire In Your State
Americans Withdrew Between $10K and $15K During the Pandemic
The survey found that Americans that took withdrawals from their retirement savings took out nearly half (44%) of their total savings. To put this into dollar values, those who dipped into their retirement accounts reported median withdrawals between $10,000 and $14,999. And nearly 1 in 5 respondents (18%) spent more than $25,000 from their retirement savings.
The Financially Savvy Female: 3 Alarming Ways Women Are Lagging Behind Men When It Comes to Their Finances
"Some of our previous studies indicate that people were struggling financially before the pandemic, which likely played a role in the need to take such large sums from their retirement," said lead researcher, Dr. Francesca Ortegren. "The majority of Americans didn't have much (if anything) in emergency savings leading into March 2020, so those who lost income streams didn't have much to fall back on. Unfortunately, that led many to pull from retirement savings. The most common reason was to help cover necessary expenses, such as groceries, bills and medical expenses during the pandemic. Still, others were fearful of a volatile market and wanted to avoid losing money."
Millennials and Boomers Took Similar Approaches To Early Withdrawals
Despite the fact that millennials have a longer time frame than baby boomers to make up for early withdrawals, the survey found similar patterns between the amounts withdrawn among the two age groups.
Modern Money Etiquette: Should You Ask Coworkers About Salary?
"Millennials and boomers both took similar amounts from their retirement savings — although boomers were slightly more likely to take more than $10,000 from their accounts," Ortegren said. "Boomers were more likely to be impacted by the COVID-19 virus as a result of their age and, therefore, had a higher chance of having to cover huge medical expenses. Boomers who lost their jobs likely had a harder time finding a new job as quickly as millennials in the same situation — partly because they're less experienced or less willing to consider remote positions, which were abundant during the pandemic."
It Will Take Years To Make Up for These Early Withdrawals
Those who withdrew from their retirement funds early may have to work extra years to make up the difference.
Should You Put Money Into Retirement or Your Savings? Here's How To Know
"Assuming people continue to contribute to their retirement funds in the same way, people should be able to make up $25,000 in about two years — this was calculated using median income of $63,000 and 15% monthly contributions and does not account for interest accrual over that time," Ortegren said.
However, because of the lost interest, it will actually take longer than two years to make up for the lost funds.
Discover: 27 Best Strategies To Get the Most Out of Your 401(k)
"Average retirement accounts return about 2-3%, so it'll take longer to recoup the $10,000+ in interest accrual over a two-year period that could've been earned on the withdrawn money," Ortegren said.
On the plus side, Americans do plan to be proactive about making up for early withdrawals and decreased retirement contributions —  the survey found that 56% planned to increase their retirement contributions post-pandemic.
More From GOBankingRates