How Much Would You Have for Retirement If You Saved $100 a Month?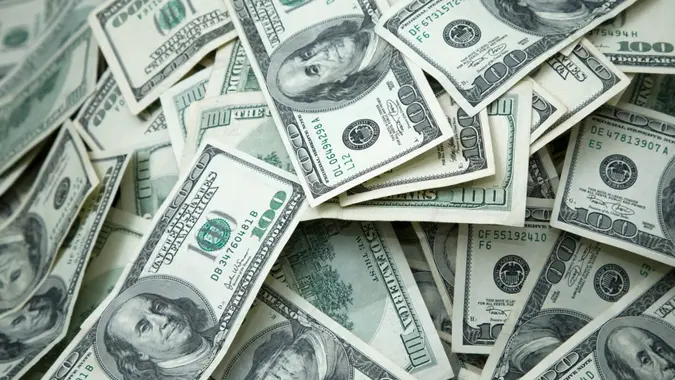 Kativ / Getty Images
Many Americans aren't saving enough for retirement. But how are you supposed to find extra money in your paycheck for retirement if you're battling the rising costs of living and unprecedented levels of household debt?
Although it might seem like there's no room in your budget to save for retirement, even a little bit goes a long way. To help you see the power of putting aside a small sum for retirement each month, GOBankingRates determined how much you'd have if you put $100 in an investment account each month, with an annual rate of return of 6.5%.
Your Retirement Savings If You Save $100 a Month in a 401(k)
Saving $100 a month in a very conservative vehicle, like a basic savings account, results in much lower retirement savings than investing in the stock market via a 401(k). If you're age 25 and have 40 years to save until retirement, depositing $100 a month into a savings account earning the current average U.S. interest rate of 0.42% APY would get you to just $52,367 in retirement savings — not great.
Around 86% of employers with 401(k) plans offer some kind of employee match, according to the Society for Human Resource Management. But even if your employer doesn't offer a match, the retirement savings you earn from investing in stocks through a 401(k) is considerably higher. Using a slightly conservative rate of return of 6.5% — the historical average for the S&P 500 is higher, more like 7%-10% — results in far more savings down the road.
Are You Retirement Ready?
If you started putting your money into a 401(k) today at age 25 and saved for 40 years, you'd have $218,107 saved by age 65, and that's with no employer contribution. If you received a 3% match from your employer, your 401(k) savings would jump to $436,215.
Take a look below at how much you'd have saved by 65, based on which age you started saving.
| Age at Start of Investing | Birth Year | 401(k) Retirement Savings | Savings With 3% 401(k) Matching |
| --- | --- | --- | --- |
| 25 | 1998 | $218,107 | $436,215 |
| 30 | 1993 | $154,032 | $308,063 |
| 35 | 1988 | $107,264 | $214,528 |
| 40 | 1983 | $73,129 | $146,259 |
| 45 | 1978 | $48,215 | $96,430 |
| 50 | 1973 | $30,030 | $60,061 |
| 55 | 1968 | $16,758 | $33,516 |
| 60 | 1963 | $7,071 | $14,141 |
Less frequent than no match is employers who offer a partial match — for example, 50 cents on the dollar up to 6% of employee salary. The median match is 3% of employee salary, according to a Vanguard study. Based on the same parameters above, you'd save approximately $327,161 by age 65 if you put away $100 a month with a 3% partial employer match of your salary.
How To Save for Retirement
The simplest way to increase your retirement savings is to increase your monthly contribution. For the purposes of this study, $100 contributed a month was used, for an annual contribution of $1,200.
You could certainly crank that up if you wish by contributing more — depending on what your budget permits — contributing every paycheck and getting your employer's maximum contribution match.
Another strategy is to open and maintain several vehicles for retirement savings. For instance, you can have a 401(k) through your employer while at the same time contributing to an IRA outside of work. Plus, IRAs tend to offer a wider variety of investment options than the average 401(k) plan.
The good news is, retirement costs can be modified and reduced based on geography. The basic fact is that some states and cities have cheaper costs of living than others, better taxes on retirees, more affordable homes or many other factors. Some states even tax Social Security, so where you choose to retire certainly affects how quickly you use up your savings.
Are You Retirement Ready?
James Holbach contributed to the reporting for this article.
More From GOBankingRates