How Much Money Should You Actually Save For Retirement?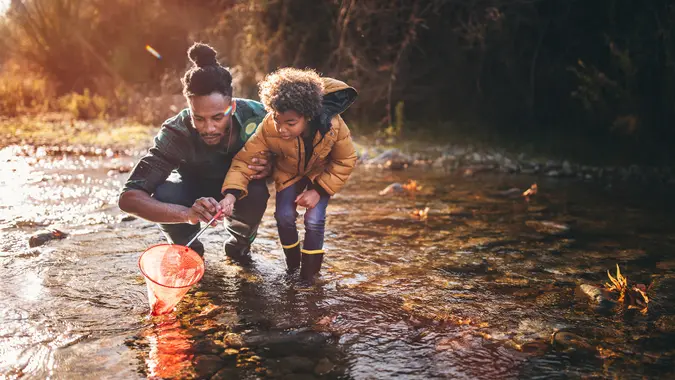 wundervisuals / Getty Images
A GOBankingRates survey revealed that 39% of Americans believe they can retire with $100,000 to $250,000 in savings.
Women tend to have lower savings goals than men, and most people tend to lower their savings goals the closer they get to retirement.
You can figure out how much you'll need by being realistic about your lifestyle, considering guaranteed income sources and doing the math.
Most people enjoy dreaming about a luxurious retirement, but few have saved enough money to bring this dream to fruition. GOBankingRates surveyed more than 1,000 Americans and found that most have no idea how much money they need to retire comfortably.
When asked how much they would like to have saved by retirement, 39% of respondents said between $100,000 and $250,000. This was the lowest savings range respondents could choose from. The second-highest response was over $2 million, but only 13% chose this amount.
The answers did vary based on age and gender. For instance, women are likely to have lower savings goals than men. This is unfortunate because statistically, women tend to live longer. The survey also revealed that the closer most individuals get to retirement, the lower their savings goals tend to be.
See the Full Study: Americans Have No Idea How Much They Actually Need for Retirement
How To Figure Out What You Need To Retire
For most Americans, figuring out how much money they'll actually need in retirement can be tricky. It's impossible to plan completely, but there are ways to get a realistic picture of what a healthy retirement nest egg should look like.
Are You Retirement Ready?
Be Realistic About What You'll Need
The amount of retirement savings you'll need will depend largely on your expected lifestyle. A good place to start is by looking at your current income and what you're already spending.
If your current annual income is $100,000 and you spend every penny, it's unlikely that you'll be satisfied living on $50,000 a year in retirement. Don't forget to plan for things like medical expenses, home repairs, travel and taxes.
This gets tricky when you consider the fact that, on average, women still earn less than men. The gender wage gap continues to shrink, but in 2019, women from the ages of 25 to 34 earned 89 cents for every dollar their male counterparts earned. Women should actually plan to invest more than men to cover the discrepancy.
What Women Want: Study Shows Wage Gap Is Still a Top Priority for Female Job Seekers
Consider Guaranteed Income Sources
Figure out if there are any guaranteed income sources you can rely on in retirement. This could include things like a pension, rental property or monthly Social Security payments. The more guaranteed income sources you have, the less you'll need in retirement savings.
Since women tend to earn less than men, this can affect their Social Security benefits, which are calculated based on an individual's lifetime earnings. The Social Security Administration provides a retirement estimator so anyone can get a sense of what payments to expect in retirement.
Take Action: Do These 13 Things to Boost Your Retirement Savings Now
Are You Retirement Ready?
Do the Math
Once you know about how much you'll need each month, you can do the math and figure out how much you should have saved. In general, most financial planners recommend replacing at least about 80% of your preretirement income.
So if you make $100,000 a year before retirement, then you can plan on needing at least $80,000 a year to live on in retirement. Don't forget to factor in inflation and your average life expectancy. People in the U.S. live to be about 78.6 years old, but there are a number of factors that can influence this, including gender and race.
On average, women live five years longer than men, so this should be accounted for in their retirement savings goals. If a spouse becomes sick in retirement, this can also cut into any savings.
Plan Ahead: I Found My Magic Number for Retirement — And You Can, Too
Keep reading to see three mistakes you should avoid to protect your retirement nest egg.
More on Retirement