I Saved Too Much for Retirement: What I Wish I'd Done Instead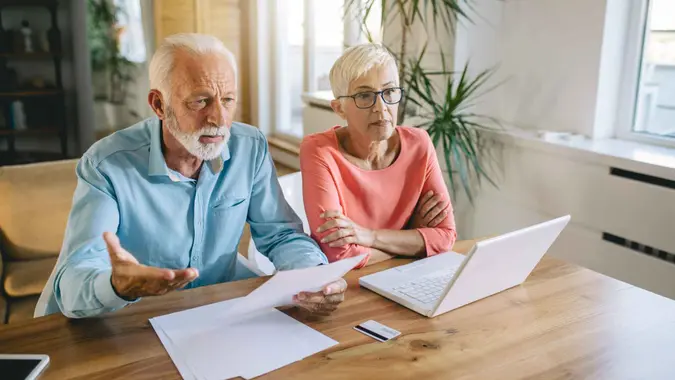 FluxFactory / iStock.com
Is it possible to save too much money for retirement? With the abundance of retirement planning strategies out there that can help you figure out how to manage your income and expenses, the idea of what happens when you save too much for retirement is rarely discussed.
Generally speaking, it's better to overprepare financially, but if you save too much for retirement, you could find yourself missing out on your best years, and even end up with a higher tax liability when you stop working. Here we will look at what happens when you save too much for your golden years — and what you can do to avoid this situation. 
Downsides of Saving Too Much
Saving too much may seem contradictory at first, but the issue is that you could struggle to spend or access your money in your golden years. Studies have shown that people spend less money as they age because certain things they spent on throughout their lives don't bring as much joy to them as they once did.
For example, you may not be motivated to go on the same adventurous trips at 70 that you did at 30. You may also find that your mortgage is paid off, your children have left home and you don't have the same expenses as when you were working. So if you have a lot saved up and no plans to use it, the potential downsides are as follows.
Are You Retirement Ready?
Your Tax Bill Could Be Higher
Your tax bill could increase if you have multiple income streams that you want to access in retirement. For example, you could have multiple streams of income that are bringing in more money than when you were working. If you have a rental property, Social Security, a company pension and other investments, your income tax bill could be higher. 
A couple who wanted to stay anonymous was surprised by their tax situation in retirement because they had saved too much. With money locked up in retirement accounts, they're spending more on taxes to access their money. They feel that they could've used this money better in their younger years when they had the energy to travel and appreciate certain experiences much more. 
Estimated Expenses Can Be Difficult 
The harsh reality is that there are many unpredictable factors when it comes to retirement planning, as your health and overall lifestyle could drastically change. You may also have a paid-off mortgage and lower expenses overall. There's also the issue of life expectancy, as none of us know for certain when our time will come. 
If you don't get an accurate estimation of your expenses in retirement, you could save too much in your younger years and then have more than you need. The problem with this is that you could've gotten more value out of these funds when you were at a different stage in life.
Are You Retirement Ready?
How To Avoid This Scenario
While there's nothing wrong with setting money aside just in case you need it, you don't want to be in a situation where you're spending more on taxes in your golden years because you didn't prepare accordingly. Here are a few options for avoiding this scenario.
Consider Giving Your Children Their Inheritance Earlier in Life
There are many contradictory theories on saving for retirement and managing your inheritance. There was a book that came out in the last few years that has added a new perspective to financial planning for retirement. In the book, "Die With Zero," the author Bill Perkins suggests that most people save too much for retirement and miss out on their best years.
"In short, by giving the money to my kids and other people at a time when it can have the greatest impact on their lives, I'm making it their money, not mine. That's a clear distinction, and I find it liberating: It frees me to spend to the hilt on myself. If I want to spend like mad, I can do it without worrying about the effect on my kids. They have their money to spend as they wish, and I have mine," Perkins said in his book.
Give Money as Gifts
You could give away a certain amount as a gift on an annual basis if you find that you've saved up too much and want to start giving money to your family while you're still alive. And because of changes to taxes on generational wealth, you can give away more money than ever before.
Are You Retirement Ready?
Work With a Retirement Tax Specialist
If you're planning for retirement, it's important that you invest some money and time into working with a specialized professional who can help you create a retirement income plan for your situation. Ensure that you're getting the most out of your money while you're working by spending it wisely now while preparing for your future.
Closing Thoughts
The goal is to find ways to balance spending and saving during your working years so you can get maximum value from your money. Even though many of us tend to worry about not having enough for retirement, a possible overabundance could also be a problem. When you factor in Social Security and other income sources, you could spend too much on taxes or have money that could've been better used at a different stage in life. 
More From GOBankingRates