I'm a Real Estate Agent: Here's Where I'd Retire If I Had $500,000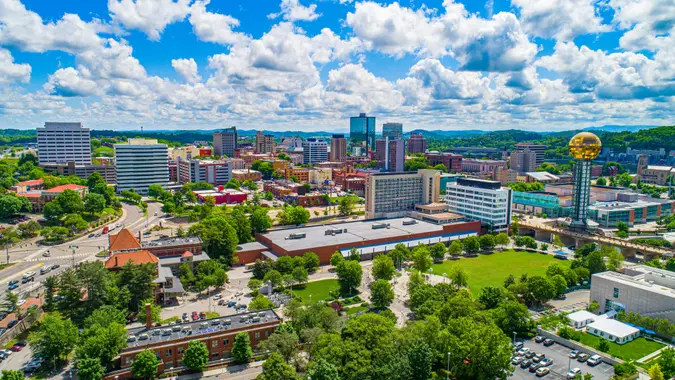 Kruck20 / Getty Images/iStockphoto
At first glance, half a million dollars may sound modest for retirement living today. However, with careful planning and choosing affordable locations, this budget can provide a fulfilling retirement lifestyle. Choosing the right location can be the key to making those retirement savings last and ensuring a high quality of life during your golden years. You'll need to select an affordable area with a lower cost of living in order to stretch your money further. 
GOBankingRates asked realtors across the country to recommend top cities where they would retire if they had to optimize for $500,000. Their recommendations are based on affordability, amenities and access to leisure activities that make retirement fulfilling.
Knoxville, Tennessee
Knoxville combines small-town charm with the amenities of a larger city. Spend your days hiking in the Smokies, cheering on the Vols sports teams, exploring museums and festivals and enjoying the lively music scene. The Oak Ridge National Lab also provides enrichment and volunteer opportunities for science buffs. 
"Knoxville is an excellent choice for retirees looking to stretch their $500,000," said Ritika Asrani, founder of St. Maarten Real Estate. "With no state income tax and a cost of living significantly below the national average, Knoxville offers an abundance of cultural attractions and outdoor activities on a modest budget." 
She also highlighted the area's affordable housing, proximity to the scenic Smoky Mountains and affordable healthcare options through University of Tennessee Medical Center, as well as the fact that Tennessee has no state income tax.
Are You Retirement Ready?
Scottsdale, Arizona
Scottsdale is prized by retirees for its warm climate, beautiful scenery and abundance of golf courses. Enjoy hiking Camelback Mountain, browsing art galleries and exploring Old Town's shops and restaurants. The proximity to Phoenix offers amenities of a bigger city like sports, theater and healthcare while maintaining a small-town feel. Arizona also has low income and property taxes.
"For those seeking a warm and dry climate, Scottsdale is an ideal retirement destination," said Jonathan Faccone, founder of Halo Homebuyers. "With over 330 days of sunshine per year, retirees can enjoy outdoor activities such as golfing and hiking. Scottsdale also has a lower cost of living compared to other major cities in Arizona, making it a budget-friendly option for retirees."
Fort Myers, Florida
"If you're looking for warm weather and beautiful beaches, Fort Myers is a great choice," said Joshua Martin of Atticus Home Buyers. This city on Florida's Gulf Coast provides an ideal retirement destination for those who enjoy waterfront views and plenty of sunshine.
With a cost of living lower than many other popular Florida retirement spots, Fort Myers allows retirees to make the most of their $500,000 budget. The area offers a range of outdoor activities, from relaxing on miles of white-sand beaches to fishing and boating on the Caloosahatchee River. Downtown Fort Myers offers diverse dining and entertainment options, all within close proximity due to the area's walkable and bike-friendly infrastructure. Between the climate, amenities and affordability, Fort Myers is a smart choice for retirees on a budget who are seeking an active beach town lifestyle.
Are You Retirement Ready?
Charleston, South Carolina
Charleston offers an appealing lifestyle on a reasonable budget. South Carolina also boasts low property taxes and no estate or inheritance taxes. Enjoy strolling through Charleston's historic downtown, relaxing on Sullivan's Island beach, golfing on picturesque courses and dining at superb restaurants.
"Charleston has a lower cost of living compared to other popular retirement destinations," said Faccone. "With mild weather year-round, plenty of outdoor activities including golfing and fishing and a bustling downtown area full of restaurants and shops, Charleston is an ideal location for retirees."
Spokane, Washington
Spokane offers the natural beauty of the Pacific Northwest along with a cost of living well below the national average. Enjoy nearby skiing, water sports and hiking trails galore. The walkable downtown district boasts great shopping, arts and an impressive food scene. Catch a show at the historic Fox Theatre or a sporting event watching the Spokane Chiefs hockey team. The nearby universities also provide continuing education and entertainment options.
Martin said, "With a lower cost of living, Spokane offers a vibrant downtown area, outdoor recreational activities and access to beautiful natural landscapes. You can explore Riverfront Park, visit the Northwest Museum of Arts and Culture and enjoy the city's local breweries."
Bozeman, Montana
Bozeman's location near Yellowstone National Park, combined with its small-town charm and outdoor recreation, make it appealing for retirees. 
"Bozeman offers stunning scenery and outdoor activities such as skiing and hiking," said Faccone. "With a low cost of living and no state sales tax, retirees can make their dollars stretch further. Plus, Montana has no estate or inheritance tax, allowing for financial peace of mind."
Costs like groceries and utilities are below average. Spend your retirement fishing, skiing and hiking with majestic mountain views. The vibrant downtown district offers boutique shopping, galleries and a tasty restaurant scene.
Are You Retirement Ready?
More From GOBankingRates