Is Your Retirement Savings Stashed in Your Parents' Attic?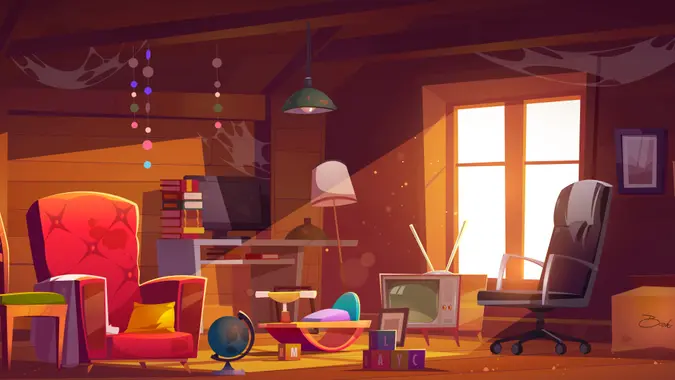 klyaksun / Getty Images/iStockphoto
If you're looking for some ways to earn extra cash, the answer might be closer than you expect. Collectibles, games, books and figurines often sell for five or six figures. At a minimum, you might land a few hundreds of dollars for selling a Pokemon card or two.
See: $2,000 Quarter? Check Your Pockets Before You Use This 2004 Coin
Find: 3 Signs You're Serious About Raising Your Credit Score
If you know what you're looking for — and how to sell collectibles — you can earn enough money to pay down debt or even give your 401(k) a boost with items you find in the attic (or perhaps the basement) of your childhood home.
Pokemon Cards
In 2022, a rare Japanese Promo Pokemon card, Holo Pikachu Illustrator, sold at auction for $5,275,000, according to GOBankingRates. If you were a collector in the '90s or used your Pokemon cards to actually play, you could have a fortune stashed away.
Before you sell any card, make sure to have it appraised and verified by an expert. Keep in mind that cards in mint condition are likely to sell for higher amounts — particularly if graded by a reputable company. But even a card with some damage, if it's rare enough, could find a buyer.
Books
Most attics have at least one or two boxes of books stowed away, whether they are children's titles or New York Times bestsellers. You may want to examine any older books carefully before donating them to your local library. First edition titles of popular books can sell for thousands of dollars and more.
AbeBooks.com, a website specializing in the sale of used books, recently sold a first edition "Harry Potter and the Philosopher's Stone," printed in 1997, for $85,620.
Lladro Figurines
If your mother or grandmother happened to collect Lladro figurines, you could unlock a sizeable sum by selling one or more pieces. Maxsold.com, an antique and collectibles website, reported that the record price ever paid for a Lladro at auction was $130,000.
You can sell the figurines on an auction site such as ARetiredCollection.com, which also takes care of appraising the figure to ensure it is in 100% mint condition.
For figurines with some damage, you might try selling them to a local antique store, or online through eBay.
Comic Books
If you are Gen Xer or millennial who read comics in your youth, there's some bad news. Most comics printed in the late '80s or '90s simply aren't worth much because they're so common, according to MyComicShop.
However, if your parents had their own collection of comics from the Golden Age, Silver Age, or Bronze Age, spanning 1938 up through 1985, these titles in mint condition could be worth $100,000 or more, according to Lone Star Comics.
Fine Art
You might remember growing up with a specific painting on your living room or dining room wall. That artwork, today, could bring you more than fond memories. It could be worth untold sums of money.
In early 2022, Sotheby's sold a series of portraits of Ottoman sultans and Amir Timur for $1.3 million British pounds, roughly equal to $1.83 million U.S. dollars. The paintings were found in the attic of a mansion in Scotland, according to Hurriyet Daily News.
Take Our Poll: How Much Salary Would Buy You Happiness?
More: Check Your $2 Bills — They Could Be Worth Upwards of $4,500
It might be unlikely that your parents have such pricey art tucked in the attic of their home. But if you do find artwork, it's worth getting it appraised by an antique store or a gallery. If the painting is found to be valuable, an auction house or art dealer can help you get the best price, per The Salt Lake Tribune.
More From GOBankingRates