Is Your Retirement Slipping Away? 'Target-Date Funds' May Be To Blame — Find Out What They Are and If You Should Avoid Them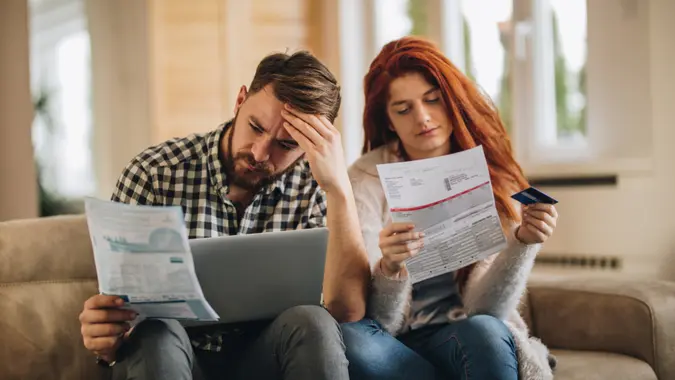 skynesher / Getty Images
There's something very enticing about a "set it and forget it" investing philosophy that involves putting your money into an asset and not thinking about it until you finally need it, which could be decades down the road. That's the idea behind "target-date funds."
A target-date fund is a type of mutual fund with a specific end date, often aligning with when you plan to retire. For example, if you plan to retire in 2040, then you would buy a 2040 target-date fund. The fund matures and rebalances at set intervals — usually five years, Investor's Business Daily reported. It might start out heavily weighted toward higher-risk, higher-reward stocks and then eventually move toward safer investments such as bonds.
One way to invest in a TDF is to buy one that is actively managed, meaning a portfolio manager will make trades for you. A blog on the Blackrock website noted that with target-date funds, a portfolio manager will make trades based on a "glidepath" tool that adjusts the fund's mix of investments over time.
"A glidepath is like an investment flight plan or roadmap," according to Blackrock. "It helps determine the risk exposure over the course of your path through retirement by adjusting diversification levels."
You can also opt for a passively managed target-date fund. In this case, the TDF would ideally include simple exchange-traded funds (ETFs) or index mutual funds with low expense ratios, according to Motley Fool.
Are You Retirement Ready?
No matter how you invest in a target-date fund, you want to avoid high fees that can cut into your retirement savings. This isn't always easy, experts say.
"The fees are extremely difficult to determine," Robert Persichitte, a financial advisor at Delagify Financial, told IBD. "SEC rules allow target-date funds to hide the bottom layers of fees and only report the fees for the target-date funds."
An example would be if a target-date fund quoted a fee of only 0.05% but failed to mention that the TDF also owns a mutual fund with a fee of 5%. An investor might think they are getting a cheap 0.05% target-date fund, only to find out that the overall fee is 5.5%.
That's the main downside of target-date funds — that hidden fees will take a big bite out of your nest egg. You can avoid this by finding a fund manager that waives fees for underlying funds. Some big funds do this, IBD reported — including Vanguard.
Motley Fool recommends going "all in" on target-date funds to maximize their returns. In other words, if you choose to invest in a target-date fund, then you should be a TDF investor across all your accounts. Managed properly, they can be a "great tool." Before diving in, though, you should explore all your options to ensure that a target-date fund is the right investment for your specific needs.
Are You Retirement Ready?
More From GOBankingRates