Want To Retire This Year? 6 Tasks To Complete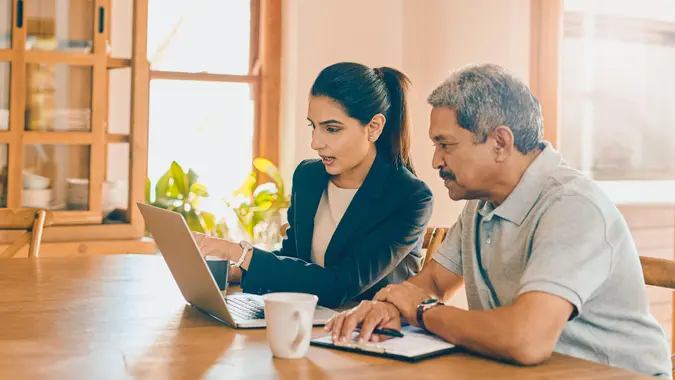 PeopleImages / Getty Images
If you're planning to retire by the end of this year, then you should start planning now.
"When evaluating your retirement readiness, it's important to consider every facet of the retirement-savings puzzle," said Michelle Patello, wealth management advisor at TIAA. "How will you replace your paycheck when you're no longer working? How will you determine what accounts you will draw from and when? How will you manage your taxes? How will you know if your savings can withstand the test of time and unforeseen life circumstances?"
Having the answers to these questions is essential no matter when you want to retire, but there are also some extra things you'll want to keep in mind in the current climate, especially given inflation and the recent passing of the SECURE 2.0 legislation.
Here are six tasks you need to do to set yourself up for a successful retirement.
Have a Clear Picture of Your Assets, Debts and Income
It's essential to have a complete picture of your financial standing before making the decision to retire. Patello recommends taking inventory of your assets as a first step.
Are You Retirement Ready?
"Start by assembling a list of accounts and accumulations," she said. "This should include cash, savings, checking, retirement accounts, investments, etc."
Take Our Poll: Are You Concerned the US Debt Ceiling Issue Will Endanger Social Security?
Next, make a list of your debts.
"Determine what debt obligations, if any, will remain when you retire," Patello said. "You want to have an accurate picture of what you owe, so you can create a plan to fill in potential gaps in your budget."
Ideally, you will have all of your debts paid off before retirement; but, if that's not possible, at least try to pay off credit card debt, Patello said.
"Typically, high-interest credit card debt can quickly spiral and cause a cash flow challenge in retirement," she said. "However, mortgage and HELOC (home equity lines of credit) can fall into the 'it depends' category. It's important to consider your liquidity — or your ability to have access to cash — versus paying down a large debt and limiting your cash flow per month. If your interest rate is relatively low and your investments have the potential to grow at a much faster pace, then keeping the mortgage may be the better option."
Are You Retirement Ready?
Finally, list your sources of retirement income.
"Create a list of income and guaranteed income streams you can count on in retirement," Patello said. "For example, Social Security, pensions and rental income."
Having a complete picture of your assets, debt and income can give you a better sense of your retirement readiness.
Formulate a Spending Plan
Before retiring, create a spending plan that will cover your daily expenses as well as the unknown expenses that may creep up during retirement.
"Identify buckets of where that money will come from and figure out how much you need to cover potential gaps," Patello said. "At TIAA, we believe in starting with a two-thirds point of view. That means roughly two-thirds of what you need to live on each month should come from a source of income that's guaranteed for life. That can come from an annuity, pension or Social Security. Then the remaining third of income can come from portfolio withdrawals such as IRAs, 401(k) [plans], 403(b) [plans] or other investments. This diversified plan will create a stable three-legged stool of income streams retirees can rely on."
Are You Retirement Ready?
Once you have a plan in place, give it a "stress test."
"Consider 'stress testing' your reserves to be sure you can cover your fixed expenses and achieve your goals in retirement," Patello said. "A financial advisor can help to test for financial readiness and to test for outlier events, such as a major medical diagnosis."
Have a Plan for Dealing With Inflation
"While we are starting to see [inflation] come down, the risk of inflation is never truly eliminated," Patello said. "In order to hedge against inflation, you need to balance the risk in your portfolio over time."
There are several ways to do this, including ensuring you have steady streams of income throughout retirement, diversifying your portfolio and reviewing it regularly and/or investing in treasury bonds.
"It's important to remember that any one investment should not be overused," Patello said. "There are great tools to help us get to retirement and successfully through retirement, but overusing any one product or investment can be counterproductive."
Take Advantage of New Provisions Set by SECURE 2.0
"SECURE 2.0 was set in place to prepare us all for a better retirement," Patello said. "There are many great provisions to help us achieve retirement goals. The most impactful provisions for those that are at or nearing retirement are tied to taxes."
Are You Retirement Ready?
Here are the items that Patello said should be on your checklist, tied to these new provisions:
"Check the new timeline for required minimum distributions (RMDs) and the projections for taxes on distributions. Do my minimum distributions exceed my lifestyle spending?
If RMDs exceed my lifestyle spending, what can I be doing now to manage my taxes?
Does my employer offer a Roth 401(k)? Since the Roth 401(k) contributions are no longer subject to required minimum distributions, should I consider making contributions?
Are Roth conversions in my best interest?
Will I be in a higher or lower income tax bracket when I retire? What will my payments be for Medicare if I have a higher income? Since annuity payments within an IRA can count towards my RMD, should I consider that as an option with my IRA?"
Look Into Annuities and Health Savings Accounts
If annuities are not currently part of your retirement plan, consider making them a part of your income strategy.
"I recommend considering your options for an annuity to build lifetime income," Patello said. "All annuities are not created equal. With the right product, you're guaranteed predetermined income for your lifetime. You're essentially creating a personal pension. Often, pensions and annuities help to relieve the pressure of drawing down too quickly on your retirement portfolio."
Are You Retirement Ready?
Secondly, consider options to fund a Health Savings Account.
"These accounts can be carried into retirement and help with long-term healthcare expenses," Patello said.
Meet With a Professional
Once you have a tentative plan in place, it can be helpful to meet with a financial professional to make sure everything looks sound.
"The economic conditions are forever changing, and a financial advisor can help you identify areas you may not have addressed," Patello said. "Identifying these gaps in your plan early can avoid heavy challenges in the future."
More From GOBankingRates
Are You Retirement Ready?