Looking To Supplement Your Retirement Funds? These Universities Teach Career Skills to Seniors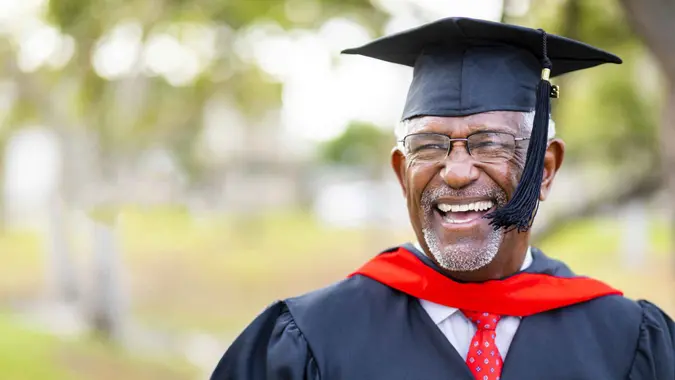 adamkaz / Getty Images
Age may be just a number — unless it relates to the retirement age in America. Congress is currently debating whether or not to raise the full retirement age (FRA) from 67 to 70 as one way to help create a longer lifeline for the future of Social Security. The program is poised to become insolvent if nothing is done.
As GOBankingRates has reported, "Raising the FRA is seen as one way to lessen the impact of the coming insolvency of Social Security's Old-Age and Survivors Insurance (OASI) Trust Fund, which finances about 20% to 25% of Social Security benefits. The fund is expected to run out of money by the middle of the next decade, meaning Social Security will have to rely solely on payroll taxes for funding." In pushing back the FRA, it's theorized more American workers will delay benefit collection until age 70, when they will get the full payout.
However, delaying retirement also means many seniors are looking for work in order to help pay for monthly expenses. The AARP said that adults aged 65 and older are twice as likely to be working today as compared to in 1985, and Forbes also reported that many seniors are now looking to come out of retirement and begin working again. "This is especially true now as inflation has created an urgency to increase post-retirement income," per Forbes.
This trend has invited interest in new programs at colleges and universities which teach career skills to seniors, focusing on making them more attractive job applicants. "There are more and more colleges and universities creating programs specifically suited for these later learners. They are generally up to a year in length, with myriad opportunities to take a wide variety of college courses, interact with cohorts and engage with faculty," Money Talks News indicated, profiling five campuses offering these later learning programs.
Are You Retirement Ready?
University of Connecticut
Enrollment details: Deadline is Sept. 9, 2023.
Tuition details: Total cost is $2,950.
Their Encore! Connecticut program is specifically aimed at working in nonprofits and volunteer opportunities. "The program includes 40 hours of education in many aspects of nonprofit work, including program management, funding strategies and governance," per Money Talks News.
Stanford University
Enrollment details: Applications open in Sept. 2023.
Tuition details: Financials are not disclosed, but military veterans or those in the publication, education and arts fields may be eligible for financial aid.
The esteemed university's Distinguished Careers Institute offers four academic quarters focusing on classes in the humanities, business, the environment and others. Enrollees choose a "purpose pathway" as part of the program in order to hone in on the area they want to pursue.
Harvard University
Enrollment details: The annual program runs January through December, though no information has been released yet on the 2024 enrollment period.
Tuition details: The same cost as a year of grad school, which is currently $52,456. However, financial aid may be an option for those holding careers in the government or nonprofit sectors.
Attending Harvard is a dream for many people. Harvard's Advanced Leadership Initiative offers a year-long program allowing students "to develop a social impact strategy focused on their issue of choice." Examples include those interested in running for public office or wanting to start a charitable organization.
University of Texas at Austin
Enrollment details: Admissions are on an ongoing rolling basis, studies begin in fall or spring terms.
Are You Retirement Ready?
Tuition details: Total cost is $60,000.
UTA offers a year-long Tower Fellows Program "designed to help midlife workers plan their next life's phase," Money Talks News reported. Those enrolled can take up to four courses each semester, allowing them to have "behind-the-scenes access" to all campus offerings like museums, libraries and research collections. Students are provided the chance to work with alumni and professors to further their studies.
University of Notre Dame
Enrollment details: The program begins in August 2023.
Tuition details: Total cost is $58,000.
Notre Dame's Inspired Leadership Initiative is custom-designed for each enrollee, and like many of the programs listed above, is focused on community work and making a difference in local governance or nonprofits. The program runs for one full academic year.
Of course, while many of the lifelong learning opportunities detailed here are at top-notch universities and come with a hefty price tag, those wishing to earn extra course credits or get licensed in a new field can also find plenty of opportunities at community colleges. Some, like Aquinas College in Grand Rapids, Michigan, offer classes for just $14-$17 each as part of their Osher Lifelong Learning Institute for those ages 50 and older.
More From GOBankingRates
Are You Retirement Ready?