65 Could Soon Be an Early Retirement Age: 23% of Americans Believe They Won't Be Able To Retire Until 80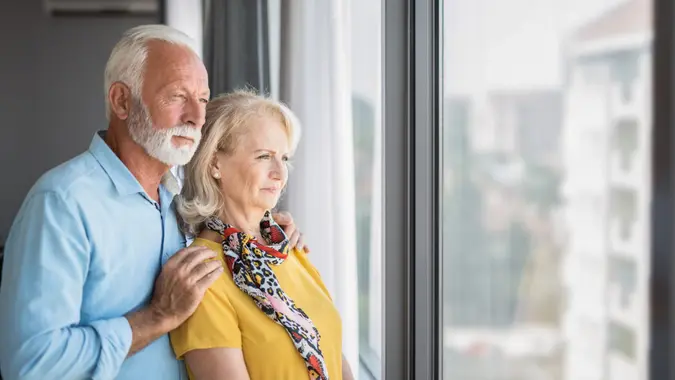 DjelicS / Getty Images
Age 65 is currently viewed as the traditional retirement age, but a good portion of Americans believe they won't be able to retire until a decade later. A recent Clever Real Estate survey found that 37% of non-retired Americans believe they won't be able to retire until they're at least 75, and 23% believe they won't be able to retire until at least 80.
Here's a closer look at why so many Americans think they will have to delay their retirement.
Americans Are Pessimistic About the State of Social Security
The cost to retire has become increasingly expensive, and many Americans don't have the safety net of a pension to rely on. Additionally, many Americans don't believe they can rely on Social Security to fund a significant portion of their retirement.
"Non-retired Americans are very pessimistic about the state of the economy and Social Security," said Matt Brannon, data writer at Clever Real Estate. "Many don't expect Social Security to exist in its current form — or at all — by the time they're nearing their 60s. In a survey last year, 55% of non-retired Americans told us they think the program will run out by the time they retire."
Americans Are Tapping Into Their Retirement Savings Early
Ideally, you won't make any withdrawals from your retirement savings account until you are retired — but for many Americans, this isn't the case.
"We're coming off a year of high prices, where 26% of Americans pulled from their retirement savings, often to cover expensive emergencies, afford essential goods or pay off debt," Brannon said. "That lack of ability to save plus concerns over future income explain why so many are fatalistic about a reasonable retirement."
Are You Retirement Ready?
It's Possible That You'll Have To Delay Retirement Until Age 80
The 23% of Americans who say they won't be able to retire until age 80 may not be wrong.
"Unfortunately, it's becoming more and more realistic to work until 80," Brannon said. "Even the person with the most important job in the world — the president of the United States — is doing it. The share of Americans working until 80 has doubled since 1980. It went down a little during the Great Resignation, back around 2020 and 2021, when we saw a massive wave of retirements. But I would expect that rate to increase again soon — continuing the long-term trend."
Brannon notes that the increasing retirement age is in line with increasing life expectancy.
"Life expectancy is about three years higher today than it was in 1983 when the full retirement age for Social Security age was set at 67," he said, "so working until 70 today is like working until 67 when that benchmark was set."
More From GOBankingRates