6 Purchases Every Retiree Should Always Make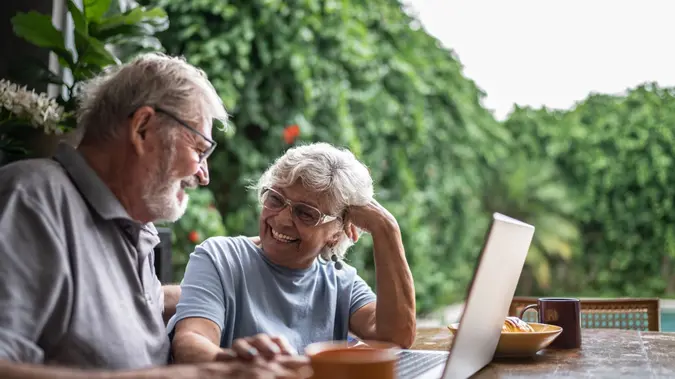 FG Trade / Getty Images
Retirees in general spend less money after they stop working than they did before. While some expenses tend to go up, others are greatly reduced.
For example, if you're used to commuting to an office, your transportation expenses will likely go down in retirement. Your clothing budget might also shrink if you no longer have to dress up for office and client visits. Regardless of how your budget changes, though, there are certain purchases that are still important for retirees to make. Here are some of the top ones.
Adequate Insurance
At age 65, most retirees qualify for Medicare. However, Medicare isn't a catch-all for the expenses you are likely to incur as you age. In fact, when people say they qualify for "free health insurance" via Medicare, they are usually referring to Medicare Type A, which is only hospital insurance.
If you're looking for additional coverage for things like doctor visits and prescription medications, you'll have to pay a monthly premium for Medicare Type B and Medicare Type D. You may also want additional coverage in the form of long-term care insurance, which you can contract through a separate insurance company.
Medications — and a Pill Organizer
While some healthy retirees may not take any prescription medications, that's a pretty rare occurrence. Most retirees should plan on taking at least a few pills to both help sustain and improve the quality of their lives. In fact, according to Merck, almost 90% of older adults take at least one prescription medication, almost 80% take two and 36% regularly take five or more.
Are You Retirement Ready?
While you should always consult with your doctor about the appropriate level of your medication, this means it's highly likely that you'll be taking multiple pills as you age. As your prescription regimen isn't something you want to mess up, buying a quality pill organizer is an important purchase for most retirees.
Hobby Expenses
Most seniors look forward to exploring their hobbies more in retirement. If you're one of them, you should count on spending a bit of money on your hobby expenses. Once you're retired, you'll have much more free time to really get into your hobbies, and you'll likely want or need to buy supplies for those activities.
For example, if you love to ride your bike, you'll need to keep up with your safety equipment and keep your bicycle well-maintained. If you're a golfer, you'll have to budget for green fees and occasional equipment upgrades. These expenses are absolutely worth it once you retire, as you'll not only have more time to dedicate to these activities — but you'll also be keeping your mind sharp and occupied.
At-Home Entertainment
Even if you plan to travel more once you retire, you'll likely be spending more time at home than you were while you were still employed. In fact, you may even relish the idea of spending lots more time at home.
Are You Retirement Ready?
Technology has advanced to the stage that you can stream nearly any type of entertainment you want into your home, from the latest movies and TV series to nearly any song by any musical artist you enjoy. Many of these services come as a monthly subscription, so you'll have to pick and choose the ones you really want so that you don't bust your budget. But having quality at-home entertainment that brings you joy is a worthwhile expense for any retiree.
Travel
Travel is high on the bucket list of many retirees, and you should generally expect to be spending more on travel once you retire. This doesn't mean you have to jump into a life of being on the go nonstop and cruising around the world, though.
Most retirees enjoy seeing places in America they didn't have time to before, or even visiting friends and family that may be a road trip away. Regardless of the scope of your travel ambitions, most seniors should expect to make more travel purchases once they retire.
Estate Resolution Expenses
If you want your affairs to be in order after you pass away — and especially if you want to reduce the mental and financial burden on your heirs — spending money on estate resolution is a purchase you'll want to make.
Most retirees will take the step of drafting a will or trust to outline how they wish their assets to be distributed, but some even go so far as to prepay their funeral and mortuary expenses. While it can be hard to think about these types of expenses while you are still alive, they can make things much easier for your family and estate handlers after your death, even if you think you don't have a lot to leave behind.
Are You Retirement Ready?
More From GOBankingRates