Retirement Mistake? 1 in 5 Parents Sacrifice Their Savings To Help Their Adult Children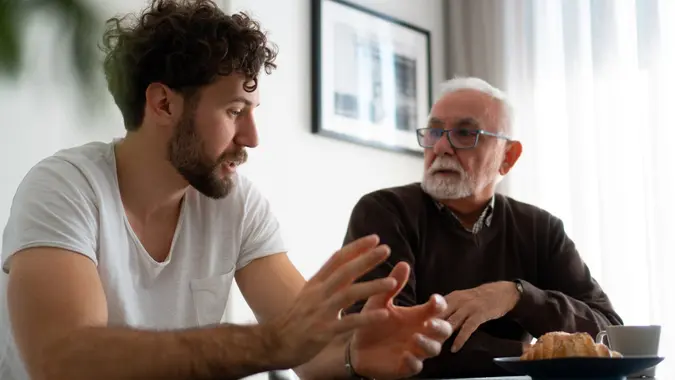 Georgijevic / iStock.com
As a parent, you want to provide your children with everything they need in life, so it can be hard to cut them off financially. This is why so many parents with adult children are still providing financial support — even to their own detriment.
A recent RetirementInvestments.com survey of 1,000 parents with kids ages 18 to 42 found that more than half (55%) still help their adult children financially, and that nearly 1 in 5 (19%) have sacrificed their retirement savings to help their children.
If you are in that boat, it's important to understand how you can help your kids without hurting your own future. Here's what one expert advises.
How Much Financial Help Can You Afford To Give Your Adult Kids?
If you do decide to help your adult children financially, you should first figure out how much you can actually afford to give them.
"The saying, 'A parent's job is never done,' rings especially true when adult children are in need of financial help," said Steve Sexton, CEO of Sexton Advisory Group. "The most effective way to figure out whether you're in a position to help your adult children financially without jeopardizing your retirement is to analyze the type of lifestyle you'd like to have in retirement, then figure out if supporting this lifestyle in retirement is financially attainable.
Are You Retirement Ready?
"Your analysis should not only look at inflation-adjusted income against expenses, but also take into consideration the impact and cost of healthcare as you age," he continued. "With this information, you can then determine how much extra is left over to provide financial assistance to your adult children. It helps to consult with a financial planner to confirm that your retirement projections are correct and that you haven't missed any major expected expenses in your retirement analysis."
Take Our Poll: Do You Think the US Should Raise the Medicare Tax on High Earners To Help Save the Program?
Is It Ever OK To Sacrifice Retirement Savings To Help Adult Children?
Ideally, you will only give your adult children any funds that are left over after you've saved sufficiently for retirement. Of course, this may not be possible. Deciding whether or not you should sacrifice your own savings to help your children will depend on your personal preferences and situation.
"This is deeply personal and different for everyone," Sexton said. "I have had clients fund their 40-year-old daughter's cancer treatment by downsizing to a smaller house with no mortgage and curtailing their retirement travel plans in the hopes of saving their daughter's life. Luckily, their daughter survived and my clients felt it was the best money they ever spent. For them, it was a worthwhile sacrifice and investment.
Are You Retirement Ready?
"On the other hand, another client helped fund his son's dream of owning and operating a restaurant," he continued. "He was under the impression that the restaurant would be up and going within a year or two and he would get his funds back. Unfortunately, it's been over seven years. My client had to pause his retirement and take on consulting work to make up the money they lost. This client regrets helping his adult son financially."
It's important to note that no matter what the circumstances, sacrificing your retirement to help your children can be risky.
"The decision to sacrifice your retirement savings to help your adult children is highly dependent on the person and the situation," Sexton said. "Nobody but you can determine whether the sacrifice is worth it, and if you do decide to sacrifice your retirement savings to help your adult children, understand that outcomes are often a gamble."
It's Best To Set Expectations With Your Children
Although discussing your finances with your kids can be uncomfortable, it's best to be upfront about your financial situation before giving them money you can't really afford to. It's also important to set boundaries and expectations.
Are You Retirement Ready?
"Be very candid with your children about your financial capabilities and your commitment," Sexton said. "It's important to be specific about expectations and the arrangement that follows. If you're lending money to your child to start a business, make sure you're asking the right questions and reviewing the business plan and/or financial model to ensure you're making a sound business investment. Similarly, set limits of what you're willing to lend or give, and do not go beyond that limit. When it comes to lending money — to your family or otherwise — maintaining boundaries is of utmost importance."
More From GOBankingRates
Are You Retirement Ready?