Retirement Outlook: Gen Z Wants To Retire at 61, But 99% Are Facing Financial Obstacles To Save For a Comfortable Retirement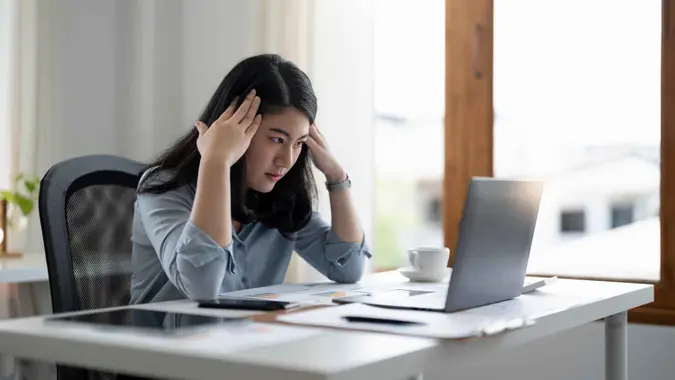 Natee Meepian / Getty Images/iStockphoto
The youngest members of the workforce say they face the most obstacles to saving for a comfortable retirement, yet their timeline to retire is the most ambitious, according to Charles Schwab's annual nationwide survey of 401(k) plan participants.
The survey found that Gen Z workers want to retire at age 61, but 99% say they are facing obstacles to saving for a comfortable retirement.
This is not only a 9% increase compared to last year, but it's a higher figure than that posted by 88% of millennials, 91% of Gen Xers and 86% of boomers.
The main culprits behind said financial obstacles include inflation (54% of those polled said as much), keeping up with monthly expenses (35%) and paying for unexpected expenses (31%).
In addition, Gen Z workers are also the most likely to say financial stress has impacted their ability to do their job, with 26% of respondents indicating as much.
Marci Stewart, director of communications consulting and participant education at Schwab Workplace Financial Services, said that as younger workers new in their careers are likely earning less than older workers — and are still learning how to manage their finances overall — it's not surprising that they may have more challenges saving for retirement compared to other generations.
"We've also been in a sustained high-inflation environment for well over a year and people are still feeling the squeeze," said Stewart. "People earning less are disproportionately impacted since basic needs like food, shelter, clothing and transportation typically take up a larger percentage of their income."
Are You Retirement Ready?
What can Gen Z do to alleviate their financial obstacles?
Want To Retire Early? Do the Math Now
Bobbi Rebell, CFP and founder of Financial Wellness Strategies, said that if early retirement is the true priority, those who wish to do so will need to make sure their lifestyle expectations are in line with what they can reasonably build up as a financial foundation for those years.
"That comes down to math," said Rebell. "The reality is that if they want to shorten the timeline, something may have to give. That might be living a more modest lifestyle in those early and extended retirement years, but that might be the right choice for this generation that is already less materialistic."
Consider the Big Questions Around Your Retirement
Schwab's Stewart noted that when you are decades away from retirement, the gap between now and the future can make it difficult to nail down specifics about what you imagine your life will look like so far down the road.
In turn, she recommended that, as a starting point, one considers some big questions — how long you want to work, what kind of lifestyle you want to live in retirement, where you might like to live, whether or not you want to leave a legacy and more.
"Those questions can seem theoretical when you're younger but they're still important to consider," she said, adding that points of view can also change over time — so this is not a one-and-done exercise. Don't be afraid to ask for help, starting now.
Are You Retirement Ready?
"Most 401(k) plans offer some type of personalized advice and planning help. Having a plan in place builds financial confidence. Gen Z has told us they're very open to advice from a professional and many of them are already seeking it, which is a very good sign for their future success," she added.
Avoid Unnecessary Debt at All Costs
Other experts argue that, now more than ever, it's important for young adults to avoid taking on unnecessary debt.
"Credit card interest rates are sky-high — averaging nearly 28% — and that debt can be a burden long after interest rates eventually cool down," said Austin Kilgore, analyst for the Achieve Center for Consumer Insights.
Retirement Match Just As Important
Kilgore added that it's also extremely important for workers to take advantage of any retirement savings match funds offered by their employers.
He noted, however, that while this can be a challenge on a tight budget, not contributing enough to retirement to take advantage of an employer match can exacerbate the difficulty of building a retirement nest egg.
"It's also akin to giving money away," he said.
More From GOBankingRates