Retirement 2023: 9 Things You Shouldn't Buy If You Want To Retire Early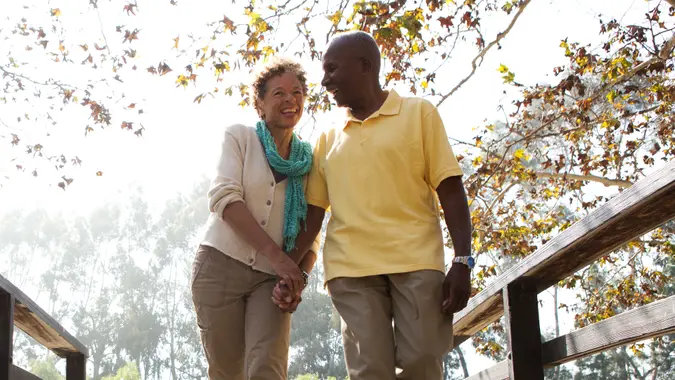 David Jakle / Getty Images
If you're dreaming about retiring early, you're not alone. The FIRE (financial independence retire early) movement — in a nutshell, saving and investing 50% to 70% of your income — has been gaining some steam lately, and many Americans believe that by doing so they can retire in their 40s or even in their 30s. But achieving this feat also entails a lot of planning and some lifestyle sacrifices.
Whatever your reason for wanting to retire early, whether you want to sit on a beach, turn your hobby into a venture or do some volunteering, experts agree that there are some things you should never buy in order to reach that goal.
Also, see the best investments if you want to retire early.
Luxury Goods and Experiences
One thing to avoid if you're hoping to retire early is unnecessary luxury goods that don't generate income.
"High-end cars, designer clothes and extravagant vacations can quickly drain your savings," said Andrew Latham, certified financial planner and director of content of Super Money. "Remember, every dollar you spend now is $4 less for your retirement if you plan to retire in 20 years and can earn an average of around 7% APY."
Latham added that luxury goods jeopardize your financial future because they often come with additional, ongoing costs. Luxury cars, for example, not only have a high upfront costs but also require more expensive insurance, maintenance and repairs, he said.
Are You Retirement Ready?
"These recurring costs can significantly reduce the amount you're able to save for retirement," Latham added.
Holiday Home/Timeshares
Taylor Kovar, CFP and CEO of TheMoneyCouple.com and Kovar Wealth Management "early retired" two years ago. According to him, while the lure of a holiday home may be strong, timeshares are often terrible investments.
"They come with hefty annual fees, are hard to sell and rarely appreciate in value," Kovar said.
High-Interest Debt
Another tip for achieving early retirement is to avoid accumulating high-interest debt, such as credit card debt.
Indeed, for the week ending May 31, the average credit card interest rate was 20.63%, and it seems like this might continue to inch higher, according to Creditcards.com.
"It can quickly spiral out of control and derail your savings efforts," Latham said. "Instead, focus on living within your means, saving a chunk of every paycheck, and investing wisely in a diversified portfolio."
Speculative Investments
Michael Collins, CFA, adjunct professor at Endicott College and founder of WinCap, recommends to steer clear of speculative investments if your goal is retiring early.
"While investing in higher-risk investments can provide greater rewards, they also come with a greater risk of loss, which could be very harmful to your retirement plans," said Collins.
High-Fee Financial Products
Financial products with high fees, such as certain mutual funds, should be avoided if you want to retire early.
"High fees can eat into your investment returns, slowing down the growth of your retirement savings," Latham said.
Are You Retirement Ready?
Unnecessary Items
"Sure, we all need our caffeine fix, but spending $5 — OK, more like $8 in 2023 — a day on a latte can add up to over $1,800 a year," Kovar said. "Invest that money instead and watch it compound faster than the line at your local coffee shop during the morning rush hour."
Expensive Homes
Expensive homes also can jeopardize your early retirement plans, as larger homes often translate into larger mortgages, higher property taxes and more maintenance costs.
"It's more beneficial to live in a home that suits your needs without stretching your budget," Latham said.
The Latest Tech
It's easy to get caught up in the endless unveiling of new tech products and upgrades, but these costs also quickly add up.
"Who doesn't love unboxing the latest tech?" Kovar asked. "But if you're always buying the newest devices as soon as they come out, you're essentially donating to the apple of your eye instead of your retirement fund."
Higher Education That Doesn't Give You a Skill
As of May 2023, the average student loan debt stood at $37,338; 20 years after entering school, half of the student borrowers still owe $20,000 each on outstanding loan balances, according to the Data Education Initiative.
Many experts agree that there are several other options, such as community colleges, online courses and apprenticeships, that might enable you to earn a living quicker — and debt-free. 
"If you want a degree, get it with a skill, not passion or interest — which is great but can be pursued outside of making a living, on your own time without having huge debt," said Tatiana Tsoir, CPA and founder of The Bold Blog. "Also now we have so many programs where you acquire practical skills — like my own bookkeeping course — that allow you to earn a solid living right away.
Are You Retirement Ready?
"In college it can look like this: You major in history but double major in accounting or psychology or engineering. Or something that's a skill. Skills are now far more important than degrees that cost a ton of money and decades to pay off."
More From GOBankingRates