11 Safest Places To Retire Abroad for Less Than $2,000 a Month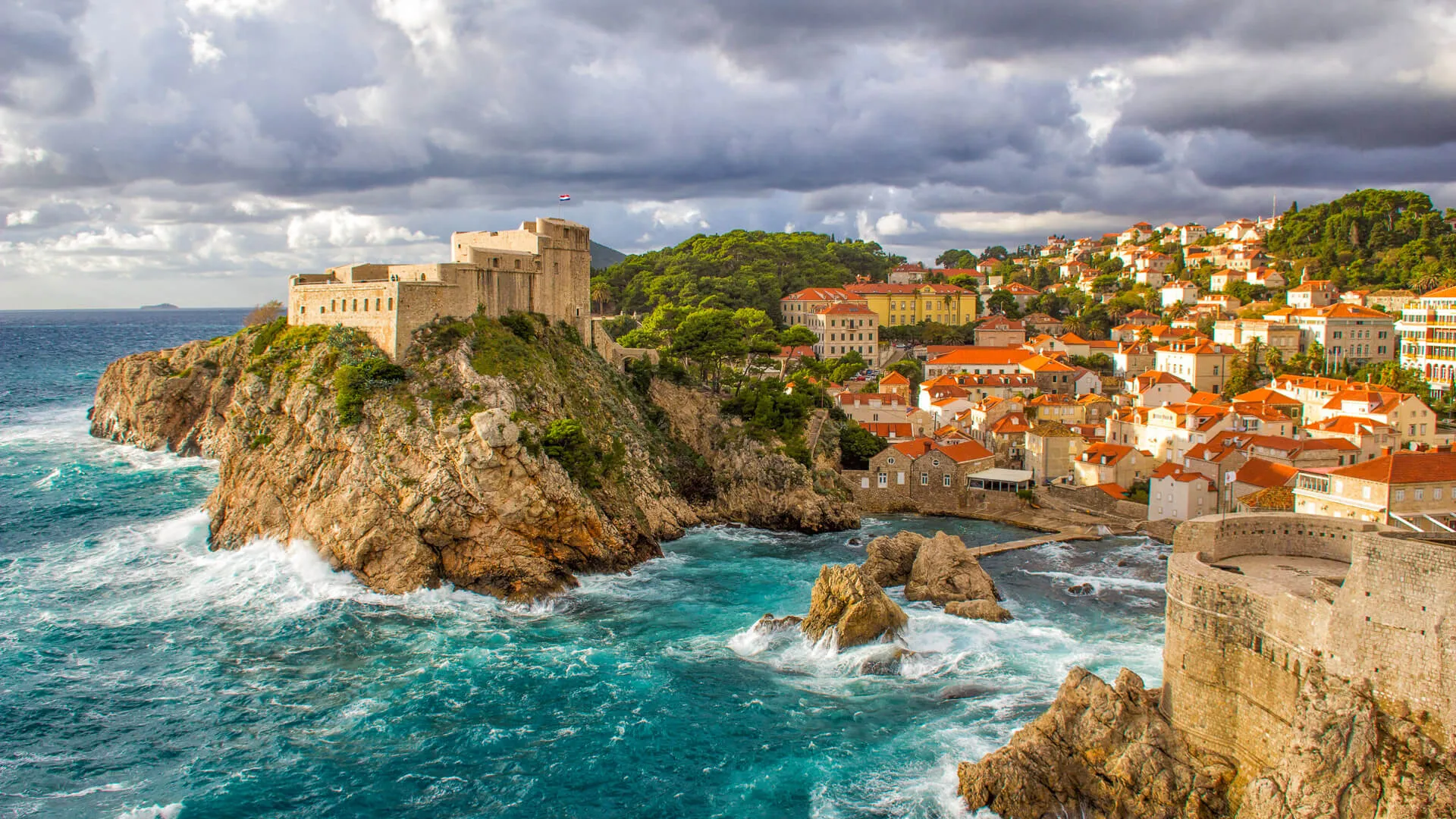 A lower cost of living, better weather, lower taxes and a higher quality of life are all reasons to think about making the move to another country when you get ready to retire — and leaving the U.S. for greener pastures, so to speak, is not an idea that's unheard of. According to the Aegon Retirement Readiness Survey 2021, living abroad is an important retirement aspiration for 12% of Americans.
However, while being able to stretch your retirement nest egg further is a key consideration when deciding where to relocate globally, safety is also paramount. To determine the safest countries to retire for less than $2,000 per month, GOBankingRates used the Institute for Economics and Peace 2023 Global Peace Index data to find the safest countries across the globe and LivingCost.org to find the average monthly cost of living in each selected country. 
To help you weigh your options, here are the safest places to retire abroad that won't break the bank.
Canada
2023 average monthly cost of living: $1,901
You won't have to leave the continent to move to Canada, which means it should make it easier for friends and family to visit. Not only that, but most people living in Canada settle only about 100 miles or so from its border with the U.S. Montreal, the country's second-largest city, combines European charm with a North American lifestyle.
Like other places on this list, Canada is family-friendly and safe. Economic and political stability are solid, plus the country also has a well-developed public health system.
Croatia
2023 average monthly cost of living: $1,074
Croatia's picturesque coastline along the Adriatic Sea boasts crystal-clear waters, charming coastal towns, and a mild climate, making it a perfect destination for a relaxed Mediterranean retirement. Croatia's cultural heritage, with its well-preserved medieval towns, ancient Roman ruins, and a thriving arts scene, provides endless opportunities for exploration and intellectual stimulation.
Croatia's healthcare system is well-regarded, offering quality medical services, and many healthcare professionals are fluent in English.
Are You Retirement Ready?
Malaysia
2023 average monthly cost of living: $598
Malaysia offers one of the most affordable costs of living on this list, allowing retirees to enjoy a comfortable lifestyle without depleting their savings quickly. The country boasts beautiful beaches and lush rainforests, and the tropical climate means year-round warm weather, ideal for outdoor activities and relaxation. The diverse culture blends Malay, Chinese, Indian, and indigenous influences.
The country's government also offers a program, called Malaysia My Second Home, that makes it easier to settle in the country, with flexible long-term visa options for retirees.
Denmark
2023 average monthly cost of living: $1,922
One thing that helps keep the cost of living low in Denmark is its universal healthcare system, which means that most citizens receive care free of charge. And if quality of life is what you're after, you'll find it here, too — politically and economically, the country is solid. Denmark's vibrant cities, including Copenhagen, Aarhus, and Odense, are rich in culture and history, offering retirees a wealth of museums, galleries, and theaters to explore. 
Another cost-of-living advantage in Denmark is that it has an abundance of public transportation it has available, which means you might not have to invest in buying and maintaining a vehicle. The country's efficient public services and well-maintained infrastructure also contribute to a high standard of living.
New Zealand
2023 average monthly cost of living: $1,876
Soon-to-be retirees who desire to live amongst a vast diversity of landscapes — including glacier-created fjords, subtropical forests, stunning Alpine vistas, sandy beaches and rolling, green hills — will put New Zealand at the top of their list. With a wealth of outdoor pursuits like hiking, golfing, and water sports, retirees can enjoy an active and healthy retirement.
The country is treasured for its high quality of life and its friendly, happy people. The strong sense of community makes it easy for retirees to integrate into local life. It also has a pretty well-developed public health system.
Are You Retirement Ready?
Czech Republic
2023 average monthly cost of living: $1,284
Expat retirees should have no trouble communicating in the Czech Republic. Although Czech is the official language, English is widely spoken by the younger generations, especially in Prague, which is a paradise for history and culture enthusiasts. The country's efficient public transportation system and well-maintained infrastructure make it easy for retirees to explore the charming countryside, historic sites, and vibrant cities.
The country, which is also known as Czechia, offers both free public healthcare and private healthcare. However, free public healthcare is only available once you are considered a permanent resident. Additionally, the Czech Republic's central location in Europe makes it an ideal base for exploring other European destinations, with excellent train and road connections to neighboring countries.
Bhutan
2023 average monthly cost of living: $409
Bhutan has the lowest monthly cost of living on this list, but retiring in Bhutan also offers a unique and culturally enriching experience. One of the primary attractions is Bhutan's commitment to prioritizing Gross National Happiness over economic growth. 
Bhutan's serene landscapes, lush forests, and the majestic Himalayan mountains provide a breathtaking backdrop for a peaceful retirement. The low population density also contributes to a tranquil lifestyle.
Austria
2023 average monthly cost of living: $1,668
Besides having an average monthly cost of living falling below $1,500 a month, Austria is a country steeped in rich historical culture. Not only is its architecture varied and complex, but its capital, Vienna, was home to great classical composers like Beethoven and Mozart. Other destinations, such as Salzburg and Innsbruck, also offer a rich cultural tapestry with world-class museums, historic architecture, and a vibrant arts scene. 
Austria is also home to the Alps, which can make for some spectacular sightseeing, as well as outdoor activities like hiking, skiing, and leisurely strolls through charming villages.
Are You Retirement Ready?
Slovenia
2023 average monthly cost of living: $1,230
Slovenia is a small Central-European country with a population of just over 2.1 million. Tourism heavily supports the economy, and literature, art and music are its cultural mainstays. The country's small size and efficient infrastructure make it easy to explore its rich cultural heritage, including medieval towns, historic castles, and vibrant festivals. 
Retirees might find it somewhat difficult to communicate with ease there, however, as Slovenian is the official language and English is considered a foreign language.
Portugal
2023 average monthly cost of living: $1,180
The chance to retire abroad in Portugal for less than $1,200 per month is likely tempting for many. Not only is it affordable, which can make for a more comfortable retirement, it also boasts a temperate climate and a friendly culture.
Although Portugal does have a public healthcare system, retirees will have to have private health insurance for at least the first few years until they become a permanent resident and are eligible for it.
The country also offers a variety of residence and visa programs, such as the Golden Visa and the Non-Habitual Resident program, which can provide tax incentives and streamlined residency processes for retirees from outside the European Union.
Japan
2023 average monthly cost of living: $1,155
Japan has a solid economic standing and a better-than-average public health system. Plus, its average monthly cost of living is quite affordable. The country offers one of the world's lowest crime rates, providing both safety and peace of mind.
To save even more money, you can forgo buying a car due to Japan's well-developed public transportation network, including ferries, buses, subways, and its famous bullet train. For those who appreciate a blend of tradition and innovation, Japan's commitment to technological advancement is paired well with its natural beauty, including lush forests, natural hot springs, and picturesque cherry blossoms.
Cynthia Measom contributed to the reporting for this article.
Methodology: To find the safest places to retire abroad, GOBankingRates gathered a list of the safest countries from around the world sourced from the Institute for Economics and Peace – 2023 Global Peace Index. Using a list of the safest countries, GOBankingRates was able to find [1] the cost of living and [2] rent cost sourced from LivingCost.org. The countries were the total cost of living is above $2,000 were removed. The safety index and the cost of living cost were both scored and added together to find the places that are cheap and also safe. These countries were sorted and ranked to show the safest places to retire abroad. All data was collected and is up-to-date as-of August 24th, 2023.
More From GOBankingRates