Big City or Small Town? The Surprising Stats on Where Americans Want To Retire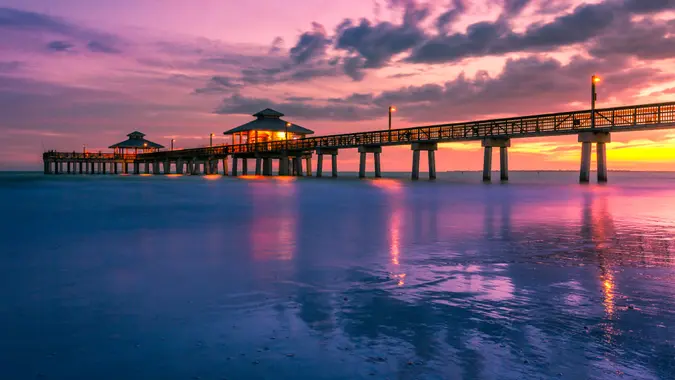 BobPalosaari / Getty Images/iStockphoto
Everyone has a different preference when it comes to where they want to retire. While some prefer the cozy atmosphere and quiet evenings that accompany life in a small town, others prefer the tall buildings, bright lights and vibrant atmosphere that accompany retirement in a big city.
A recent GOBankingRates survey offered some insight on where people prefer to retire.
Keep reading to find out where the majority of Americans are looking to retire, as well as Realtors' recommendations for the best small towns and big cities to consider.
26% of Americans Are Looking To Retire in Small Towns
The survey revealed that 26% of Americans are seeking out small towns to retire in. Small towns beat out beach towns (19%) and big cities (10%) and received more replies than "where I am currently living" (23%) and "near family" (16%), though many of those places very well could be small towns.
Are You Retirement Ready?
Surprisingly, the majority of respondents looking to retire in small towns are on the younger side: 33% of Americans ages 18 to 24 responded in this way. The numbers dwindle a bit with age, as 24% of Americans ages 25 to 34 are looking to retire in small towns, 30% of those ages 35 to 44, 26% of people ages 45 to 54 and 24% of those 55 to 64. A mere 15% of people over 65 are interested in retiring in small towns (but 44% stated "where they currently live" and 19% said "near family," which could be small towns in some cases).
When looking at retirement in small towns by gender, there is also a slight divide. Our survey revealed that 28% of men stated interest in retiring in small towns, compared to 24% of women.
10% of Americans Want To Retire in Big Cities
Small-town life isn't for everyone. Our survey also revealed that 10% of Americans are looking to retire in big cities, apparently craving plenty of social opportunities during this life phase.
Are You Retirement Ready?
Millennials were the age group most likely to cite big cities, with 17% of the 25-34 age group and 13% of the 35-44 set.
Gen X and baby boomers had little interest in big cities, preferring small towns, beach towns, their current locations and places close to family.
More men expressed interest in retiring in big cities than women, 12% to 7%.
The Pros and Cons of Retiring in a Big City
While being surrounded by social opportunities, lots of activities and the buzz of a big city may sound appealing, is retiring in a big city worth the higher cost of living?
"One of the pros of retiring to a big city is that more activities and social opportunities are available," said Rinal Patel, co-founder and licensed Realtor at We Buy Philly Home. "There are also more job opportunities and healthcare options available in a big city. You can also find a greater variety of housing options. However, living in a big city can also be expensive, and it can be difficult to get around if you don't have a car. It may also be a bit hard to find a sense of community in a big city."
Are You Retirement Ready?
Affordable Big Cities for Retirees To Consider
You can still enjoy your retirement in a big city without feeling the financial strain. Niche's list of the "Best Cities to Retire" features affordable cities with populations over 250,000, and one might be a good fit for you.
According to Niche, one of the most ideal big cities for retirees is St. Petersburg, Florida. The city has a bustling retirement population, with 18% over age 65, and the median home value falls at $182,900.
Those seeking out a low cost of living in a city featuring a wide array of activities should be sure to consider Plano, Texas. About 13% of the city's residents are over 65, and the median home value is $291,300. This city has many experiences to offer its residents, including the Arbor Hills Natural Preserve and the Interurban Railway Museum.
If you don't mind warm summers, be sure to also consider Scottsdale, Arizona. This city features a median home value of $493,200, and 28% of the city's population are seniors. Scottsdale has a lot to offer its residents, as the city features bars, parks, coffee shops and amazing local eateries.
The Pros and Cons of Retiring in a Small Town
Retiring in a small town allows homeowners the luxury of a low cost of living and the opportunity to enjoy more space and privacy. It also offers lower pollution levels and starry night skies. If wide-open spaces and a more quaint feel are up your alley, you may want to consider a small town.
Are You Retirement Ready?
However, there are downsides to life away from a big city. If you are a social butterfly and enjoy an on-the-go lifestyle, a small town might not be the best fit for you. There are often fewer job opportunities, limited recreational activities and more spread-out neighborhoods.
Consider These Small Towns
If you are considering retirement in a small town, you may want to consider one of these areas recommended by real estate professionals.
"New Braunfels, Texas, is a small town between Austin and San Antonio, and it has convenient access to both mentioned cities," said Sal Dimiceli Sr., owner and broker at Lake Geneva Area Realty. "In 2021, the population of this small town was 98,857. The city celebrates a rich heritage with several annual festivals, including Wassailfest and Wurstfest. In this small town, you can take your grandchildren to the Schlitterbahn Waterpark, or to a safari through the Natural Bridge Wildlife Ranch and Caverns. You can also go to the Comal and Guadalupe rivers to experience their scenic beauty and to stay cool during the summer."
If living in a small town just off Florida's Gulf Coast sounds up your alley, be sure to check out Fort Myers, Florida. Fort Myers is surrounded by palm trees and located along the Caloosahatchee River.
"The population in Fort Myers was 92,245 during 2021, which is a 6.8% increase from the previous year's population," Dimiceli said. "Thirty-five percent of this small town's total population is in the age range of 60 and older, which shows that this town is widely popular among elderly people. In 2022, Fort Myers was ranked as one of the top 10 cities on the U.S News list of best places to retire. The affordable housing cost in this city is one of the major reasons why this city is so popular for retirees to live on a budget."
Are You Retirement Ready?
More From GOBankingRates
Methodology: GOBankingRates surveyed 997 Americans aged 18 and older from across the country between Aug. 9 and Aug. 11, 2022, asking 16 questions: (1) How much money do you currently have saved for retirement?; (2) How much money do you think you'll need to retire?; (3) Realistically, at what age do you want to be retired?; (4) At what age did you start saving for retirement?; (5) What worries you financially about retirement? (Select all that apply); (6) Do you plan to work in retirement?; (7) What assets do you have in your retirement portfolio? (select all that apply); (8) How has the current inflation impacted your retirement plans?; (9) How much of your retirement do you plan to fund with Social Security?; (10) How do you feel about the future of Social Security when you retire?; (11) What percentage of your salary are you currently investing for retirement?; (12) Are you planning to move after your retirement?; (13) Where is your ideal place to retire?; (14) What government programs do you plan to use for your retirement? (select all that apply); (15) Do you have a pension plan?; and (16) How much do you think the average American has saved at the time they retire? GOBankingRates used PureSpectrum's survey platform to conduct the poll.