Suze Orman Urges Near-Retirees To Stop Paying Their Kids' Bills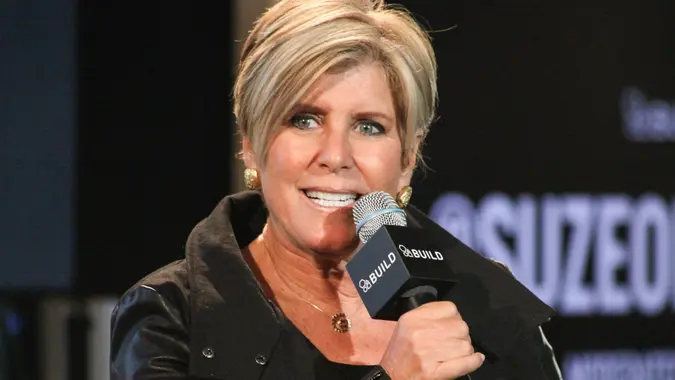 Mediapunch / Shutterstock.com
Many parents of adult children are still providing them with financial support. A recent survey of 1,000 parents with kids ages 18 to 42 found that more than half (55%) still help their adult children financially, and that nearly 1 in 5 (19%) have sacrificed their retirement savings to help their children. But Suze Orman says that financially supporting your children if you're near to retirement is a mistake.
"Have a talk with your kids and get them to understand, 'Mommy and Daddy are no longer your bank,'" she said in an interview with Moneywise.
Here's why Orman said it's time to cut the financial cord.
If You're Approaching Retirement, You Need To Start Cutting Expenses
Orman told Moneywise that Gen Xers and boomers who are planning to retire in the near future need to start reevaluating all of their expenses and look for ways to cut back.
"The more expenses you have, the more debt you have, the more income you need when you finally retire," she said.
One way to cut down on expenses is to pay off your mortgage ASAP.
"If you know you're going to want to stay in your home for the rest of your life, if you're lucky enough to own a home today, then make it your No. 1 priority to have the mortgage paid off by the time you retire," Orman said.
Are You Retirement Ready?
She also recommends eliminating car payments.
"Stop buying a car every three years, when you can just take care of your car and let it go 10 years, 12 years or longer," Orman said. "Stop spending money you don't have to impress people you don't even know or like."
If you own a large home, you might also consider downsizing.
"This is the time, when you're nearing retirement, that if you have a home and maybe you have six or seven kids or whatever it may be and now they've gotten older and you don't need that huge home anymore, downsize now, cut your expenses now," Orman said.
Financially Providing for Your Adult Children Is Another Expense You Can Cut
While you're in the process of eliminating expenses, Orman said this is the time to have a conversation with your children.
"[Tell them], 'I am no longer your bank account. I'm getting to the point where I need my money to be able to support myself. You are [old] enough now to go out and figure it out, so don't come to me for money,'" Orman told Moneywise.
This is especially true if you can't afford to support your children and provide for your own retirement, but Orman said you should still cut your kids off even if you do have enough money.
Are You Retirement Ready?
"You should still tell your kids that," she said, "so that they understand the responsibility and what it takes to make money."
More From GOBankingRates