7 Ways Gen Z Could Waste Money in Retirement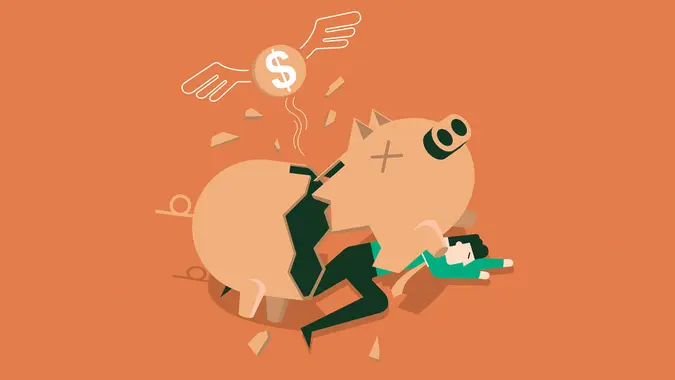 sorbetto / Getty Images
Despite Gen Z's young age, this generation is fast approaching or already employed in the full-time workforce. They're facing financial realities such as the need to save for retirement and prepare for the spending decisions they'll make during retirement.
While they likely won't be retiring for 40-plus years, it's critical for young Americans to be aware of the financial mistakes they'll want to avoid making in order to enjoy a financially secure retirement. 
Check out these seven (completely avoidable) ways Gen Z could end up wasting money in retirement.
Failing To Prepare for Unexpected Expenses
Everyone knows that retirement savings need to include rent, food, utilities and lifestyle costs. But what about when your car breaks down? Or if you get appendicitis and need to be hospitalized for a few days?
"Although they are usually very good at identifying their regular recurring expenses, younger generations often fail at identifying future lump sums such as replacing vehicles, unexpected house repairs like roofs and furnaces and items like extravagant vacations," said Dough Dahmer, CFP and CEO of Retirement Navigator. "In addition, folks often underestimate how both their costs and cash flow will vary as they pass through their years and decades ahead."
Are You Retirement Ready?
Not Realizing How Taxes Will Impact Them
It's easy to forget that your taxable income might change as you age. While you might assume your tax responsibilities will decrease in retirement, this is not always the case. 
"Most young people do not pay enough attention to how they will be impacted by taxation in retirement," Dahmer said. "Like the rest of your life, chances are one of your highest annual costs in retirement will be income tax. Similarly, many do not recognize that one usually has significantly more opportunity to reduce their retirement income tax costs than earlier in life."
Take Our Poll: What Do You Plan To Use Your Tax Refund For?
Not Investing Enough 
Investing too conservatively toward your retirement can hurt you financially when you aren't able to maintain your lifestyle on your retirement income. 
"Those who are young and still at the start of their earning years do not focus enough of their time on investing their time embracing the variability of their year-to-year cash flow requirements, and as a result, they become less and less likely to arrive at an accurate assessment of knowing how much will be enough when they retire," Dahmer said.
Are You Retirement Ready?
Spending Too Much of Their Income Paying Off Debt
As the youngest generation in the workforce, Gen Zers have limited entry-level earnings and are pushing off saving for retirement in lieu of more immediate financial needs, such as student loan debt. 
According to Education Data Initiative, the average Gen Zer has $14,315 in student debt. While this is less debt than older generations, the number is only sure to grow as more members of Gen Z age into expensive college educations.
Those who have yet to go to college should consider attending a less-expensive community college first, applying for scholarships and student aid and working part time to help pay for school. For those who have graduated, consider strategies such as getting a side hustle or moving home for awhile to pay off that debt faster. Staying strapped with debt for years is a sure-fire way to impact your finances later on, including retirement.
Failing To Meet Employer-Match Retirement Benefits
Gen Z is leaving retirement funds on the table when they fail to meet the employer-match minimum on their retirement accounts. Many companies offer employer-sponsored retirement plans that feature 401(k) matching when employees are able to meet a contribution minimum. 
Are You Retirement Ready?
It's to Gen Z's benefit to take advantage of this free money and contribute as much as they are able in order to enjoy these additional savings and have a more financially secure retirement. 
Impulse Spending 
Gen Z is under some of the most aggressive influencer marketing social media has ever seen. With constant pressure to spend money on the latest "must-have" products, it's easy to see how everyday purchases can lead to poor spending habits over time. 
According to a survey conducted by Statista, 63% of Gen Z shoppers bought a product off their social media feed in 2022. 
With Gen Z spending a significant amount of time on social media, and apps like TikTok featuring groundbreaking personalized algorithms, the temptation to spend is higher than ever and can lead to a lifetime of impulse-buying problems. More even than the habit, it's detracting from money that could be invested and benefited from later on.
Poor Planning
According to a recent survey conducted by Rocket Mortgage, only half of Gen Zers (51%) are budgeting. Of those who are budgeting, the main budgeting categories include food, rent, utilities, transportation and entertainment. With nearly half of this generation not prioritizing financial planning, it's safe to assume that they likely don't have a plan for retirement savings. 
Are You Retirement Ready?
While younger members of this generation might not have an income stream that allows for retirement saving, older members of Gen Z in the workforce are missing out on critical saving opportunities. Without a plan, Gen Zers may miss out on things like employer-matching 401(k) funds and compound interest that would leave them a lot better off in retirement. They can always pivot to saving more later on, but time lost now means less money down the road.
More From GOBankingRates
Are You Retirement Ready?