Calculating Your Retirement: What's the Least Amount of Money You Need?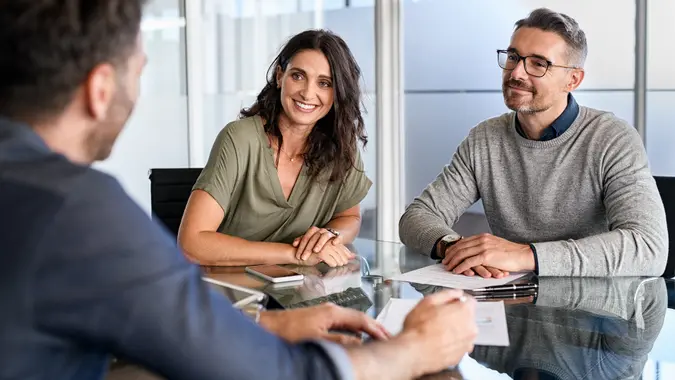 Ridofranz / iStock.com
You know you're supposed to save for life beyond your earning years, but how much? What's the least amount you need to retire and what's the plan to get there?
If you can't rattle off the answers to any of those questions, don't worry, most people are right there with you.
To clarify some of the question marks, GOBankingRates asked the experts for tips that ordinary people can use to find their personal retirement numbers. The key word is "personal." There is no one dollar amount and no one-size-fits-all formula to find it — but the following guidelines will go a long way to getting you on the right track.
It All Starts With Accounting for Your Expenses
The dollar amount that you need to save depends almost entirely on what you spend now and what you'll spend after you retire.
Are You Retirement Ready?
They're usually two different numbers, so it will require some predictive analysis.
"To estimate the amount of money you would need set aside to maintain your current lifestyle in retirement, you would first need to figure out how much you spend and how that might change in retirement," said Drew Feutz, CFP, financial planner and co-founder of Migration Wealth Management.
"For example, you may spend $6,000 per month right now, but $1,500 of that may be a mortgage that will be paid off prior to retirement. Additionally, you will need to consider how much health care costs might be, among other expenses that may fall off prior to retirement or that you may need to plan for."
Take Our Poll: Do You Think AI Will Replace Your Job?
The 4% Rule
The 4% standard is one of the most common rules of thumb in retirement planning. The idea is to save enough to last you 30 years if you withdraw 4% the year you retire and then revise that number to keep pace with inflation for a slightly larger withdrawal every year after.
It isn't perfect. It's a rigid strategy that presumes no lifestyle or spending changes for three decades, and it isn't individualized — but it provides a roadmap to building a nest egg that you're unlikely to outlive.
Are You Retirement Ready?
"Once you have an idea of how much you may spend annually in retirement, you can multiply that number by 25 and subtract any income sources that you will have in retirement," said Feutz, who gave Social Security, pension income and rental income as examples.
"For example, if you determine that you will spend $5,000 per month — $60,000 annually — in retirement and you will receive Social Security of $1,500 per month — $18,000 annually — then you would multiply $42,000 — expenses minus Social Security — by 25, resulting in $1.05 million."
Using the 4% standard, your $1.05 million nest egg would allow you to withdraw $42,000.
"Of course, this will not be an entirely accurate number," Feutz said. "There may be big lump sum expenses in retirement such as vehicle purchases or long-term care expenses that are not factored into this number."
The 10% Rule
If all that math was too much, or if it seems implausible to plan for 30 years with no volatility, there's a simpler way to find your number.
"Most people must accumulate at least 10 times their average annual income to generate enough retirement income," said Laura Adams, MBA, a money and small business expert.
Are You Retirement Ready?
"For instance, if you earn $100,000, having at least $1 million is a wise goal. Let's say you earn $75,000 and want to retire at age 67 with 80% of your pre-retirement income, or $60,000. You can probably count on getting about $20,000 a year from Social Security. The remaining $40,000 must come from savings.
But if you have high aspirations for retirement, such as owning a second home, there's nothing wrong with planning for 100% or more than your pre-retirement income. Also, your future debt–such as a mortgage or student loans for a child's college — should be considered."
Just like the 4% rule, the 10% standard is not an individualized plan, but they both serve the same purpose — to provide an educated but indefinite savings goal.
"While retirement planning involves many unknowns, a basic calculation gives you a target savings number to shoot for," Adams said. "As your income, debt, and lifestyle change, reevaluate how much retirement income you'll need and whether you're saving enough to achieve it. Consulting with a certified financial planner is an excellent way to ensure you're on track to achieve the retirement lifestyle of your dreams."
Are You Retirement Ready?
It's Always Best To Save as Much as You Can
While long-term strategies can help you plan and take inventory of your progress over time, a good rule of thumb is that more is always better. No matter your age, the best course of action is to save as much money as possible every month for as long as you can.
If you're looking for milestones to keep score, Fidelity's guidelines reflect the common wisdom on near-term saving goals along the way:
30 years old: Have 1x your annual salary saved for retirement
40 years old: 3x your annual salary
50 years old: 6x your annual salary
60 years old: 8x your annual salary
67 years old: 10x your annual salary
More From GOBankingRates
Are You Retirement Ready?