Worried About Retirement Savings? 5 Reasons You're Not as Ill-Prepared as You Think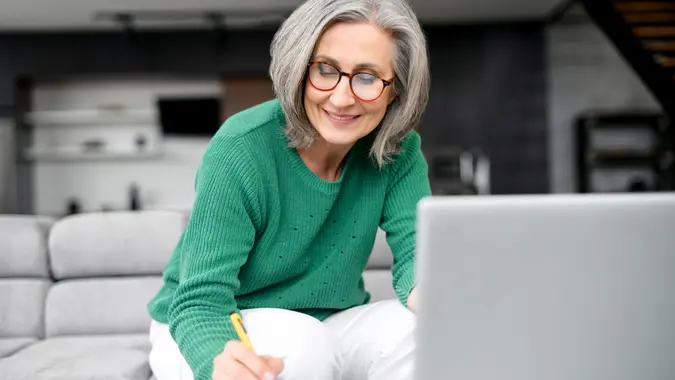 Vadym Pastukh / Getty Images/iStockphoto
If you're concerned that you'll run out of money in retirement, you're not alone. According to a recent survey conducted by GOBankingRates, two-thirds of Americans polled fear that they'll outlive their savings. In addition, half worry that their social security benefits will get cut during their golden years.
Social Security: No Matter Your Age, Do Not Claim Benefits Until You Reach This Milestone
Find: With a Recession Looming, Make These 3 Retirement Moves To Stay On Track
Fortunately, there are some tell-tale signs that you may be in better financial shape than you realize:
1. You Have No Debt
Debt payments can eat a significant chunk of your monthly cash flow — especially on a reduced or fixed income. So, if you can pay off your credit cards, home, car, and other obligations before you retire, you'll have more money to cover your living expenses and enjoy your newfound free time.
2. You Live a Frugal Lifestyle
Your lifestyle is a major predictor of how long your cash will last. Your nest egg will stretch further if you live in an affordable area, stick to a budget, and find creative ways to save money.
3. You Take Care of Yourself
When reports show that the average couple may need over $300,000 to cover medical expenses in retirement, per Fidelity, it's hard not to worry. But you have a good shot of requiring much less if you consistently practice healthy behaviors, like exercising and eating nutritious foods.
4. You Have a Diversified Portfolio
Investments within your portfolio will likely go up and down in value over time. You can help mitigate that volatility (and reduce your risk of loss) by investing in different types of assets. A financial advisor can assist you if you have questions.
5. You Plan To Cover Major Expenses Before Retiring
Getting a new car or replacing your roof after you call it quits could either take a big bite out of your savings or put you into debt. But you can preserve the dollars earmarked for retirement by covering these expenses before you leave the workforce, or maintaining sinking funds for them until the cash is needed.
Take Our Poll: What Do You Plan To Use Your Tax Refund For?
More: What Is the Average Social Security Benefit at Age 62?
Still Worried?
If you're still not sure your retirement savings will last, consider:
Cutting some discretionary items from your budget, like travel and monthly subscriptions.
Contributing more to your emergency fund, retirement savings, and investment accounts.
Delaying Social Security withdrawals to get a larger monthly benefit.
Working part-time instead of retiring completely.
More From GOBankingRates