Social Security 2024: Estimate for COLA Might Disappoint Retirees After Latest Inflation Report — Will Your Payments Be Affected?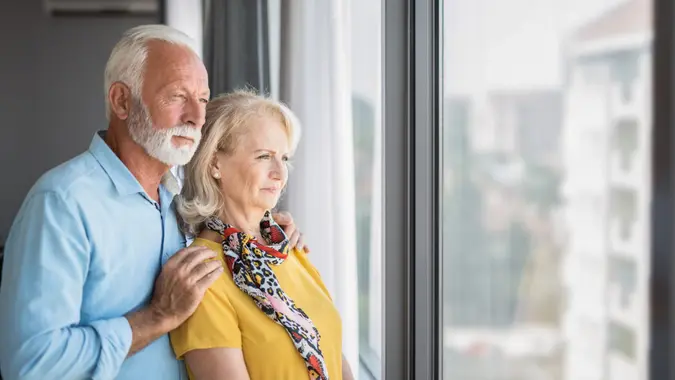 DjelicS / Getty Images
Millions of Social Security recipients have spent the last year playing financial catch-up because of the hit they took from soaring inflation in 2022. Most are still way behind, even with the 8.7% cost-of-living adjustment approved for 2023 — the highest in more than four decades.
The situation might not get much better in 2024 because of the expectation of a low COLA tied to this year's declining inflation rate.
The Senior Citizens League, a non-partisan advocacy group, estimates that average Social Security benefits fell short of inflation by roughly $1,054 from January 2021 to December 2022, according to research published this week.
The shortfall was mainly due to the 2022 COLA of 5.9%, which lagged well behind an inflation rate that hovered above 7% for most of the year. Average benefits in 2023 have only recovered about $179.40 in total since the start of the year.
The 8.7% COLA increase has exceeded the actual rate of inflation in every month so far this year by an average of 2.6%. That amounts to just shy of $45 per month, based on an average Social Security benefit of $1,694. But as The Senior Citizens League points out, this cushion is entirely consumed by the $164.90 monthly Part B premiums automatically deducted from Social Security benefits.
Are You Retirement Ready?
The financial impact has been considerable. A new Senior Citizens League survey of 1,055 older Americans found a "sizable jump" in the number reporting that they have depleted a retirement account over the past 12 months, from 20% in the third quarter of 2022 to 26% in the first quarter of 2023. The survey also found that those who reported carrying debt on consumer credit cards for more than 90 days climbed to 45% — the highest level ever recorded.
Because of the recent drop in inflation, the buying power of Social Security recipients could go down considerably next year. If inflation continues to fall at the current rate, the COLA for 2024 will be lower than 3%, according to The Senior Citizens League.
Mary Johnson, the group's Social Security and Medicare policy analyst, wrote in an email to GOBankingRates that there is "very widespread support" for guaranteeing a minimum COLA of 3%.
"This would be important if slowing inflation drops the consumer price index into negative territory, which could potentially happen," Johnson wrote. "In other words, there is a risk that there might be no COLA payable next year if inflation slows rapidly."
This has happened before. Since Social Security cost-of-living adjustments were first approved in 1975, there have been three times when no COLA was approved for the following year due to low inflation or deflation: 2009, 2010 and 2015. Since 2000 — a span of 23 years — the COLA has been less than 3% a total of 16 times, according to the Social Security Administration. As recently as 2021 the COLA was only 1.3%.
Are You Retirement Ready?
In addition to a minimum COLA of 3%, The Senior Citizens League recommends basing the COLA on a consumer price index that "better reflects how seniors spend their money," such as the Consumer Price Index for the Elderly, Johnson said.
She would also like to see lawmakers from both sides of the political aisle come together to pass legislation that will bolster Social Security instead of weaken it.
Take Our Poll: Do You Think the US Should Raise the Medicare Tax on High Earners To Help Save the Program?
"Lawmakers can help by dropping partisan battles," Johnson said. "Social Security is important to the vast majority of Americans — Democrats and Republicans."
More From GOBankingRates
Are You Retirement Ready?