Social Security Pales in Comparison to Rising Rents, Leaving Young Boomers in Danger of Poverty Crisis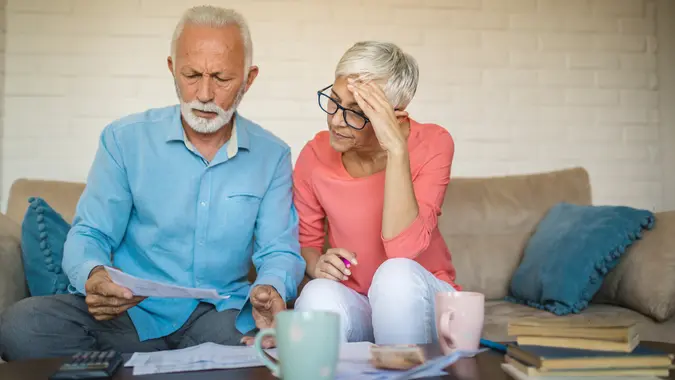 FluxFactory / Getty Images
Millions of older Americans rely on their Social Security checks to help cover their bills, but younger baby boomers are facing homelessness as they struggle to keep up with rising rents.
Data from the Department of Housing and Urban Development showed that adults 65 and older made up the fastest-growing portion of homeless Americans, The Wall Street Journal reported. The National Health Care for the Homeless Council also found that the percentage of patients 50 or older who it services in 2022 was 36% — up from 25% 15 years earlier.
"This is a level of a problem that we have not seen before," Barbara DiPietro, the group's senior director of policy, told the Journal. "We are seeing older people in shelters and encampments or living in their cars at a rate that we never had before."
The Journal noted that this trend seems to affect "trailing edge" boomers the most, or those born between 1956 and 1964. People in this age group are also heading into retirement while facing rising housing costs and an end to pandemic-era assistance programs.
Are You Retirement Ready?
During the pandemic, rent prices skyrocketed as a lack of affordable housing pushed would-be home buyers out of the housing market. Between 2020 and 2022, rent prices rose by 15%, the fastest increase in rents in nearly a century, The Washington Post reported. Some metros experienced an even bigger percentage increase, especially in the Sun Belt region.
Among the 20 metro areas that experienced steep rent increases between January 2020 and June 2023, 10 were in Florida, according to Zillow and as reported by The Journal. Florida has no rent control laws, and the state saw a big increase in out-of-state renters and home buyers, which helped drive up prices. 
According to Zillow, the typical rent in Naples was $2,833 in July, but the average Social Security payment for retired workers that month was $1,791, per federal data. A 2023 analysis by the University of Florida's Shimberg Center for Housing Studies found that Florida needs 400,000 more low-cost rental units to meet current demand, The Journal reported.
If economic conditions don't change, older Americans may need to find additional sources of income, or the homeless crisis will only get worse.
Are You Retirement Ready?
More From GOBankingRates