EmigrantDirect Review: No Fees and Competitive Rates on Savings and CDs
GOBankingRates Score
EmigrantDirect
Quick Take: EmigrantDirect is an online-only bank that offers high-yield savings and certificates of deposit. It's best for customers who are comfortable with online banking and are looking for a no-frills savings account.
Rates
Fees
Customer Service
Banking Experience
How did we calculate this?
Pros
Competitive rates on savings and CDs
No monthly maintenance fees or minimum balance requirements
Online application process
FDIC-insured accounts
Gold bullion bars and coins available for purchase
Cons
No branch locations available
No mobile app
No live chat support
About EmigrantDirect
EmigrantDirect serves as the online banking division of Emigrant Bank, which was founded by Irish emigrants in 1850. EmigrantDirect is for consumer accounts only, and it only offers savings accounts and CDs. The financial institution is known for its easy online application process and competitive rates.
One other unique offering is that customers can buy and sell precious metals through EmigrantDirect. You can purchase gold coins and bars, and the bank will either store them for you or deliver them directly to your home.
EmigrantDirect Products
Here's a look at the banking products EmigrantDirect offers.
Savings account: Good for anyone who wants a basic savings account with a competitive rate.
Certificates of deposit (CDs): Good for customers who want a choice of CD terms with a locked-in interest rate and have a minimum $1,000 deposit available.
EmigrantDirect Savings Account
EmigrantDirect's star product is its AmericanDream Savings Account. This high-yield savings account comes with a generous annual percentage yield (APY). There are no fees and no minimum balance requirements to earn preferred rates. That means you'll earn whether you deposit $5 or $5,000.
However, if you want easy access to your money and plan to make frequent withdrawals, this is probably not the savings account for you. EmigrantDirect doesn't have any branch locations, and there's no mobile app, so this account is designed to be a long-term savings plan.
If you have a checking account at another bank, you can link it to your AmericanDream Savings Account. That way, you can transfer funds and set up recurring deposits.
Features
No minimum deposit required
No monthly fees
No minimum balance requirements
Competitive APY
Easy online application process
FDIC-insured
Pros
Competitive rate
No monthly fee or minimum balance requirement
Customer support available 8 a.m. till 11:30 p.m. EST daily
Cons
No mobile app
No branch locations
EmigrantDirect CD Accounts
EmigrantDirect also offers CDs with competitive rates, with the caveat that you must be an account holder to open one. There's a minimum deposit of $1,000 to get started, and the interest is compounded daily and credited monthly.
CDs are only a good option for customers who plan to leave the funds for the full term of the CD. Otherwise, you will get hit with an early withdrawal penalty. So if you think you may want to access the money early, you should probably look at the savings account instead.
Features
Terms between 6 and 120 months available at varying rates
Minimum $1,000 deposit
FDIC-insured
Pros
Competitive rates
Interest compounded daily
Automatic notification prior to the account maturing
Cons
Early withdrawal penalty
Only available for EmigrantDirect account holders
Banking Experience
EmigrantDirect is a strictly online bank, so there are no branch locations. Although it's easy to open an account online, the bank is lacking when it comes to its overall digital experience.
There's no mobile app, which is something most customers would expect with an online-only financial institution — so managing your money will not be as easy or convenient as it would be with an app.
Customer Service
EmigrantDirect provides live customer service to all its banking customers from 8 a.m. to 11:30 p.m. EST, seven days a week. If you have a problem with your account, you can contact the bank by phone or email customerservice@emigrantdirect.com.
The bank has no chat app that would allow customers to talk to a representative in real time.
How To Open an Account
Opening a savings account with EmigrantDirect is pretty straightforward. You'll visit the bank's website and click the "Open Now" button on the homepage.
From there, you can enter your personal information and get your account set up. You will need to provide EmigrantDirect with the following information:
Birthdate — customers must be at least 18 years old
Driver's license number
Social Security number
Mailing address
Employment information
Personal checking account information
If you have any trouble opening the account, you can contact customer service and a representative will walk you through it. Once the account is set up, you can fund it with a one-time check deposit.
Key Information

Customer Service Number: 800-836-1997

Customer Service Email: customerservice@emigrantdirect.com

Routing Number: 226070319
EmigrantDirect Fees
One of the advantages of opening an account with EmigrantDirect is the lack of banking fees. There is no minimum balance or monthly maintenance fee. The only fee you might encounter is a $30 fee for outgoing wire transfers — but there is no fee for incoming wire transfers.
EmigrantDirect vs. Competitors
It's a good idea to look at more than one bank before deciding where to keep your money. Here's how EmigrantDirect compares to two other banks.
| Bank | Key Feature |
| --- | --- |
| EmigrantDirect | Competitive rates and easy online application process |
| Ally Bank | Wide range of banking accounts, including high-yield savings and CDs |
| Capital One | Good variety of online banking products and a robust digital banking experience |
EmigrantDirect vs. Ally Bank
One of the advantages of banking with Ally is that you'll have access to a wide variety of accounts, and the rates are slightly higher than what EmigrantDirect offers. Ally also offers a mobile app and smoother user experience.
However, EmigrantDirect gives customers the option to purchase gold bars and coins, which is something Ally doesn't offer.
EmigrantDirect vs. Capital One
Capital One offers flexible checking and savings accounts, plus access to over 70,000 ATMs across the country — not to mention its plethora of credit card options. But EmigrantDirect offers a higher rate on its savings account.
Is EmigrantDirect A Good Bank?
If you're looking for a safe and secure online bank for your savings, EmigrantDirect could be a good choice for you, if you won't need quick access to your money. The savings account comes with a APY, and there are a number of CD terms to choose from.
Another noteworthy feature is that you can use EmigrantDirect to buy gold bullion bars and coins to either store in the bank's vault or have shipped directly to your home. This is a service that you won't find at many other banks, and it could be a unique selling point for some people. That said, it's important to note that although gold bullion stored by EmigrantDirect is insured against loss up to replacement value, the insurance doesn't cover loss of value due to market fluctuations.
More Banks With Competitive Rates

Bank Branches

Credit Unions
Takeaway

EmigrantDirect is a straightforward savings option that doesn't charge any monthly fees. You'll earn a competitive rate on your savings account and CDs, so the money you save works harder for you. It's a good choice for anyone who isn't looking for an in-person banking experience.
EmigrantDirect FAQ
Here are answers to some of EmigrantDirect's more commonly asked questions.
What is the difference between EmigrantDirect and Emigrant Bank?

EmigrantDirect is the online banking division of Emigrant Bank.

Is EmigrantDirect safe?

Yes, EmigrantDirect is a safe and secure online bank. It uses two-step verification to ensure against fraudulent access to your accounts.

Is EmigrantDirect FDIC-insured?

Yes, your account is FDIC-insured for up to $250,000.

How do I make deposits into EmigrantDirect?

Your initial deposit is made by check or electronic transfer, after which only electronic transfer is accepted.
You can link your current checking account to your EmigrantDirect savings account. This allows you to schedule transfers or set up automatic transfers between the two accounts.

Does EmigrantDirect offer free money for signing up for an account?

No, not at this time, but customers appreciate the bank's competitive rates and lack of fees.
Cynthia Measom contributed to the reporting for this article.
Rates are subject to change; unless otherwise noted, rates are updated periodically. All other information on accounts is accurate as of Feb. 8, 2023.
Editorial Note: This content is not provided by any entity covered in this article. Any opinions, analyses, reviews, ratings or recommendations expressed in this article are those of the author alone and have not been reviewed, approved or otherwise endorsed by any entity named in this article.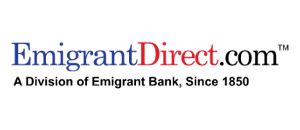 Take Advantage of our Best Offer(s)