First Horizon Bank Review: 24/7 Customer Service and Waivable Monthly Fees
GOBankingRates Score
First Horizon
Quick Take:
First Horizon Bank is a good option for people looking for a community-focused bank that focuses on its customers. The bank does charge monthly maintenance fees but will waive them if customers meet qualifying activities. Plus, minimum opening deposits are affordable.
Minimum Opening Deposits
Monthly and Quarterly Fees
Customer Service
Digital Banking Assistance
How did we calculate this?
Pros
Affordable minimum deposits
24/7 customer service
Comprehensive digital banking assistance resources
Cons
Higher APYs available elsewhere

Monthly fees

on accounts
About First Horizon Bank
First Horizon Bank is headquartered in Memphis, Tennessee, and has $43.7 billion in assets and over 490 locations. First Horizon offers a wide variety of personal banking services, including checking, savings, a money market account, and CDs. Accounts do have monthly maintenance fees, but the bank offers options for waiving them. Additionally, First Horizon does require minimum opening deposits, but they are affordable. These and other reasons are what earned First Horizon Bank a spot in GOBankingRates' Best Banks rankings for Best Regional Banks and Top 100 Banks of 2022.
Checking Accounts
First Horizon Bank offers three checking account options. Here are the details for each account.
FirstView Checking
FirstView Checking is First Horizon's standard, non-interest-bearing checking account. It has a $50 minimum opening deposit, and as long as you enroll in paperless statements, there's no monthly service charge. The account also comes with a complimentary Traditional Savings account.
SmartView Checking
SmartView Checking is an interest-bearing account that requires a $50 minimum opening deposit and has a $15 monthly service charge. However, the bank will refund the monthly service charge when you have at least one direct deposit or bill payment per statement cycle and any of the following:
$5,000 average daily balance
$25,000 average daily balance in total balances across all accounts
$2,500 First Horizon credit card purchase transactions
When you qualify for a refunded monthly service charge, you'll also be eligible for bonus interest on your SmartView checking balance and an additional tenure-based bonus interest on the first $25,000 of your balance. The account also allows free ATM transactions — in or out of network — and comes with a complimentary Money Market Savings account.
TotalView Checking
TotalView Checking is an interest-bearing account that also requires a $50 minimum opening deposit, but it has a $25 monthly service charge. However, the monthly fee can be waived with one monthly direct deposit or bill pay, plus one of the following:
$100,000 in total consumer deposits, wealth and mortgage balances
$5,000 monthly debit card and/or credit card purchase transactions
Both in- and out-of-network ATM transactions are free and foreign ATM and surcharge fees are rebated. Additionally, this account comes with free paper statements, higher daily debit card limits, up to $25 in wire fees rebated per month and bonus interest on the checking account balance.
Savings Accounts
First Horizon Bank only offers one savings account option. Here's what you need to know.
Traditional Savings
All it takes is $50 to open a Traditional Savings account at First Horizon. And while the 0.01% APY isn't the most competitive, it is in line with standard savings rates you'll often find at other banks. The account does have a quarterly maintenance fee of $5, but as long as you maintain a $250 minimum daily balance, the bank will waive it. Additionally, you can link your savings account to your First Horizon checking account as a form of overdraft protection to provide 24-hour access to your funds via ATM.
Money Market Accounts
First Horizon Bank offers one money market account. Here are the details.
Money Market Savings
In many ways, First Horizon's money market account works a lot like a traditional savings account. You can get started for just $50, which makes it affordable. Plus, the account features tiered interest rates, so you'll earn more money in interest as you save more. The account does have a $9 monthly service fee, but the bank will waive it if you have a qualifying checking account or if your total combined balance across all First Horizon accounts is at least $5,000.
CD Rates
First Horizon Bank offers two types of CDs. Here's a look at each option.
Regular CD
Regular CDs have a $1,000 minimum opening deposit and have term options from one month to 60 months. Terms of 30, 60 and 90 days earn 0.02% APY. Terms of 180 and 270 days and 12, 24, 36, 48 and 60 months earn 0.03% APY.
Add-On CDs
Add-On CDs are perfect if you want to open a CD for less than $1,000. These CDs require a minimum opening of $500. And you can add to your CD at almost any time through a one-time or recurring automatic transfer from a linked First Horizon account, as long as the deposit is at least $25. The CD automatically renews every six months and earns a 0.02% APY on balances of less than $25,000 or a APY on balances of at least $25,000. One penalty-free withdrawal is allowed once every six months.
Banking Experience
First Horizon Bank has some standout features, which helped it earn an overall rating of 4.1 from GOBankingRates. Here's a breakdown of the features that make First Horizon worth considering.
Minimum Opening Deposits
First Horizon Bank's minimum opening deposits are affordable. All checking options have a minimum opening deposit of $50, and all savings account options do, too, including the Money Market Savings. And when it comes to certificates of deposits, the bank offers a Regular CD, which has a reasonable $1,000 minimum opening deposit, whereas the Add-On CD option only requires a $500 minimum opening deposit.
Monthly and Quarterly Fees
Most banks charge their customers fees, but not all give easy options for waiving those fees like First Horizon does. For example, the bank will waive the TotalView Checking monthly service charge if you enroll in paper statements, and it will also waive the Traditional Savings account quarterly maintenance fee for maintaining a $250 minimum daily balance. And if you have a Money Market Savings account, the bank will waive the $9 monthly service charge as long as you have a linked checking account.
Customer Service
The fastest way to reach First Horizon is to call the customer service number, 800-382-5465. Bank representatives answer calls 24 hours a day, seven days per week, which is a plus if you have an issue outside of standard banking hours, including on the weekend. That's not always the case with other banks.
For non-urgent matters, the bank also allows for secure email messaging via its website and also by logging into Digital Banking, but it could take one to two days to get a reply.
Digital Banking Assistance
The digital experience provided by First Horizon Bank includes online and mobile access, with apps for both Android and iOS users.
Plus, the bank offers a convenient and easy way to get the answers you need to your digital banking questions. It has a Digital Banking Help page on its site dedicated to questions and issues you may have. And it's not just a tangle of random information you have to wade through. Instead, you can select "Mobile" or "Online" to get help that's personalized for you — from making a mobile check deposit to updating your profile and security settings.
Editor's Favorite

Affordable minimum opening deposits are a plus — especially when you need to open more than one account. While other banks may require a $100 minimum opening deposit on some of their accounts and $1,500-$2,500 to open a CD, First Horizon keeps things affordable with a $50 minimum opening deposit on all of its savings, checking and money market options and $500-$1,000 for CDs.
First Horizon Bank vs. Competitors
To get the big picture about a particular bank, it can help to compare it to its competitors. Here's a quick look at how First Horizon Bank stacks up.
First Horizon Bank vs. Fifth Third Bank
Fifth Third Bank offers some checking options that do not require a minimum deposit, which First Horizon cannot compete with because all of its checking options require a $50 minimum deposit. However, First Horizon Bank offers live customer service, 24/7, while Fifth Third Bank has limited customer service hours Monday-Saturday.
First Horizon Bank vs. First Republic Bank
First Republic Bank has a more highly rated app than First Horizon. First Republic's iOs app rates 4.8 stars on the App Store versus 2.3 stars for the First Horizon app. The same holds true for the Google Play app — 3.8 stars for First Republic Bank versus 3 stars for First Horizon. However, while First Republic Bank does have customer service hours every day of the week, it can't compete with First Horizon's customer service line, which is staffed 24/7.
First Horizon Bank vs. PNC Bank
PNC Bank offers relationship rates on its deposit accounts that offer customers higher APYs than what First Horizon offers, which means the opportunity to reach your savings goals faster. However, First Horizon has 24/7 customer service, whereas PNC does not.
Final Take
At First Horizon, you'll need $50 to open most accounts, except for CDs, which is affordable. And while many of these accounts come with a monthly service fee, it is possible to have fees waived by meeting certain requirements. Additionally, the bank offers 24/7 customer service, which means that you can get assistance when you need it.
First Horizon Bank FAQ
Here are answers to some of the most commonly asked questions about First Horizon Bank.
Is First Horizon the same as First Tennessee?

First Tennessee was rebranded as First Horizon Bank in 2019.

How many branches does First Horizon have?

The bank has 250 branch locations across the Southeast.

What time does First Horizon Bank deposit?

All ATM deposits and withdrawals will receive same-day processing if the transaction is completed by 8 p.m. CST Monday through Friday.
Jamie Johnson contributed to the reporting for this article.
Editorial Note: This content is not provided by First Horizon Bank. Any opinions, analyses, reviews or recommendations expressed in this article are those of the author alone and have not been reviewed, approved or otherwise endorsed by First Horizon Bank.
Rates are subject to change. Information on accounts is accurate as of Apr. 25, 2022.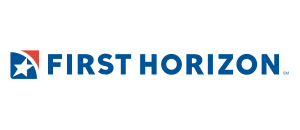 Take Advantage of our Best Offer(s)