VirtualBank Review: Online Banking Focused on High-Yield Money Markets and CDs
GOBankingRates Score
VirtualBank
Quick Take:
Online banks provide some advantages. The lower overhead that results when there are no physical bank branches to maintain means account holders have access to higher rates and lower fees.
VirtualBank
is entirely online and focuses on select savings products. I
f you'd like to open a Christmas fund or save money for a specific goal, this
VirtualBank review
will give you some insight on whether opening an online money market account or CD is worthwhile.
Mobile Banking
Fees
Research
Fees
How did we calculate this?
The best way to get an idea of what VirtualBank has to offer is by weighing the online bank's pros and cons.
Pros
$100 minimum balance for money market accounts to avoid $5 fee

$100 opening balance requirement for money market accounts

Short, one, two or three-month CD terms available

Website and mobile app are simply designed and easy to navigate

List of free-to-use financial calculators available
Cons
Customer service only available during business hours on weekdays

No cash deposits possible 

Limited bank account options

$10,000 opening balance for a CD is high 
VirtualBank Bank Overview History
VirtualBank is based in West Palm Beach, Florida, and provides money market accounts and CDs to customers comfortable with banking with an online-only financial institution. It's an offshoot of the recent merger between First Horizon Bank and IBERIABANK. A tightly-focused bank with limited products such as VirtualBank is ideal if you have minimal bills and transactions each month and prefer to have a holding account to grow your savings. Although VirtualBank's accounts are limited, you'll find competitive interest rates. GOBankingRates named VirtualBank no. 16 on its Best Money Market Accounts annual list.
VirtualBank Review Product Details
Here's a closer look at your VirtualBank account options and which type of individual each is best for.
VirtualBank Money Market Account
A money market account is a combination of a checking and saving account — with limits. You may be able to write checks, use a debit card to pay bills and schedule bill payments. You are limited to only six types of preauthorized transfers due to federal regulations from the money market account. Otherwise, there's a $15 fee for each transaction after the sixth.
You'll have the chance to earn interest on your balance, often higher than a savings account, one of the reasons why Virtual Bank's money market is a top pick in GOBankingRates' Best Money Market Accounts. A VirtualBank money market account currently pays 5.00% and up to 0.40% APY in interest; new accounts can earn this higher APY of 0.40%, regardless of whether you have a statement balance of $500 or $50,000. It comes with a $5 per month fee, but it can be waived as long as you maintain a $100 monthly balance or more. As a digital-first bank, you can manage your account all through the website and mobile app 24 hours a day, 7 days a week.
VirtualBank CD Accounts
Savings interest rates are currently low. A certificate of deposit is a good way to lock in a rate for a set period, just in case interest rates fall further. The best CD rates are typically available for larger balances and longer terms. However, there are times when you need a short-term CD that protects your savings. With VirtualBank, you have 11 term lengths to choose from, which can be as low as one month and up to 60 months, with rates between 0.10% and 3.51%. Longer terms provide higher APY, and interest compounds daily and is paid every month.
More term options than many banks offer. However, there is a large, $10,000 opening balance required and you may be subject to early withdrawal penalties.
Best Features of VirtualBank
While VirtualBank has its limitations due to the minimal amount of bank account types available, the online bank's strongest features make up for its shortcomings. Four areas where VirtualBank shines are:
Mobile Banking
VirtualBank strives to provide a stellar digital banking experience. The mobile app is robust enough to pay bills, view balances, transfer funds and make e-deposits.
APY
You can earn between 0.10% and 0.55% on your deposits. Opening a new money market account comes with an APY of 0.40%. To earn the highest interest rate of 3.51%, choose a 60-month eCD.
Research
VirtualBank offers ten calculators that can help you make important financial decisions. They include:
Fees
There are minimal fees attached to your accounts when you bank with the online financial institution. One of the few fees you may see is the $5 monthly maintenance fee for money market accounts. However, it can be waived when you maintain a balance of at least $100.
Editor's Favorite

The shorter-term one, two and three-month CDs are not easy to find and can be a great way to set aside money that will be due in the near future for things like college bills or a medical treatment. You'll be able to set aside the funds risk-free and earn some interest while you wait.
Banking Experience
Individuals considering VirtualBank will need to feel comfortable banking entirely online. There are no branches and phone support is limited, but if you're ok with emails and don't have any time-sensitive or pressing issues, you may find the banking experience positive.
Customer Service
Customer service representatives are available on weekdays only from 8:30 a.m. to 5:30 p.m. EST by calling 1-877-998-BANK. The bank's email address is client.service@virtualbank.com. You can also send a request for a representative to contact you about an issue, but it takes up to two business days to hear back.
Accessibility and Branch Availability
VirtualBank does not have any physical branches.
Mobile and Digital Experience
The mobile app and website are the heart of banking with VirtualBank. They're both protected by using encryption and layered security systems. The app provides the following functionality:
Add all your accounts from other financial institutions to manage in one place
Manage accounts
View transactions
Add tags, photos of receipts and make notes on transactions
Set up alerts
Pay bills
Transfer money and send funds to friends and family
Locate bank branches and ATMs
Deposit checks by taking a photo of them
Sign up for notifications
Add a four-digit password for added security
Use fingerprint or facial recognition to log in to the app, if supported by your smart device
VirtualBank reviews from customers rank the mobile app as follows:
Convenience and Ease of Use
If you don't have much need for support, you'll find VirtualBank convenient. You'll be able to handle most of your banking from anywhere at any time. However, there isn't a way to make cash deposits. And you'll have to wait to contact customer service during regular business hours on weekdays.
How To Open an Account
Opening an account is simple. You'll need to be a U.S. citizen and provide:
A government-issued photo ID such as a driver's license or passport
Your Social Security number
Phone number and email address
$10,000 minimum for a CD or $100 minimum for a money market
Bank and routing information from your existing bank to fund the new account
Fees
VirtualBank charges account holders minimal fees. They are:
Monthly Maintenance Fees: $5 per month on money market accounts, which can be waived with a $100 minimum monthly balance
Excess Transaction Fee: $15 per each money market account transfer after the six allowed
Overdraft Fee: $35
VirtualBank vs. Competitors
| Bank | Best For |
| --- | --- |
| VirtualBank | Setting savings goals |
| Ally | Better interest rates |
| PNC | CDs |
| CIT | Online checking |
VirtualBank vs. Ally Bank
Ally Bank has managed to provide customers with top-notch online banking and a large variety of account options. VirtualBank's money market and CDs are good, but Ally's interest rates are higher. You'll earn 4.40% at Ally on a money market account, compared to the 0.40% APY currently offered on new accounts at VirtualBank. Ally also has a variety of high-yield accounts and CDs that pay between 3.00% and 4.10%.
VirtualBank vs. PNC Bank
If you're looking for CD options, PNC Bank may be a better choice. VirtualBank's short-term CDs are useful, but the high opening balance of $10,000 rules out many individuals. You can open a CD at PNC with just $1,000 and the bank has even shorter terms, starting at seven days.
VirtualBank vs. CIT Bank
VirtualBank no longer has checking accounts available for new customers. CIT Bank's eChecking option is free, can be opened with just $100 and will pay you interest of 0.10% or 0.25%, depending on your balance.
Final Take
VirtualBank is a good place to stash some money and let it grow. It shouldn't be too much trouble to open an account apart from your current bank, dedicated towards a particular savings goal, so don't put off opening an account. You can view all your accounts through the VirtualBank mobile app so you can manage money across different banks and take advantage of competitive rates and low fees.
VirtualBank FAQ
Some questions you may be wondering about include more info about bank promos and direct deposits.
Does VirtualBank offer free money for opening an account?

Many banks offer cash bonuses to encourage you to open an account. Promotions don't always run year round, so if you see one you like, take advantage. The only promotion VirtualBank offers at this time is a 0.40% APY on new money market accounts. The standard rate is

5.00%

APY.

Can I set up direct deposit for VirtualBank?

You can request direct deposit from your employer and fill out a direct deposit form. Once you do, your company will arrange the deposit with VirtualBank.

What is the first horizon VirtualBank routing number?

The VirtualBank routing number is 061120741. You'll need it to set up transfers or direct deposits, along with your bank account number which can be found when you log into your account online.
Rates are subject to change; unless otherwise noted, rates are updated periodically. All other information on accounts is accurate as of Dec. 30, 2021.
Editorial Note: This content is not provided by VirtualBank. Any opinions, analyses, reviews or recommendations expressed in this article are those of the author alone and have not been reviewed, approved or otherwise endorsed by VirtualBank.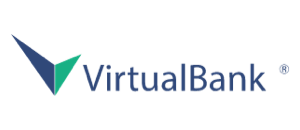 Take Advantage of our Best Offer(s)