Home Renovations That Are Surprisingly DIY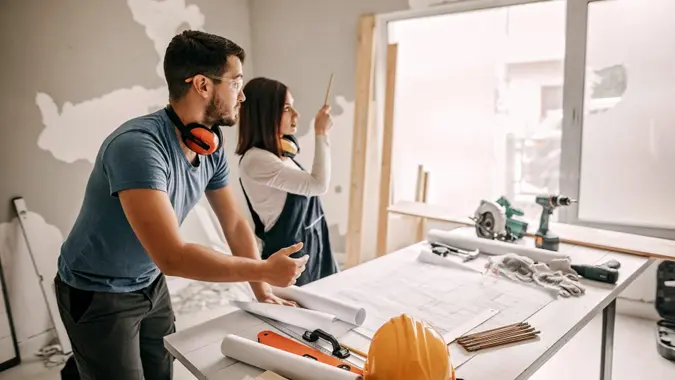 eclipse_images / Getty Images
If you're planning to do some projects around the house, you're not alone. According to the 2022 U.S. Houzz & Home Study: Renovation Trends, home renovation activity and spend are at their highest rates since 2018.
It can be daunting, however, when you start considering the total cost of home renovation projects you'd like to do. That's why, in order to save money, you may want to do it yourself. For example, according to Bob Vila, the average cost of any laborer on a construction project is between $20 and $150 per hour.
To inspire you to earn some savings, here are several home renovations that are surprisingly DIY. 
Creating Landscaping Beds
Estimated cost: Less than $500
Karyn Sederberg, an interior designer, construction project manager and Realtor who works for The Coffey Team, recommended creating landscaping beds as a do-it-yourself home renovation. You can purchase landscaping timbers made from pressure-treated wood at your local home improvement store. 
"Select the area for the planters and measure the length and width for wood," Sederberg said. "Buy plants, wood, nails and mulch. Cut wood and nail two layers together at corners. Place and plant flowers, add mulch and you're done. Depending on how many flower beds needed and how many flowers, you could do a medium-size house — front and back of the width of the home (or two sides) — for on average, less than $500."
Make Your Money Work for You
Hanging Wallpaper
Estimated cost: $1.85 to $8 per square foot of wallpaper
According to Homes & Gardens, wallpaper is a key trend for 2022. "Many DIYers feel overwhelmed with the thought of hanging wallpaper, but it's one of the easiest decorating projects to try," said Adrienne Scanlan, founder and owner of About Murals. "Stick with pre-pasted wallpaper so you don't have the extra expense of buying paste. It also makes it easier to match the pattern up at the seam than peel and stick.
"Wall prep is the most important part of hanging wallpaper. Make sure little cracks are filled, bumps are sanded down and the walls are dust free."
Installing Vinyl or Laminate Flooring
Estimated cost: $1.50 to $5 per square foot for laminate flooring and $1 to $12 per square foot for vinyl
"With the recent advances in vinyl and laminate manufacturing, there are a bunch of DIY-friendly flooring types that you can use to remodel your floors," said Ryan Meagher business development and lead estimator for BVM Contracting.
"I prefer vinyl because it is more water-resistant, but both laminate and vinyl can be installed as floating systems above your subfloor, and are relatively easy to install after you watch a few installation videos. Again, the flooring is not quick to complete so patience is a virtue with flooring in the same way with tiling. Make sure that you prep the existing subfloor and the floor is flat prior to installation of vinyl or laminate flooring though."
Make Your Money Work for You
Fixing Cracked Windows
Estimated cost: $25
"You don't need to pay hundreds of dollars to replace a cracked window," said Rupa Mehta, Home Expert at Angi.
"You can fix minor cracks yourself for just $25 by following a few simple steps. Start by removing the broken pane of glass from its frame. Carefully clean the glass using dish soap, warm water and a cloth. Prepare two-part epoxy according to the package instructions. Use a wooden craft stick or putty knife to spread the epoxy on the cracked area and let it cure for 5 minutes or so. Scrape away any excess epoxy using a putty knife or razor blade. Let it sit for 24 hours before placing it back into its frame."
Staining a Deck
Estimated cost: $500 to $1,300
"If you're looking for an outdoor DIY project that will take advantage of the cool fall weather, consider staining your deck," said Mehta.
"The whole project will take less than a week and can cost anywhere from $500 to $1,300, depending on which materials you choose. Start by sweeping and power-washing the deck. Apply a deck cleaning solution with a brush and let it dry for 48 hours. Sand the wood and use a broom or leaf blower to get rid of any sawdust residue. Starting at the far end of the deck, apply the stain using a roller for large sections and a paintbrush for smaller sections and detail work. Let it dry completely for two to three days."
Make Your Money Work for You
Replacing a Backsplash
Estimated cost: $100 to $500
"Try replacing your kitchen's backsplash to give the space an updated look," said Mehta.
"This project takes a few days and usually costs between $100 and $500. Start by removing the old backsplash tile. Map out your tile design and calculate the measurements. Cut the tiles to your desired measurements using a tile saw. Spread mastic in small sections and place the tiles on the wall. Repeat this process on the rest of the wall and let it sit for 24 hours. Place an even layer of grout between the tiles and let it dry. Wipe off any excess grout and seal it using grout sealer."
More From GOBankingRates