14 Affordable Christmas Getaways Under $100 a Day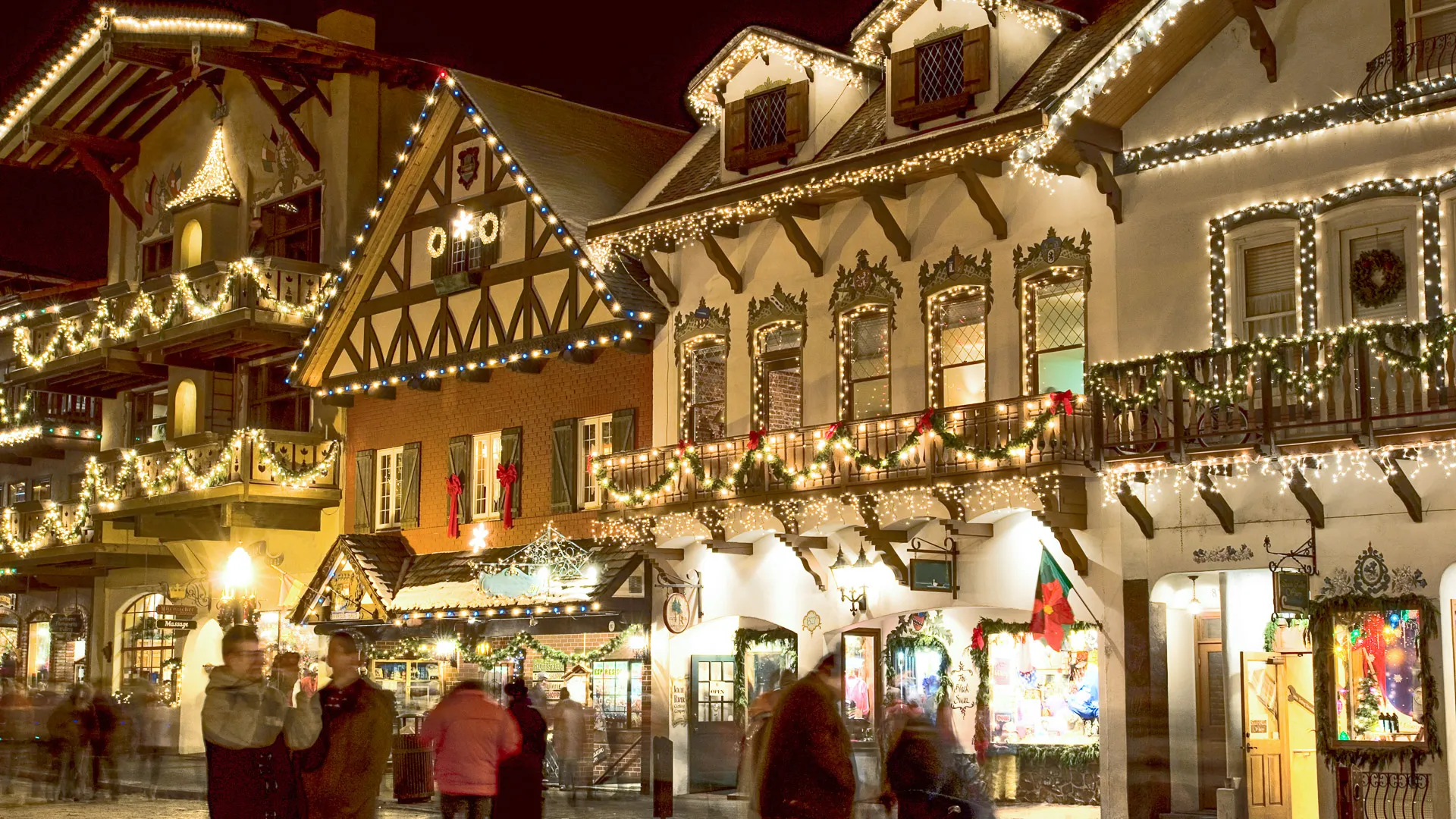 If you've often envied those families that head off on Christmas getaways but your budget balks at the mere idea, take heart. Some of the best places to spend Christmas are surprisingly easy on the wallet.
GOBankingRates took a look at some of the most festive holiday hot spots that won't leave you bankrupt for the new year. Whether you're looking to immerse yourself in the holiday spirit or just get away from the crazy Christmas rush, these cheap vacations have you covered.
Sedona, Ariz.
Tucked in an expansive red sandstone canyon, Sedona is a picturesque place to visit at any time of year. But you'll find some of the best deals on hotels — and avoid the city's legendary summer tourist traffic — by staying during the off season.
Snow dusts the towering red monoliths rising from the canyon, lit with a fiery glow at sunset and sunrise. Take a dawn hot air balloon ride and spend days exploring hiking trails with temperatures in the upper 50s. At night, head to Tlaquepaque Arts & Crafts Village — modeled after an Old Mexico village in Guadalajara by the same name. The site is transformed into a magical wonderland of lights from dusk until 9 p.m. each day during December.
Make Your Money Work for You
Playa del Carmen, Mexico
You can save big on a beach vacation and enjoy a cheap getaway by staying in Playa del Carmen, just 42 miles south of Cancun, where your Christmas vacation will run a whopping $112 per day. You might leave your snow shovel behind, but you can enjoy all the glitz of the holidays in the city.
Head to the park at City Hall to marvel at whimsical oversized decorations, including a reindeer, snowman, nutcracker and hobby horse. This beach town makes it easy to immerse yourself in the holiday spirit. Sip on ponche, a holiday drink made from dried fruit, or nosh on roska, a Mexican-style fruitcake. Christmas Eve traditions include exchanging gifts and heading out for a nice dinner. Christmas Day is traditionally spent on the beach.
Cabo San Lucas, Mexico
Christmas in Cabo offers cheap holiday fun that lasts all month long. The season kicks off Dec. 12 with a day honoring the Virgin of Guadalupe and ends Jan. 6 with the commemoration of the Three Wise Men, Los Tres Reyes Magos.
The time between is filled with fiestas, and the town square glimmers with lights, a nativity scene and a towering Christmas tree. Fill your social schedule with events like food festivals and charity balls, or head to the beach to catch some rays and ogle the gray whales and humpbacks heading for their breeding grounds.
Make Your Money Work for You
Durango, Colo.
Durango has all the necessary ingredients for a magical Christmas getaway, including towering pines, snow and the perfect train for a "Polar Express" adventure.
The Durango & Silverton Narrow Gauge Railroad recreates the childhood book by Chris Van Allsburg almost every evening during December, including Christmas Eve, when the story takes place. You can also ride the rails during the day by booking a trip on the Cascade Canyon Train, which traverses a snowy winterscape along the Animas and ventures into the heart of San Juan National Forest. Back in town, you can ski Chapman Hill, ice skate or even take a sleigh ride.
Solvang, Calif.
Visit the charming Danish village of Solvang and enjoy traditional Julefest (pronounced Yule-fest) festivities. The season kicks off at the beginning of December with a tree-lighting ceremony and parade, and ends a month later with a Christmas Tree Burn.
In between, there's plenty to do, from holiday light tours to horse-drawn trolley rides. Plus, you can marvel at the town's Danish architecture decked out with lights and Christmas trees, and indulge in some ice skating in Solvang Park.
Huntington Beach, Calif.
An average high of 70 degrees makes Huntington Beach the perfect place to visit in December (and one of the most affordable yet luxurious beach towns to live).
Celebrate Christmas in this seaside city by lounging on the sandy beaches or enjoying unique events like the Cruise of Lights. Hop on board a boat tour setting sail in Huntington Harbor, and check out the animated displays and thousands of lights decorating boats, docks and homes.
Huntington Beach is just 20 miles from Disneyland, where you can marvel at the fanciful decorations of Downtown Disney's Winter Village, complete with Olaf's "Frozen" ice rink surrounding a sparkling Christmas tree.
Frankenmuth, Mich.
Home to the world's largest year-round Christmas store, Frankenmuth glows with the holiday spirit. The town's Franconian-style architecture earned it the nickname "Little Bavaria" and helps provide a storybook backdrop for a unique holiday getaway.
Head to the Frankenmuth Farmers market for a Night at the North Pole in mid-December. Of course, Bronner's Christmas Wonderland is a must-see attraction, boasting numerous types of trees, tons of ornament choices and every kind of light imaginable.
Panama City, Panama
A tropical winter trip is always enjoyable, but in Panama City you won't forget it's Christmas. Enjoy regular "snowstorms" created from 1.8 million lights, illuminated figures and LED strobes throughout the month at Andres Bello Park.
Programs, parades and festivals take place in Panama City and nearby towns. Nine districts throughout Panama City offer breathtaking Christmas lights and trees to see, including the Coastal Strip where you can stay by the beach.
Belize City
If you're looking for uncommon Christmas getaways, consider a trip to Belize City. A tree lighting ceremony kicks off the season in traditional form, but there are plenty of local customs to enjoy, as well.
Colorful masked Jankunu dancers and carolers playing Brukdong music parade through the streets, and Charikanari dancers reenact a hunting party looking for the "Two Foot Cow." Seasonal cuisine ranges from turkey with all the trimmings to local dishes like tamales, black fruitcake, roast pork and gravy and ham with jalapeños and pickled onions. Wash it down with Rumpopo, the local version of eggnog.
Santa Claus, Ind.
You can celebrate the season in style in Santa Claus, Ind., where every weekend in December features fun, holiday-themed events.
Take a 12-mile drive through the Santa Claus Land of Lights, which runs throughout the month. Combine it with Christmas dinner at Santa's Lodge and roasted chestnuts at Santa's Candy Castle. Get a certificate saying you're on Santa's good list when you log into the North Pole Network at Santa's Candy Castle to chat with one of Santa's elves. The historic castle is also an opportune place to pick up some holiday treats like salt water taffy, divinity and handmade fudge.
Pigeon Forge, Tenn.
The holiday season extends beyond December in Pigeon Forge. In fact, Winterfest kicks off in early November and runs through February. Stunning winter lighting displays grace the city throughout the festival, and a range of activities help get you in the holiday spirit.
You can head to Dollywood, where 4 million lights twinkle during the Christmas season and entertainment includes a stage version of "It's a Wonderful Life" and a Parade of Many Colors. Check out towering trees and giant wreaths glimmering with lights at the Smoky Mountain Opry. Don't forget to visit the Island in Pigeon Forge, decked out with more than 5,000 feet of garland, 40,000 ornaments and a half-million lights. You might even get to meet Santa and Mrs. Claus.
Lancaster, Pa.
Tucked in the heart of Pennsylvania Dutch Country, Lancaster sits among snowy rolling hills and Amish farms. Savor an old-fashioned Christmas in the city by listening to carolers and enjoying fun holiday activities hearkening back to the past.
Throughout the month, you can celebrate a Victorian Yuletide at President James Buchanan's Wheatland or search for the hidden Santa at the Choo Choo Barn's Gigantic Model Train Layout. At month's end, you can take a lantern tour of Ephrata Cloister, with high school actors bringing its history to life.
Grand Junction, Colo.
If you love winter sports, Grand Junction is the cheap vacation destination of your dreams.
Its ample snowfall and varied terrain make it a hot spot for snowsports ranging from snowmobiling and Nordic skiing to sledding and tubing. Try a little ice fishing and fat tire biking while you're at it.
When you need to warm up, check out the Grand Valley Model Railroad Club's annual Christmas Train Show, take in a performance of the Nutcracker at the Avalon Theatre or enjoy other activities scheduled throughout the month.
Leavenworth, Wash.
The Bavarian-style village of Leavenworth is an optimal place to spend the holidays. Take in the sights and Christmas lights in a horse-drawn sleigh before warming yourself with freshly roasted chestnuts, mulled wine and cider at Front Street Park. You can also enjoy live entertainment by the Army National Guard Dixie Band on Saturday and Sunday evenings at the park, while hobnobbing with Mr. and Mrs. Claus.

BEFORE YOU GO
See Today's Best
Banking Offers