50 Affordable Trips to Take After You Turn 50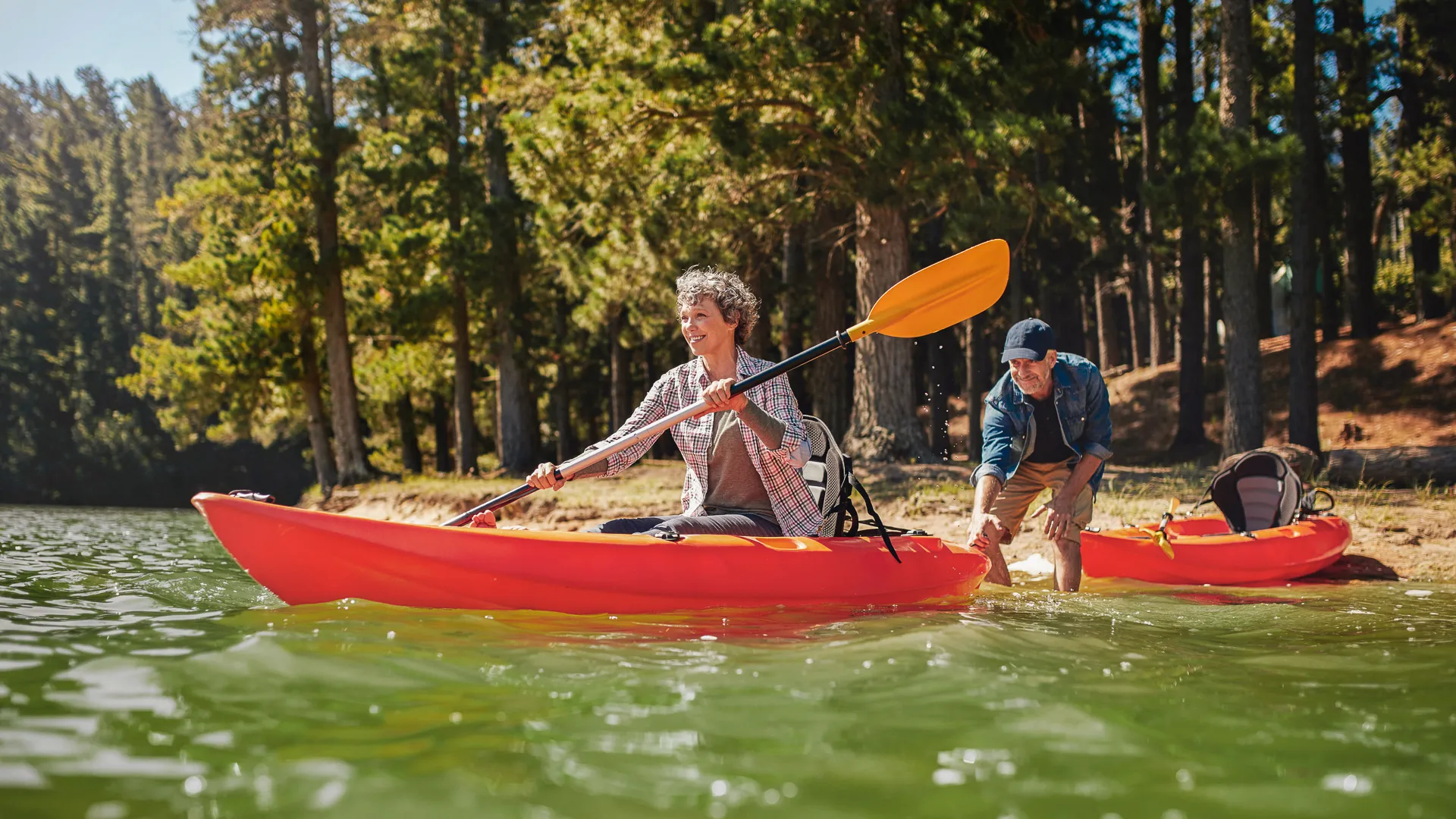 Certain trips are better when you're young and spry, but most vacations can wait until later in life when you really have the time to enjoy them. Some destinations can become even more enjoyable when you share them with kids and grandkids who are old enough to appreciate them. Whether you're retired or not, or traveling with family or alone, there's something to be said for stretching the dollar as far as possible so you can travel for longer.
Click through to discover the destinations where you can get the best bang for your travel buck — and might enjoy even more when you're older. All prices are approximate.
Make Your Money Work for You
1. San Antonio, Texas
Daily Cost: $106
Airfare: $139
Hotel: $55
One of the most popular tourist destinations in the South, San Antonio has plenty of culture and history to offer visitors looking for cheap vacations. The home of the Alamo, San Antonio offers guests vibrant restaurants and bars along the River Walk and the largest urban ecosystem in the nation.
A narrated boat cruise can provide an in-depth history of the area before you set off to explore the San Antonio Mission homes, the only UNESCO World Heritage Site in Texas. Downtown is a 15-minute commute from the airport, and it's easy to get around relying solely upon the open-air streetcars and robust bus network. It does get rather hot in the summer, so spring, fall and winter are ideal for a visit.
2. Sedona, Ariz.
Daily Cost: $34
Airfare: $150
Hotel: $18
Located two hours from Phoenix, a rental car is likely necessary to reach this otherworldly landscape. Multihued rock formations jut out of the Sedona desert, twisting and spiraling up into the heavens. Art walks are available in town, but visitors should not miss taking a day trip to the Grand Canyon, an easy two-hour drive away. Summers in Arizona can be brutal, so spring, fall and winter are your best bet.
3. Eureka Springs, Ark.
Daily Cost: $113
Airfare: $340
Hotel: $80
A small Southern town with approximately 2,100 people and over 100 boutiques and galleries, shopping is the main attraction in Eureka Springs. Other must-dos include the wineries, stables, a castle and a dinner ride on the vintage steam engine. With four distinct but mild seasons, it is a year-round destination. There is a trolley downtown, but having your own set of wheels is helpful as the closest big airport is 81 miles away — near Springfield, Mo.
Make Your Money Work for You
4. Virginia Beach, Va.
Daily Cost: $60
Airfare: $220
Hotel: $23
A relaxing escape along the Chesapeake Bay, Virginia Beach is actually three beaches in one. You could spend all day soaking in the sun, but if you're up for exploring, First Landing State Park and Cape Henry Lighthouse are area mainstays. You can get around town by bus and light rail, as well as an Amtrak station nearby. Winters have been known to get some snow, so take advantage of the shore in the summer months.
5. Monterey, Calif.
Daily Cost: $111
Airfare: $122
Hotel: $56
Monterey might sound surprising as a cheap place to travel to, but it really is one of California's most affordable spots in wine country. Located on the iconic U.S. Highway 1, Monterey boasts breathtaking views of Big Sur, legendary golf courses and more vineyards and tasting rooms than you could tour in a single visit.
Monterey Bay Aquarium and the Monarch Butterfly Grove Sanctuary offer opportunities to take in the incredible nature of the area. You can take local train lines and airport shuttles from SFO or SJC, but driving the coast is one of the highlights, so a rental car is recommended.
6. Estes Park, Colo.
Daily Cost: $50
Airfare: $114
Hotel: $27
Get off the grid in a rustic river cabin in Estes Park, your base for exploring the incredible Rocky Mountain National Park. Lazily watch wildlife meander by, stroll the Riverwalk or cast a line in Fall River.
The towering peaks make this beautiful area a year-round destination. A free shuttle is available throughout the national park, but you'll likely need a rental car to make the 70-mile trek from Denver.
7. Moab, Utah
Daily Cost: $124
Airfare: $159
Hotel: $82
Another area of great natural beauty, Moab offers easy access to two national parks: Canyonlands and Arches. For the more adventurous set, Moab is home to world-class mountain biking and rafting, but the scenery can also be taken in on a relaxing drive or hot air balloon. You'll need a rental car to get around and make the four-hour commute from Salt Lake City.
Make Your Money Work for You
8. Albuquerque, N.M.
Daily Cost: $73
Airfare: $180
Hotel: $25
Consistently ranked as one of the best cheap holiday destinations in the U.S., Albuquerque boasts over 300 days of sun and blue skies a year. Explore historic Route 66, take in the art scene and get a taste of Southwestern flair through one of the many museums, music or dance festivals.
With a dry, arid climate, it's an enjoyable year-round destination. The city is a major stop for both Amtrak and Greyhound, or you can take in the views by train.
9. St. Augustine, Fla.
Daily Cost: $94
Airfare: $99
Hotel: $49
The nation's oldest city, St. Augustine comes alive at the living history museums and reenactments. Take a trolley around the cobblestone-studded Old Town and explore the world's largest collection of pirate artifacts before retreating to a peaceful seaside abode.
You can take advantage of the local bus, but you will likely need to rent a car to drive the hour from Jacksonville. The Sunshine State can be hot and humid, so plan accordingly — you're going to the tropics, after all.
10. Portland, Maine
Daily Cost: $120
Airfare: $74
Hotel: $104
A mix of East Coast sophistication and relaxed seaside charm, Portland, Maine, is the quintessential New England escape. Explore the lighthouses and indulge in freshly caught lobster as you tour by land and by water. Enjoy food tours, seal cruises and day trips to see the sights by train or bike.
The area also has bus, train and ferry service along with a Greyhound terminal and cruise port. Summer is the best time to visit to take advantage of the waterfront.
11. Eureka, Calif.
Daily Cost: $102
Airfare: $122
Hotel: $53
The largest coastal city between San Francisco and Portland, Ore., Eureka is an old Victorian seaport. A visit there is a trip back in time with a beautifully restored old town and maritime museum. Take a guided ferryboat cruise and peruse the local galleries, gift shops and seafood haunts.
It's not the easiest place to get to, but as they say, it's the journey, not the destination. After a long Greyhound ride from San Francisco, you just might agree. Mild Northern California weather makes it an ideal destination year-round.
Make Your Money Work for You
12. Savannah, Ga.
Daily Cost: $122
Airfare: $111
Hotel: $67
Chosen by Condé Nast as one of the "world's friendliest cities," Savannah is unrivaled in its Southern hospitality. Tour pre-Civil War architecture and famous movie sets, and see why it's also been named "America's most haunted city."
Georgia does get hot in the summer — winter, spring and fall are ideal times to visit. Savannah is also a hot spot for transportation — it is a hub for both Amtrak and Greyhound.
13. Boise, Idaho
Daily Cost: $62
Airfare: $224
Hotel: $25
The heart and soul of the Gem State, Boise's culinary scene is booming with a number of new restaurants, craft breweries and wineries. Peruse the farmers markets for tasty treats, or take a road trip to one of the many state parks for fishing, rafting and other outdoor pursuits.
Fall and spring are the mildest times to visit, but there are plenty of reasons to plan a skiing or hiking trip too. Boise has a few public transportation options, but a car is generally preferred for getting around.
14. Jasper, Alberta, Canada
Daily Cost: $71
Airfare: $236
Hotel: $39
Located in one of the most underrated national parks in the Canadian Rockies, Jasper is the small alpine town neighboring Banff. The Icefields Parkway is an incredibly scenic drive with amazing photo opportunities to see waterfalls, rushing rivers and wildlife around every bend. You can opt to ride buses or trains, but driving is really the way to see the sights.
Winter in the Rockies can be brutal, so unless you intend to visit the ski resorts, the warmer seasons are your best bet. Don't forget to pack your passport — you will need it to get into Canada.
15. Ann Arbor, Mich.
Daily Cost: $27
Airfare: $111
Hotel: $12
Despite its college town reputation, Ann Arbor offers plenty of attractions for the older set to enjoy. Nicknamed "Tree Town," the urban oasis has a plethora of hiking, biking and fishing nestled along the Huron River. The botanic garden is world-class, and the sandhill crane migration is also not to be missed. An extensive bus network is available, so it's easy to get around without a car.
Make Your Money Work for You
16. Dallas, Texas
Daily Cost: $103
Airfare: $96
Hotel: $58
With 2,200 daily flights and over 80,000 places to stay, Dallas is a huge city that welcomes tourists from all walks of life. Must-see museums include the George W. Bush Presidential Library and Museum, Frontiers of Flight and the Museum of the American Railroad.
Summers in Texas can be sweltering, so your best bet is to visit in the fall, spring and winter. It's easy to get around with free transportation options like the M-Line Trolley and D-Link, DART's shuttle service.
17. Kansas City, Mo.
Daily Cost: $129
Airfare: $175
Hotel: $70
One of the most affordable Midwestern cities, Kansas City gives you two destinations for the price of one. Get to know the area on a self-guided film tour or streetcar ride before filling your belly with world-famous barbecue. There are buses and a metro to get around, but people generally have cars to travel across the river between Kansas City, Mo., and Kansas City, Kan. Spring and fall are the mildest times to visit.
18. Louisville, Ky.
Daily Cost: $96
Airfare: $202
Hotel: $56
A hip downtown that neighbors Churchill Downs, Louisville gives you the chance to see a legendary horse race before tasting your way around what National Geographic named one of the "Top 10 Food Cities" in America in 2015. Whet your whistle at one of the many distilleries and pay homage to the baseball greats at the Louisville Slugger Museum. The city is a hub for both Megabus and Greyhound, and it offers public transit options throughout the area.
19. Portland, Ore.
Daily Cost: $123
Airfare: $176
Hotel: $67
One of America's best big cities for budget travel, Portland is the shining star of the Pacific Northwest. Must-see attractions include quirky bookstores, crafts markets and the local coffee and doughnut shops, where you can get a true taste of the region.
Once you've filled your belly, the International Rose Test Garden and the Portland Japanese Garden are great places to work it off. Public transportation options abound, so having a car is not necessary no matter what time of year you visit.
Make Your Money Work for You
20. Salem, Mass.
Daily Cost: $119
Airfare: $71
Hotel: $59
The setting of the notorious Salem witch trials, Salem is best-known for its sordid part in American history but offers plenty of fascinating attractions for modern-day visitors. Explore the bewitching area's live reenactments, cemetery tours, historic homes, wharf and tall ships. And you can leave your broom at home — the bus, ferry and train all run to Salem from Boston.
21. Galveston, Texas
Daily Cost: $148
Airfare: $161
Hotel: $100
If you're looking for cheap vacation ideas, you might want to plan a trip to the relaxing Galveston Island. Lounge along the 32 miles of beaches, peruse antique shops or plan a visit to the Moody Gardens or Texas Seaport Museum while you are there. If you choose not to rent a car, the island has its own bus and trolley service to get around — although you might want to rent a car to get to the island, as it's about 50 miles away from Houston. The fall and spring are the best times to visit, as the temperatures are more moderate and accommodations are cheaper.
22. Tampa, Fla.
Daily Cost: $114
Airfare: $110
Hotel: $54
Known for its wild theme parks, Tampa also has a new Riverwalk that is a bustling entertainment district and home to the Florida Aquarium, Tampa Bay History Center and dozens of bars and restaurants. Transportation is easy and plentiful with streetcars, water taxis and bike rentals available anywhere you might want to go. It can get hot and muggy in the summer, but Florida is a great option for snowbirds in the winter.
23. Duluth, Minn.
Daily Cost: $89
Airfare: $177
Hotel: $81
Home to the largest freshwater lake in the world, Duluth is celebrated as much for its nature as it is for its culture. Charter a fishing boat to get out on the water or explore the community's museums, galleries and theater. The city is a 2 1/2-hour drive from Minneapolis-St. Paul, so having a rental car is helpful, but there are buses and trolleys in the summer. Winters in Minnesota can be quite biting, so you might want to visit in the milder seasons.
24. Corpus Christi, Texas
Daily Cost: $100
Airfare: $250
Hotel: $72
Featuring miles of beaches on Texas' Gulf Coast, Corpus Christi is home to the Padre Island National Seashore, the last remaining barrier island in the world. Nature abounds at the South Texas Botanic Gardens where 2,500 different types of orchids and other tropical plants display a rainbow of color. There is a regional airport in the vicinity, but San Antonio is the closest large connection hub and it's about two hours away, so a rental car might be required. Keep in mind the Texas sun can be punishing in the summertime.
25. Madison, Wis.
Daily Cost: $80
Airfare: $210
Hotel: $48
Madison consistently ranks as a top place to live, work, play and raise a family. The capital of Wisconsin doubles as a college town, but it's the lakefront setting that really makes it a gem of the Midwest. Biking is a popular pastime, and it should come as no surprise that the local food scene has standout cheeses. And don't miss the Frank Lloyd Wright architectural trail. Madison is easy to navigate via public transportation, and much of the downtown area is walkable.
26. Phoenix, Ariz.
Daily Cost: $114
Airfare: $150
Hotel: $46
One of the Southwest's best landscapes, Phoenix is a haven for snowbirds. Explore ancient petroglyphs at South Mountain Park and Preserve, go antiquing in Old Town Scottsdale, tour Taliesin West — Frank Lloyd Wright's winter home — or attend the First Friday art walk along Roosevelt Row. Light rail and bus services are available, but the desert city is fairly spread out, so having a car is helpful. Plan for hot days: Summers can be unbearable with temperatures often soaring above 100 degrees.
27. Bozeman, Mont.
Daily Cost: $76
Airfare: $248
Hotel: $13
The gateway to Yellowstone National Park, Bozeman attracts visitors to its geysers, hot springs and wildlife. Fishing, horseback riding, hunting, rafting, golfing, biking and hiking are also popular pastimes in the rugged outdoor area. A bus is available, but you will likely want a car to traverse Yellowstone, which covers a whopping 3,472 square miles. It can be quite snowy in the winter, so prepare your vehicle if you're planning a cold weather adventure.
28. Tucson, Ariz.
Daily Cost: $122
Airfare: $158
Hotel: $71
With over 350 days of sun a year, Tucson's beautiful Sonoran Desert can be breathtaking. From caves to waterfalls, you can explore the unique ecosystem at Kartchner Caverns State Park, Tucson Botanical Gardens, Sabino Cavern and the Arizona-Sonora Desert Museum.
When you're ready for a spot of culture, visit downtown, which is comprised of six shopping districts connected by the Sun Link Streetcar. Summers get extremely hot, so plan to spend most of your time indoors or visit during a milder season. Both Amtrak and Greyhound stations are in the area.
29. Reno, Nev.
Daily Cost: $113
Airfare: $202
Hotel: $43
Calling itself the "biggest little city in the world," Reno is as known for its casinos and nightlife as it is for its outdoor activities. Whether you try your luck at the tables, relax at the spa or soak in the sun, there's a bit of everything for every traveler's style. Public transportation options are available.
30. Concord, N.C.
Daily Cost: $67
Airfare: $84
Hotel: $49
Located just a short drive from Charlotte, Concord is home to arts, shopping, history and a plethora of dining options. The downtown area is pedestrian-friendly, so you won't need a car to get around once you're there. Attractions include the Concord Museum and Memorial Gardens, plus there are a wide variety of spas and salons if you choose to get pampered while you are there. Winters can be cold and summers can be hot in Concord, so it's best to visit in the fall or spring.
31. Memphis, Tenn.
Daily Cost: $61
Airfare: $199
Hotel: $45
Memphis has deep music history roots as well as a rich modern music scene. Get your hips shaking at Graceland, indulge in tasty barbecue, pay homage to Dr. Martin Luther King Jr. at the National Civil Rights Museum, and visit the ducks at the Peabody Hotel. You can get around town without a car.
32. Nashville, Tenn.
Daily Cost: $130
Airfare: $218
Hotel: $71
A mecca for music lovers, Nashville is home to the Country Music Hall of Fame and Museum along with dozens of cafes, listening rooms, honky-tonks and recording studios where you can catch a live performance from an up-and-coming star. Visit a full-scale reproduction of the Greek Parthenon or enjoy the booming arts scene. Buses and trains make it easy to get around.
33. Little Rock, Ark.
Daily Cost: $48
Airfare: $203
Hotel: $36
Agri-tourism is big business in Little Rock, with a number of working farms and farmers markets accessible to the public. Shopaholics will have no problem doing some damage at the Outlets, Promenade at Chenal or River Market District. Getting to and around the city is easy with rail, bus and streetcar options.
34. Niagara Falls, N.Y.
Daily Cost: $50
Airfare: $81
Hotel: $33
The roaring waters of America's oldest state park have welcomed visitors for over 12,000 years. Two of the signature experiences are the Maid of the Mist boat tour, which will take you right up to the base of the falls, and the Cave of the Winds. You will likely need a rental car to drive from the Buffalo airport, but there are Greyhound and Amtrak stations and a trolley around town.
35. Asheville, N.C.
Daily Cost: $106
Airfare: $200
Hotel: $71
Described as artsy, edgy and inviting, the high alpine town of Asheville is both funky and eclectic with flourishing art, culinary and outdoor scenes. Notable attractions include the Biltmore Estate, the Blue Ridge Parkway and the River Arts District.
With one of the most dramatic displays of fall foliage in the country, autumn is undoubtedly the best time to visit. The city is pedestrian-friendly and has trolleys and buses to get around.
36. Cleveland, Ohio
Daily Cost: $112
Airfare: $151
Hotel: $60
Home to the Rock & Roll Hall of Fame, major sports teams as well as world-class museums, there's no shortage of culture in this Midwestern city. Take advantage of the public transportation options and free downtown trolleys that run every 10 to 15 minutes, seven days a week.
37. Colorado Springs, Colo.
Daily Cost: $104
Airfare: $114
Hotel: $54
The inspiration for the song "America the Beautiful," Colorado Springs is celebrated for its scenery, natural spring waters said to have healing properties and its history. Located at the base of Pike's Peak, you can experience the area's best attractions by meandering through Garden of the Gods Park, riding the Pikes Peak Railway and exploring the neighboring bohemian town of Manitou Springs. You will likely need a rental car to drive from Denver.
38. Burlington, Vt.
Daily Cost: $111
Airfare: $54
Hotel: $26
With a relaxed downtown area on Lake Champlain, Burlington can be explored on foot, by bike or by ferry. Peruse the pedestrian-friendly Church Street Marketplace, a nationally registered historic district, or drink your way around the Champlain Coast Wine Trail. You can take a bus to get around town. Most visitors come in the summer unless they plan on skiing.
39. Tallahassee, Fla.
Daily Cost: $82
Airfare: $189
Hotel: $67
Florida's capital is a melting pot of tourism opportunities. Home to five distinct dining districts and over 600 miles of trails, you could burn plenty of calories exploring before treating yourself at night. Sunset paddles and swamp tours are just a few of the many ways to get a lay of the land. Public transportation is available. Florida can be hot and humid, so time your visit accordingly.
40. Eugene, Ore.
Daily Cost: $43
Airfare: $204
Hotel: $17
Located on Oregon's Cascade Coast, Eugene has a plethora of natural attractions nearby, including waterfalls and great hiking. Bike through the wine country, follow the ale trail, kayak the estuaries or pay homage to the University of Oregon's famous athletic programs with a Ducks football game.
A local bus and Amtrak are nearby, but having your own set of wheels is helpful to navigate the beautiful 90-minute drive through forest-covered hillsides to get to the coast's gorgeous views and beaches. The area can get windy, rainy and chilly, so pack accordingly.
41. Raleigh, N.C.
Daily Cost: $93
Airfare: $86
Hotel: $47
With cheap airfare and incredibly affordable daily expenditures, Raleigh is one of the best budget vacations on this list. Dubbed the "Smithsonian of the South," the city's abundance of high-quality free museums make it a haven for art and history buffs. Farm tours are also popular, along with spa and wellness retreats. You can opt to ride a bus that runs throughout the area.
42. Pittsburgh, Penn.
Daily Cost: $60
Airfare: $124
Hotel: $48
Located at the confluence of the Allegheny and Monongahela Rivers, Pittsburgh was once the "Gateway to the West." An industrious city with a fascinating past, it has a number of sites dedicated to the Civil War and the Underground Railroad. Explore the city's neighborhoods and culture for their history and current offerings. It's easy to get around by bike or bus, which is free downtown from 4 a.m. until 7 p.m.
43. Oklahoma City, Okla.
Daily Cost: $127
Airfare: $228
Hotel: $84
A Western city with a cowboy past, Oklahoma City is the "Horse Show Capital of the World." A number of events throughout the year give visitors a taste of rodeo life. For a more modern experience, opt for a water taxi along Bricktown Canal, the city's bustling entertainment district. The city has an Amtrak station and bus, which is free downtown.
44. Prince Edward Island, Canada
Daily Cost: $50
Airfare: $261
Hotel: $29
Ranked the "Top Island in the Continental U.S. and Canada" by Travel + Leisure, PEI is a destination unlike any other. The area was made famous by L.M. Montgomery's "Anne of Green Gables," and millions of book lovers have made the trek to PEI to see the home of the red-haired heroine. Beyond touring the heritage house, the beaches are impeccable, with miles of red sandstone cliffs to explore. Don't forget your passport.
45. Ottawa, Ontario, Canada
Daily Cost: $103
Airfare: $168
Hotel: $20
When you're planning a cheap trip, don't overlook other great destinations in Canada. From the light and sound show at Parliament Hill to the artisan vendors at ByWard Market and the UNESCO-listed Rideau Canal, Ottawa has no shortage of cultural must-sees. Two buses are available on both sides of the river. Pack your warmest clothes if you visit during the winter.
46. Ocean City, Md.
Daily Cost: $56
Airfare: $234
Hotel: $30
Ocean City is home to 10 miles of free beaches, a three-mile boardwalk and over 200 restaurants. During the summer months, there are free activities available, including Concerts on the Beach and Sundaes in the Park. With bed and breakfasts, rentals and campgrounds available, you can find accommodations for every budget. The best time to visit is during the warmer months when you can truly take advantage of the beach weather.
47. Halifax, Nova Scotia, Canada
Daily Cost: $57
Airfare: $162
Hotel: $29
Another gem on Canada's eastern shores, Halifax boasts a number of attractions, from one of the world's longest boardwalks to the longest continually running farmers market in the continent. The Victorian Public Gardens are an incredible place to relax, and the ferry is also one of the oldest running in North America. Pack your passport and get ready for adventure. Public buses make it easy to get around.
48. South Lake Tahoe, Calif.
Daily Cost: $94
Airfare: $202
Hotel: $43
Equally impressive in the summer and the winter, South Lake Tahoe is one of the world's leading ski, hiking and spa destinations. Whether you embark on a sleigh ride and snowshoe through the chilly scenery or mountain bike and paddle the crystal waters in the warmer months, it's sure to be a vacation to remember. Both ski shuttles and summer trolleys are available to get around.
49. Williamsburg, Va.
Daily Cost: $90
Airfare: $139
Hotel: $53
The place where colonial North America began, Jamestown, Williamsburg and Yorktown offer four centuries of American history with impressive battle reenactments and living museums. For the foodies, the wine and ale Tasting Trail is a big draw, and nature lovers can find plenty outdoors to enjoy. It's easy to get around on the local bus, Amtrak or Greyhound.
50. Daytona Beach, Fla.
Daily Cost: $121
Airfare: $92
Hotel: $11
If you're a fan of beaches, racing or both, Daytona Beach is an ideal vacation spot. Home to the Daytona International Speedway, Daytona Beach is a hub for NASCAR fans, but you can also explore the 20 miles of beachfront and the Ponce de Leon Inlet Lighthouse and Museum while you are there if racing isn't your thing. Aim to visit between March and May to avoid the crowds that come for the Speedweeks racing events in February, and come just in time for perfect weather — in March and April, temperatures are typically in the 70s and 80s. The best way to get around Daytona is by car, so you might need to rent one if you head to this Southern destination.
Gabrielle Olya contributed to the reporting for this article.
Methodology: All flights originate from JFK Airport in New York and are based on one-way ticket prices for June 1, 2018, from Skyscanner. All accommodations and daily cost estimates were sourced from BudgetYourTrip.com.
About the Author