The Best Times of Year To Visit Disney Parks To Get Your Money's Worth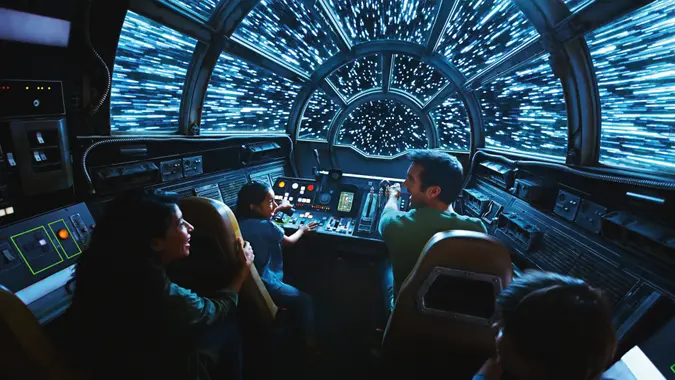 ©Disneyland Resort
Most visitors to Disney parks like Walt Disney World and Disneyland carefully plan and budget for these trips. Part of the planning process includes considering the dates of your visit. Should you try to time your visit to a Disney park during a specific season or holiday for the best possible experience?
Retirement at Any Age: Get Retirement Tips That Fit Every Stage of Life
See: Should You Still Buy a Home in Today's Market?
Here are some of the best times of year, and when to skip making a visit, for enjoying and getting your money's worth from the parks. 
Plan Your Visit During the 'Shoulder Seasons'
It's not a secret the parks are so popular. No matter which time of the year you go, Disney parks are generally busy year-round, said Keri Baugh, a travel writer at the family travel blog Bon Voyage With Kids and a former Disney parks cast member.
Families planning a visit, however, should schedule their trips in the shoulder seasons. These include around September, November (excluding Veteran's Day and Thanksgiving weekends) and late January to early February. Visits made during the shoulder seasons afford families with more room and fewer crowds.
Make Your Money Work for You
Take Our Poll: How Do You Typically Split the Restaurant Bill?
Late January/Early February
It may feel somewhat of a bummer to visit Disney parks after the holidays and in the late January to early February months, but it's actually a win. 
"What I tell people is, particularly in January, you may find more 'pardon our pixie dust' signs with rides and areas under renovation, as the crew takes advantage of the less crowded times to spruce up the parks," Baugh said. "With fewer crowds, it is easier to access more rides and get more coveted reservations and rooms at desired hotels."
When To Avoid Visiting Disney Parks
The best time of year to avoid visiting Disney parks, whether you're traveling with family or with friends, are the holiday weekends. Baugh said these include President's Day, Veteran's Day, Thanksgiving, Christmas (as well as Christmas through New Year's), Easter, spring break, Memorial and Labor Days.
The simple reason to avoid the parks during these times? Crowds, which can become more of a financial issue than many realize.
"When I worked there, these holidays were so crowded, the Parks would be closed due to reaching capacity each day. Some people don't realize this and are extremely disappointed," Baugh said.
Make Your Money Work for You
Spring break is another busy time of year for visitors heading to Disney parks. However, savvy visitors and their families can still make it work to their financial advantage. Baugh recommends doing a lot of thoughtful and advanced planning. This includes taking advantage of Early Theme Park hours (for guests of the Disney Resort Hotels), Disney Genie+ and the Lightning Lane Pass to enjoy the rides, dining and have a full trip.
How To Get Your Money's Worth in the Shoulder Seasons
Let's say your family does plan to visit Disney parks during the recommended times Baugh mentioned above: September, November, late January or early February. What can you do to get your money's worth from the trip? 
Plan early: Baugh recommends booking Advance Dining Reservations 60 days out. Visitors may also take advantage of Early Theme Park Entry, Genie+ and Lightning Lane Passes to help you maximize your money. 
Buy Disney Gift Cards: Head to somewhere like Costco or Target with your RedCard. Baugh said you can get up to 5% off the price of a Disney gift card, but get full value to pay for the cost of your trip. "You can use them to pay for your trip, and if you get enough, the discount can save you quite a bit of money, further maximizing your dollar for your Disney vacation."
More From GOBankingRates
Make Your Money Work for You