Can You Get Money Back If Your Flight or Hotel Price Drops After Booking?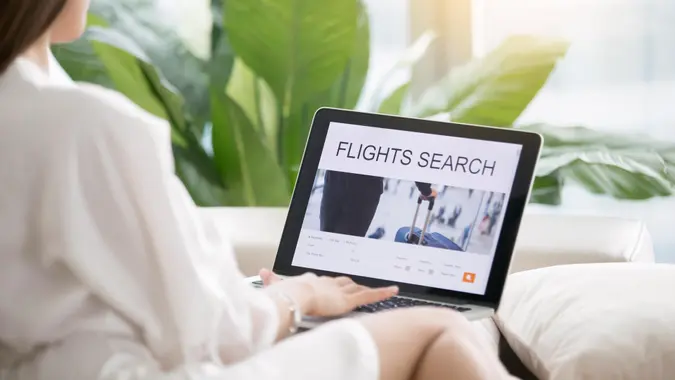 fizkes / Shutterstock.com
It's always exciting to have a vacation booked, but that excitement can turn to annoyance when you see that a flight or hotel has gotten cheaper after you've already paid. If this happens to you, is there anything you can do about it? Or do you just have to grin and bear it?
GOBankingRates spoke to travel experts about the best ways to handle this situation.
What To Do If Your Flight Price Drops After Booking
Whether or not you can get money back after booking a flight may depend on how you book. For example, those who book via Google Flights may be eligible for a refund through the site's price guarantee pilot program.
"If the price drop is greater than $5 and that drop occurs before you are scheduled to depart, travelers can receive up to $500 back total on up to three price-guaranteed flight bookings," said Michelle Silva, CEO of the travel blog Travel With Intention. "You can claim your price difference [via] the Google Pay app within 90 days of your departure."
Make Your Money Work for You
Note that the program is only available for select flights, and you must have the Google Pay app to receive the refund.
In addition, some other third-party booking sites offer price guarantees.
"For example, Orbitz has a 'price assurance' program that automatically refunds you the difference if the price of your flight drops before your trip," said Umar Ali, a travel writer with HopDes.com.
You may also be able to get a refund or travel credits after a flight price drops if you booked directly with the airline, though it varies from company to company.
"Recently, I was flying United to Mexico and noticed the price was super low. I called and canceled that flight and rebooked the same flight, and received a $300 credit for future use," said Angie Koll, professional travel advisor with SoJourney Travel. "This varies with each airline, so it is hard to give a blanket answer. Some charge a fee — United and Southwest do not."
American, Delta and JetBlue also offer price drop protections.
"If you book your Delta Airlines flight through their app or website, you can get a refund as long as the difference in the airfare is at least $10," said Jeannelle Douglas, web content specialist with TripShock.com. "JetBlue Airways also offers the opportunity to reprice your flight at a lower price."
Make Your Money Work for You
However, no matter what airline you are flying, you are entitled to a refund if the price changes within 24 hours of booking.
"The U.S. Department of Transportation orders airlines to offer a 24-hour free change, hold or cancellation window for tickets purchased at least seven days before departure that originate or end in the U.S.," said Justin Crabbe, CEO of Jettly, a provider of private jet charters. "This allows travelers to cancel their existing ticket and book another one at a lower rate if the price drops within 24 hours of booking."
It's important to note that this rule only applies to flights booked directly through the airline.
"The policy does not apply to tickets bought from online travel agencies, travel agents or other third-party agents," Crabbe said.
Read: 10 Tips for Saving Money on Airfare This Spring
What To Do If Your Hotel Price Drops After Booking
If you see a hotel price drop after you book, your best bet is usually to cancel your existing reservation and re-book, said Michelle Phillips, travel blogger at EverywhereTheyRoam.com.
Make Your Money Work for You
"As long as you are within the cancellation policy, you won't lose out on any money," she said.
However, if you booked a nonrefundable rate, you are likely stuck with the price you paid.
"Often, hotels offer cheaper, nonrefundable rates. Although the extra savings may be tempting, I suggest steering clear of these rates in case something does come up and you are unable to travel, or if rates end up going down," Phillips said. "Although refundable rates may be slightly higher, having peace of mind knowing you can cancel may be a better option."
As with flights, the policies regarding price drops for hotel bookings vary by chain and third-party site.
"Some hotel chains, such as Marriott and Hilton, offer price guarantees that allow you to receive a refund or credit if the price of your room drops after you book," HopDes.com's Ali said. "Third-party sites, such as Booking.com and Hotels.com, also have their own policies regarding price drops."
Booking Travel Through Certain Credit Cards Can Protect You From Price Drops
Depending on the credit card, you may be eligible for a refund of the price difference when you use the card to book your flight or hotel.
Make Your Money Work for You
"There are a number of credit card companies, such as Capital One, that offer price protection when booking flights," said Dr. Terika Haynes, owner of Dynamite Travel. "If the price drops, they will pay you an amount that does not exceed their capped amount ($50) to compensate for the change in price. Their guarantee is good for up to 10 days after you book your flight. Capital One will also price match on hotel bookings if a lower price is found. Chase and Amex have similar programs in place for their cardholders."
More From GOBankingRates
Make Your Money Work for You