Holiday Travel 2023: 12 Money-Saving Tips If You're Traveling by Car This Year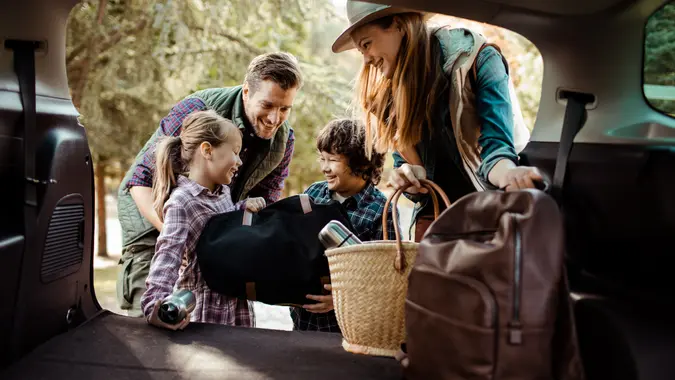 vorDa / Getty Images
With the holiday season fast approaching, there's no better time to rev up your engines, crank up the windshield defroster and hit the open road for a memorable holiday adventure.
But hey, we know that car travel can put a dent in your wallet faster than you can say, "roadside diner."
Fear not, for we've got 12 fantastic money-saving tips to help you make the most of your holiday road trip while staying within your budget. 
Snack Attack on a Budget
No need to break the bank on gas station snacks and fast food. Save big by packing your own cooler with sandwiches, fresh fruits and snacks. Make it a fun family challenge to create a 'snack bag' full of healthy, cost-effective treats.
Picnic Pit-Stops
Take advantage of those picturesque rest areas and parks along the way. In warmer climes, enjoy a scenic picnic instead of dining at pricey restaurants. Bring a blanket, some sandwiches and soak in the natural beauty around you.
Carpool Karaoke and Audiobooks
Entertainment doesn't have to be expensive. Create a playlist of your family's favorite tunes for the journey. Or dive into an audiobook to keep everyone engaged and pass the time. Storytime on wheels!
Car Maintenance: The Ultimate Money Saver
Before hitting the road, make sure your car is in tip-top shape. A well-maintained vehicle can significantly reduce fuel consumption and give you peace of mind too.
Make Your Money Work for You
Check tire pressure, change the oil and replace air filters to ensure your car is running efficiently.
Winter Safety Is Key
If you're traveling in the winter, your safety should be a top priority. Equip your car with snow tires and pack an emergency kit with blankets, snacks and a first-aid kit.
Investing in safety now can save you from costly repairs or accidents down the road.
Roadside Assistance: The Peace of Mind You Need
Consider a roadside assistance membership. A small annual fee can save you big bucks on tow trucks, flat tire fixes or jump-starts. Plus, it's a lifesaver in emergencies.
Lighten the Load
Packing light is not just for flights. The heavier your car, the more fuel it guzzles. Leave unnecessary items at home and pack only the essentials. Your wallet and your car's gas tank will thank you.
Plan Your Accommodations in Advance
Don't let last-minute hotel bookings eat up your budget. Plan where you'll stay ahead of time and look for deals or consider options like Airbnb or vacation rentals.
Booking early often brings significant savings during peak holiday travel.
Off-Hours Travel for the Win
Consider traveling during non-peak hours to avoid traffic and save on gas. Additionally, you might find better hotel rates during the week instead of on the weekend. Plus, most kids will love the present of an extra day off from school.
Pack Reusable Supplies
Reduce waste and expenses by packing reusable supplies. Invest in a travel-friendly reusable water bottle, coffee mug and shopping bags. Many places offer discounts when you bring your reusable items.
Make Your Money Work for You
Scout for Free Attractions
There are countless free attractions to explore during your journey. From scenic overlooks to state parks, museums and historic sites, there's always a way to experience something new without shelling out big bucks.
Embrace the Unexpected
Remember, part of the joy of a road trip is the spontaneity. Be open to the unexpected. Stop at that charming roadside farm stand, quirky museum or intriguing roadside attraction. These unique finds are often the highlights of a road trip and don't always cost much.
With these 12 money-saving tips, your holiday travel by car in 2023 is bound to be an unforgettable adventure, without blowing your budget. Happy trails, and may your journey be filled with excitement, savings and cherished holiday memories!
More From GOBankingRates