5 New Luxury Hotels In the US That the Rich Love To Stay at Despite the High Cost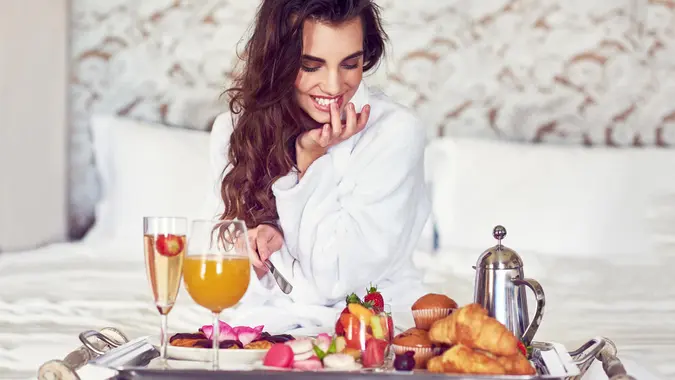 PeopleImages / Getty Images
When the wealthy travel, they'll spare no expense for luxury. Many want to stay in new, well-appointed hotels — and the U.S. has plenty of them. More than just a place to stay for a few days, these hotels are a destination themselves. Plush, polished and equipped with top-notch service, they're a truly exquisite home away from home.
Of course, these stays don't come cheap. Proving you can put a price on luxury, even one night at these new luxury hotels can easily cost more than an entire month's rent.
However, if you have the cash to spare, you likely won't be disappointed with your stay. Here's a look at five popular luxury hotels in the U.S. that have opened in the past two years.
Keswick Hall, Keswick, Virginia
Year re-opened: 2021
Average cost per night: Starting at approximately $1,457 per night
TripAdvisor rating: 4.5 out of 5 stars
"For travelers looking for an easy yet relaxing and luxurious getaway, Keswick Hall's re-opening has been long anticipated," said Janet Semenova, co-founder of Boutique Travel Advisors.
Located in Keswick, Virginia — Virginia wine country — she said this 80-room estate, which is part of the Small Luxury Hotels collection, seamlessly blends rural tranquility with the charm of neighboring Charlottesville.
Make Your Money Work for You
"The recent meticulous renovation has resulted in four new elegant suites and upscale amenities, including tennis courts and a state-of-the-art infinity pool," she said. "Culinary experiences reach new heights at Marigold restaurant, helmed by renowned chef Jean-Georges Vongerichten, offering a menu that celebrates local produce through sophisticated techniques."
The property is also home to the Keswick Hall Spa, offering a variety of holistic spa experiences. Guests are able to relax in a serenity room equipped with weighted blankets, guided meditation tools and relaxing herbal teas.
Kona Village, a Rosewood Resort
Year re-opened: 2023
Average cost per night: Rates start at approximately $1,725 per night
TripAdvisor rating: 5 out of 5 stars
Veronica Contin, luxury travel advisor affiliated with For a Travel, said those who can afford to stay at Kona Village, a Rosewood Resort, will find this brand new hotel on the Big Island alluring for a several reasons.
"The resort has the highest service standards and luxury amenities, while maintaining a relaxed and welcoming feel," she said.
Offering a unique sense of privacy, she said all guests stay in individual, standalone traditional hales. It's also designed as an ecologically and ethically conscious property.
"The resort prides itself on paying homage to the cultures native to this land and on being constructed for mindful energy use and water conservation, using natural materials that allow guests to connect with the land around them," she said.
Make Your Money Work for You
She said foodies will enjoy the "Pacific Rim-to-table" culinary approach.
"The resort offers fine dining with ingredients from the historic trade routes that influenced the Hawaiian islands," she said.
Prime for wellness, Kona Village is also home to the Asaya Spa, four outdoor pools and a variety of fitness activities.
Four Seasons Fort Lauderdale
Year opened: 2022
Average cost per night: Starting at $662 per night
TripAdvisor rating: 4 out of 5 stars
Sleek and modern, the Four Seasons Fort Lauderdale offers a beachfront experience in a prime Florida yachting location. Guests enjoy a variety of services and amenities, including two ocean-view pools, morning yoga classes, beach concierge and babysitting and children's offerings.
Those looking to relax can find solace in the spa, complete with six treatment lounges, including a couples' suite. Pre- or post-treatment, guests can enjoy salt-wall saunas and aroma steam rooms.
First-class dining is available at Evelyn's, featuring fresh local fare. Guest who want to learn during their visit can also enjoy a fun onsite barista class, educational wine tasting experience or take part in an insightful tequila tasting.
Montage Big Sky
Year opened: 2021
Average cost per night: Starting at $1,095 per night
TripAdvisor rating: 4 out of 5 stars
Located 45 minutes from Yellowstone National Park, the Montage Big Sky offers coveted ski-in/ski-out access. This Montana retreat features 139 sleek guestrooms, suites and residences.
The ultimate relaxation, travelers can unwind at the more than 11,000 square foot nature-inspired spa. Featuring heated plunge pools, steam rooms and his and hers relaxation lounges, guests can enjoy a personalized treatment amid the Spanish Peaks.
Make Your Money Work for You
Also a culinary destination, the resort is home to Cortina, featuring Northern Italian cuisine. Several other onsite dining options offer casual fare, as well as in-room dining.
Those looking for adventure won't be disappointed, as the family-friendly Montage Big Sky offers a variety of activities and excursions. This includes guided snowshoe hikes, horseback riding, skiing, snowboarding and more.
Aman New York
Year opened: 2022
Average cost per night: Starting at $3,050 per night
TripAdvisor rating: 4 out of 5 stars
Situated in the heart of midtown, the Aman New York is housed in Manhattan's iconic Crown Building. Featuring the year-round alfresco dining, a three-story spa — totaling 25,000 square feet — and spacious suites, this is a true sanctuary in bustling New York City.
The hotel's signature restaurants, Arva and Nama, as well as the Lounge Bar and alfresco Garden Terrace, are open exclusively to hotel guests and Aman Club Founders. Guests can also enjoy The Jazz Club, an onsite underground speakeasy.
Accommodations are presented as suites, signature suites and homes. All guests receive a variety of amenities, including butler service, daily cultural programming and complimentary house cars for drop-offs within a 15-block radius.
Rates are based on a check-in date of Oct. 7, 2023.
More From GOBankingRates
Make Your Money Work for You