The 4 Types of Bank Accounts All Small Businesses Should Have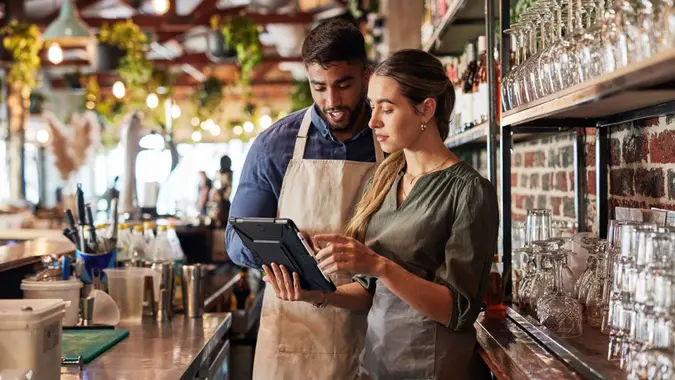 LumiNola / Getty Images
Small businesses are anything but small when it comes to their collective impact on the U.S economy.
More than 33 million small businesses operate in the United States and together account for 99.9% of all American businesses, according to the U.S. Chamber of Commerce. Small businesses are credited with creating nearly two-thirds of the country's new jobs over the past eight years or so.
The U.S. Small Business Association notes that "as soon as you start accepting or spending money as your business, you should open a business bank account." The most common business bank accounts are similar to what you'll find with personal bank accounts. The main difference is that most business bank accounts offer perks that don't come with a standard personal bank account. These include:
Protection against personal liability by keeping your business funds separate from your personal funds.
Payments that go to your business instead of directly to you.
The ability to authorize employees to handle day-to-day banking tasks on behalf of the business.
Bank lines of credit for your business that can be used as needed, such as if you need to buy a new piece of equipment or cover some other unexpected expense.
The process of opening a business bank account is pretty straightforward. In most cases you can open one online, though if you prefer to do it in person you can visit a branch.
Not all small businesses need the same bank accounts, but all should have these four: checking, savings, credit card and merchant accounts. Here's a look at why each is important.
Checking Account
One of the main advantages of setting up a business checking account is that it lets you separate your business finances from your personal finances. This is the account you'll use to make day-to-day transactions such as purchases, bills, and deposits.
Savings Account
Business savings accounts come in handy when you have profits left over that don't need to be used immediately. You'll get a higher APY with savings accounts, but also more restrictions. Some banks limit you to six fee-free withdrawals per month. In addition, most business savings accounts don't let you write checks or use an ATM card to directly withdraw cash.
Many banks also limit the number of deposits you can make to business savings accounts each month, including cash deposits. A regular savings account is a must for small businesses, though you can also put your money into business CDs and Money Market accounts.
Merchant Account
With a merchant bank account, businesses can accept and process electronic card transactions, making these accounts a necessity if you sell products directly to consumers. In fact, any business that accepts credit cards or other forms of electronic payments from consumers for its products and services must have a merchant account.
These accounts create an agreement between the business, their bank, and their credit processor stating how the business will receive money after a transaction is processed. Merchant account providers require a monthly or annual payment for the use of their services and charge the business per transaction.
Business Credit Card
Small businesses should also open a business credit card account to give them more payment options. A business credit card is also important in terms of keeping your business and personal expenses separate. Business credit cards let you monitor your spending and streamline your recordkeeping to free up more time to grow your business. Plus, many business credit cards come with perks such as rewards points or airline miles.
More From GOBankingRates