Banking 2023: 3 Bank Features That Are a Must for Gen Z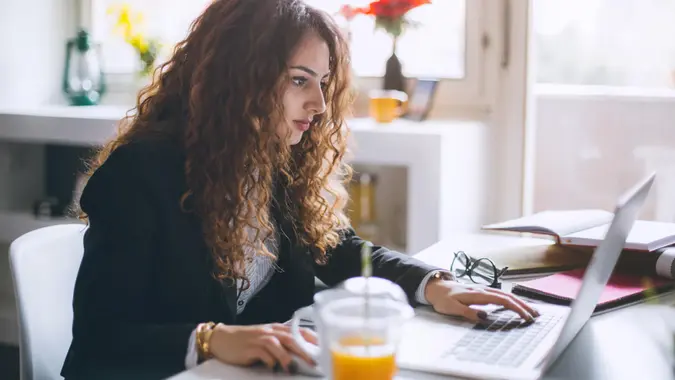 Pekic / iStock.com
Gen Z isn't a tough generation to crack in terms of what they hold in high regard. They're thrifty, tech-savvy and want a quality customer experience — values that are not only reflected in their loyalty to brands, but in their loyalty to and expectations of banks. They want low fees, good rates and constant access to customer service, along with clear, actionable sign-up bonuses. 
Are these things so much to ask for? A new GOBankingRates survey indicates that they may not be — and financial experts agree with Gen Z.
Gen Z Wants Low Fees
A GOBankingRates survey, which polled 1,000 U.S adults about their banking preferences, found that 31% of Gen Z respondents look for low fees in a bank.
"One of the main reasons that low fees are so important to Gen Z is that they are often on a tight budget and cannot afford to pay high fees for basic banking services," said Joseph Carpenito, financial advisor at Materetsky Financial Group. "This is particularly true for those who are just starting out in their careers and are still trying to establish their financial footing. By choosing a bank with low fees, Gen Z can ensure that they are not paying more than necessary for services such as checking and savings accounts, credit cards and loans."  
Gen Z Wants Good Rates 
The new GOBankingRates survey also found that 20% of Gen Z respondents prioritize good rates in their banking institutions.
"Good rates are also a top priority for Gen Z because they want to get the most value out of their money," Carpenito said. "This includes earning high interest on their savings and getting competitive rates on loans and credit cards. By choosing a bank with good rates, Gen Z can maximize their financial returns and get the most out of their money."
Gen Z Wants 24/7 Customer Service and Sign-Up Bonuses 
GOBankingRates' survey found that 12.5% of Gen Z respondents want 24/7 customer service and sign-up bonuses from their banks. 
"In addition to low fees and good rates, Gen Z also values 24/7 customer service when choosing a new financial institution," Carpenito said. "This is because they want to be able to get help whenever they need it, whether it's through online chat, phone support or in-person visits to a branch. This is especially important for those who are new to banking and may have questions or need guidance on how to manage their finances."
These Are Reasonable Things To Want in a Bank 
"Low fees and good rates make sense for any generation, and 24/7 customer service is likely table stakes and expected with Gen Z as most of these individuals have no experience before living digitally via the Internet and mobile devices," said Matt DiGangi, a financial executive with MassMutual. "They educate themselves online. They read and watch videos online. They live their lives online. This is one reason why digital transformation is, or should be, on steroids in many companies today. It would be interesting to understand, however, what financial transactions Gen Z would expect or be willing to do in person."
Other qualities that Gen Z should look for in a bank, according to Julian B. Morris, CFP®, ChFC®, AAMS®, CRPC®, CFS®, BFA®, founder and CEO of Concierge Wealth Management, are "high-yield savings accounts, which are currently around 3.3%."
If a Bank Doesn't Offer These Services, a Switch Is Warranted 
GOBankingRates' survey found that 17% of Gen Z respondents are not satisfied with their banks, and that a third are considering changing banks, with 17% wanting better products and services and 12% seeking online access.
"I'm surprised that 12% of people are still seeking online access," said John Halkins, a senior investment advisor at Retirement Expert. "What banks are not offering their services online in this day and age? What's more surprising to me as well is that most banks assume that simply replicating their current process online makes them digital which is so far from the truth. Banks which fail to transform themselves digitally will meet the same fate as Nokia or Blackberry did in the smartphone market." 
More From GOBankingRates