How Bank Mergers Affect You and Your Money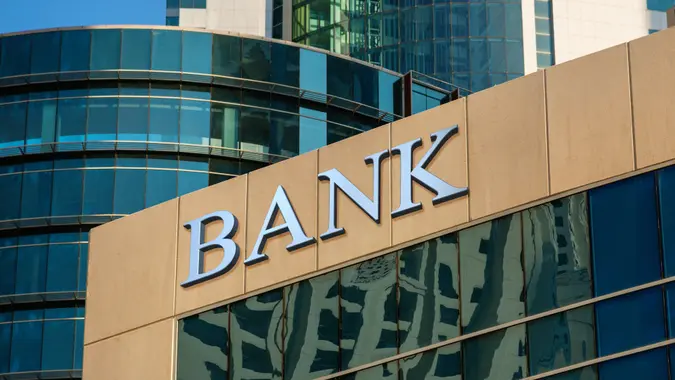 ultramarine5 / Getty Images/iStockphoto
The banking industry probably isn't something you think about unless it's in the news. Likewise, banks may seem like permanent fixtures, but many of them change or merge with other banks for a variety of reasons.
Explore: GOBankingRates' Best Banks of 2023
Retirement at Any Age: Get Retirement Tips That Fit Every Stage of Life
The Future of Finances: Gen Z & How They Relate to Money
If a merger happens to your bank, what can you expect? Experts say it's not a reason to panic, but there are some considerations you'll want to keep top of mind — and adjustments you may need to make. Here's what you should know.
Stay Tuned to Account Changes
Customers of a merged bank may see changes to their account information, such as new account or routing numbers or modifications to online banking systems, said Kevin Baxter, a personal finance expert and the financial advisor of MoneyToday. "It's essential for customers to keep an eye out for any communication from the bank regarding changes and to make sure to update any automatic payments or direct deposit information."
FDIC Coverage Could be Affected
It's also essential for customers to be aware that Federal Deposit Insurance Corporation (FDIC) insurance coverage may be affected by a bank merger, Baxter said.
"The FDIC insures deposits up to $250,000 per depositor, per insured bank. So, if a customer has more than $250,000 on deposit at one bank and that bank merges with another, their deposits may exceed the insurance limit. It's always good to keep an eye on your account and your transactions to detect any problems at the earliest."
Take Our Poll: How Big of a Sign-Up Bonus Would It Take for You To Change Banks?
Fees May Increase
Following a merger, banks often look for ways to cut costs, which leads to an increase in fees for consumers, according to Young Pham, project manager of Bizreport.com. "This can include charges for account maintenance, ATM withdrawals, and other banking services. Banks may also increase rates on loans or credit cards, check-cashing, and wire transfers after a merger, making borrowing and other transactions more expensive for consumers."
Minimum Balance Requirements May Change
Among these other changes, a bank merger may result in changes to the minimum opening deposits for accounts like savings accounts, and new minimum balance requirements for other accounts to avoid monthly fees, according to Steven Holmes, senior investment advisor at iCash.
Mortgage and CD Rates Should Not Change
Mortagage and CD holders should not be concerned about a bank merger, said Holmes. "A CD is a contract with a fixed rate. It is a requirement under the law that comes along with a purchase. They are not permitted to terminate the agreement in the middle of it. Mortgages are exactly the same. A merger does not void your contract with your former bank. These legal responsibilities are transferred to the acquiring bank."
Internet Banking Credentials May Change
Customers can find adjusting to new internet banking credentials challenging after a merger, said Tom Koesternen, a chartered financial analyst (CFA) at fortheguaranteedloans.com. "Depending on the individual bank, the login IDs can change. The customer has to remember a new set of login IDs and passwords. The procedure might be different with the new identity. It can take some time to get used to it."
Credit Cards, Debit Cards and Mobile Banking Apps May Change
Usually, the bank recalls existing credit and debit cards to issue new ones in a merger, Koesternen said. "The customer has to set new PINs and remember them accordingly. The payment details will also change."
Additionally, a merger can result in having to download new mobile banking applications and registering again, Koesternen said. "These processes take time. The interface can be different, requiring the customer to adjust to them accordingly."
Remittance Details Can Change
Bank mergers may also result in customers having to note new remittance details like SWIFT codes and other local remittance credentials, Koesternen said. "It can be problematic for business customers because they have to change the details with their clients to receive money."
Other changes can include interest rates and product details, as well as a need to update bank details in any loan paperwork or other places where bank details are required, such as direct deposits made from employers or payers.
Disruptions in Service, Branch Closures
The merger process can cause disruptions in banking services, such as online banking access, said Andrew Lokenauth, a finance executive with BeFluentInFinance.com. "Additionally, bank mergers can also lead to branch closures, which can make it more difficult for consumers to access their accounts and banking services."
Increased Efficiency and Cost Savings Can Lower Your Fees
Despite all these potential problems, there are benefits of bank mergers as well. One of the best is that they can lead to increased efficiency and cost savings for the combined bank, Lokenauth said.
"This can result in lower fees for consumers and better rates on loans and deposits. Additionally, bank mergers can also lead to increased access to banking services and products, such as online banking, mobile banking and investment options."
More From GOBankingRates