7 Ways Gen Z Handles Banking in 2023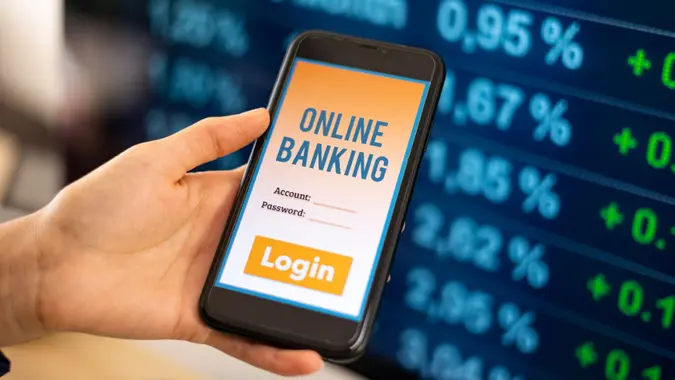 When it comes to finances, what does Gen Z care about? How Gen Z approaches money will dictate the steps banks need to take to keep up.
GOBankingRates recently surveyed members of Gen Z who are 18 and older to find out their banking preferences and better understand the future of financial institutions. Here's what the top findings were. 
Gen Z Is Looking for Lowest Fees Available 
When those in their teens and 20s are looking for a bank, 31% of respondents said they're looking for the lowest fees. This could apply to opening an account, overdraft fees, transfer fees and the like. The less there are, the better for Gen Z. The next most popular feature Gen Z looks for is good rates, which applies to the best APY on savings accounts. 
The least attractive perk for Gen Z? Low minimum deposit requirements and variety of accounts. Just 7% of respondents named these as the top features they look for.
Most of Gen Z Has Less Than $100 in Account
A third of those surveyed said they have less than $100 in their checking accounts. This is a little surprising given the lack of interest in a minimum deposit requirement. However, it could suggest that fewer banks are demanding a minimum deposit requirement given how much money Gen Z has to store.
When it comes to housing larger amounts (more than $1,000), just 26% of Gen Z respondents said they have that on hand. 
Savings Accounts Look Similar to Checking Accounts
Those surveyed gave very similar responses to amounts kept in checking vs. savings. The top answer, given by 31% of respondents, said they have $100 or less in their savings accounts.
However, that's not to say Gen Z doesn't save at all; one in six has more than $5,000 saved. With the good rates they're looking for, they're probably earning a nice interest payment as well.
Mobile Banking Is King
An overwhelming majority at 66% of respondents said mobile banking (i.e., an app) is their preferred method of access. About one in five preferred online banking, leaving just 14% who prefer to bank in person.
Checks Aren't Totally a Thing of the Past
As you might have suspected, Gen Z doesn't write a ton of checks, with 43% of respondents saying they haven't written one in the past year. However, 28% said they write at least one check a month, suggesting that many rent payments are still made using pen and paper. 
Gen Z Doesn't Really Care About Crypto
Though crypto was the hot financial term on everyone's lips in 2021, it's hardly a consideration for Gen Z when they're choosing a financial institution. Just 9% of respondents said it's very important to them for their bank to be affiliated with a crypto exchange or platform. Just 7% said they expect their bank or credit union to offer crypto services. 
Once Gen Zers Find Banks, They're Locked In
Attracting Gen Z to a bank is the biggest hurdle — after that, they're pretty much set.
Of the survey respondents, 83% said they're satisfied with all of the banking products and services offered by their bank or credit union. When asked why they stay with their bank, 49% of respondents said it's simply because they have no desire to change, with 19% saying they don't want to switch for fear it will be difficult and time consuming.
When asked what amount of a sign-up bonus would make them switch, $300 was the even split amount — half expecting an amount below that and half wanting more. The largest percentage (24%) would settle for $100 or less.
More From GOBankingRates