AccountNow Gold Prepaid Card Review: Manage Your Money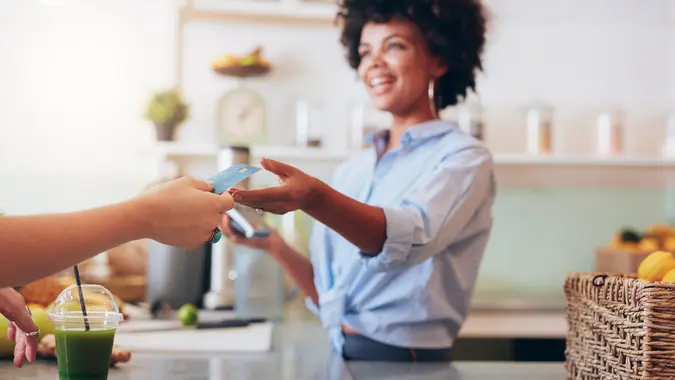 Jacob Lund / Shutterstock.com
Update: Some offers mentioned below may have changed or are no longer available. View current credit card offerings from our partners at CardCritics here or on the issuer's website.
If you're looking for a more effective way of managing your money then you might want to consider getting a prepaid Visa card from AccountNow. As a subsidiary of the Green Dot Corporation, AccountNow offers prepaid Visa cards as an alternative solution for people who don't have a bank account. Its service allows you to directly deposit your payroll and benefits checks onto a Mastercard or Visa and even pay bills online with its prepaid cards.
Take a look at the AccountNow Gold Visa Prepaid Card to see if it's right for you.
Read on to see the best prepaid debit cards with no fees.
AccountNow Gold Prepaid Card Review
The AccountNow Gold Visa Prepaid Card operates like one big gift card, in that you simply frontload money onto the card and use it whenever necessary. Unlike a checking account, there are no overdraft fees. Instead, you just deposit more money to your account when your funds drop to $0. You can do this manually or through direct deposit.
With direct deposit, you can potentially receive your paycheck and other benefits — such as unemployment and Social Security — at least two days faster. Also, you can save $250 a year in check-cashing, and more than $500 a year by using an AccountNow prepaid card instead of check-cashing services.
Advice: Walmart MoneyCard vs. Green Dot and More — the Best Prepaid Debit Cards
AccountNow Gold Visa Prepaid Card Key Features
The AccountNow Gold Visa Prepaid Card comes with many benefits; here are the ones that stand out:
FDIC-insured accounts
Free direct deposit
No credit check needed
Valid everywhere Visa cards are accepted
$15 bonus with qualifying direct deposit
You can reload money to your account via:
Western Union
Visa ReadyLink
MoneyGram
Green Dot Reload
Green Dot MoneyPak
Pros:
Not requiring a credit check isn't the only thing that makes this card worth considering. Check out the other perks of the AccountNow Gold Visa Prepaid Card.
FDIC-insured
Mobile banking
No overdraft fees
No minimum balance required
Can receive all deposits at least two days faster
Everyone accepted; no credit check needed
Protection against identity theft with Visa Zero Liability policy
Cons:
But like with any banking product, there are some items to consider with the AccountNow Gold Visa Prepaid Card:
Multiple fees:

Monthly service fee: $9.95
Monthly statement fee: $1.00
Balance inquiry fee at ATMs: $1.50
Foreign currency conversion fee: 3 percent of total transaction amount
Check Out: Pros and Cons of Prepaid Debit Cards
The Bottom Line on AccountNow
For people who have a hard time balancing their checkbook or are in the process of rebuilding their credit, this could be a great option. Because the AccountNow Gold Visa Prepaid Card only subtracts money guaranteed in your account, you won't get hit with an insufficient funds fee.
Up Next: The 30 Best Banks of 2018
More on Credit Cards
GOBankingRates is a personal finance and consumer interest rate website owned by ConsumerTrack, Inc., an online marketing company serving top-tier banks, credit unions, and other financial services organizations. Some companies mentioned in this article might be clients of ConsumerTrack, Inc., which serves more than 100 national, local and online financial institutions. Rankings and roundups are completely objective, and no institution, client or otherwise, paid for inclusion or specific placement. Any opinions, analyses, reviews or recommendations expressed in this article are those of the author's alone and have not been reviewed, approved, or otherwise endorsed by the companies included in the article. All fees and rates are subject to change at the issuers' discretion. Some interest rates might be short-term or promotional offers only, and it is possible additional terms and conditions must be met in order to obtain the interest rates listed. Rates and availability might vary by region. Verify terms and conditions before opening an account.