Credit Card Fasting: How It Helps You Achieve Financial Success Quicker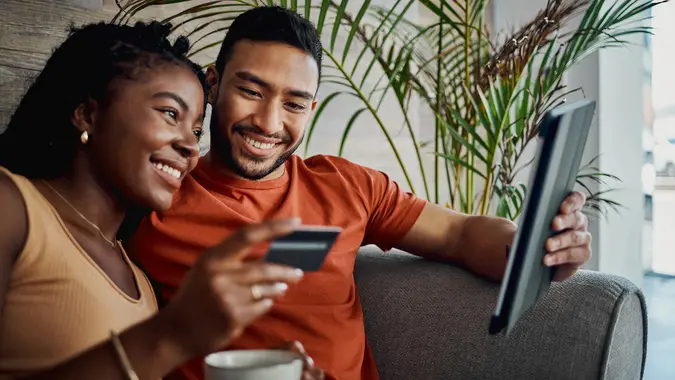 Delmaine Donson / iStock.com
While the idea of fasting usually applies to a dietary practice, there's a new trend brewing in the financial realm which applies to credit card debt — and can yield tremendous results.
Gas Prices: How To Save Money at the Pump
Explore: Keep an Eye Out for Rare Dime Worth as Much as $2,000
The idea behind credit card fasting is basically to stop swiping for a period of time and focus on using liquid assets instead such as a debit card, checks or cash. "Good Morning America" recently profiled a New Jersey mother who voluntarily entered into a credit card fast and, through her efforts, purchased a home in the long run.
"When you're using cash or debit, you can see [that] you don't have enough money," Lisa Samalonis told GMA. "It's having the awareness to know that you're actually spending more than you have."
For Samalonis, abstaining from credit cards allowed her to budget more effectively, only using the money she had at her disposal and thereby preventing more debt, which improved her credit score. Over a period of time, she was able to save enough money to have a down payment for a house.
The Fiscal Literacy blog added that credit card fasting can apply to any situation where you have a financial goal; they suggest making it a game with friends or family members to see who can go the longest without using their cards to keep the motivation alive. As the article stated, "a credit card fast gives us the opportunity to work on improving our financial habits by forcing us to pay [with] cash […] Cash is a limited resource that must be managed to ensure we have enough money to last until our next paycheck."
The issue of high credit card balances is so prevalent among American households that GOBankingRates recently found that 30% have between $1,000-$5,000 in credit card debt, and 33% believe it will take them two years or more to pay it off. Additionally, 15% have been in credit card debt for 15 or more years.
See: 4 Government Agencies That Help Pay Off Student Loans
Find: When Does It Make Sense To Pay Taxes With Credit?
If you want to start your own credit card fast, Samalonis has some words of advice:
Compartmentalize finances: Separate needs and wants by creating a hierarchy of expenses. Focus on housing, food and utilities first, and make sure you'll have enough in your bank account to pay for them. If you have money left over, you can go down the list and add in some of your wants — or keep saving.
Accumulate savings: Many consumers use credit cards for emergencies, but when you're in a fast and intend to stick to it, it's important to accumulate savings for unexpected bills instead.
Pay off balance monthly: Called "zero-based budgeting," setting money aside from your bank account to pay the balance on your credit card each month will keep interest payments low.
More From GOBankingRates