Which Credit Cards Do Oprah, Beyoncé and Other Rich People Use?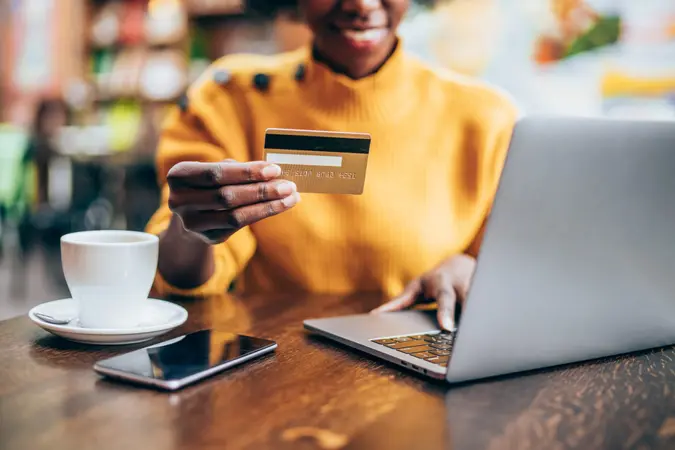 VioletaStoimenova / Getty Images/iStockphoto
Update: Some offers mentioned below may have changed or are no longer available. View current credit card offerings from our partners at CardCritics here or on the issuer's website.
You wouldn't imagine that the wealthiest people need to use credit cards, given how much liquid cash many of them seem to have at their fingertips. But they do — just not necessarily at the same level of credit that most of us use. 
Not all credit cards are built alike, or even on a level that most could ever imagine using. The credit cards on this list are quite possibly the most exclusive and elite credit cards in use, requiring wealth beyond the average American's dreams and providing perks that match the fees they require.
Even if you had the wealth to make using one worthwhile, there's still not a guarantee that you could gain access.
American Express Centurion Black Card
Even if you had the significant cash to afford the annual registration for this elite credit card, chances are slim that you would get one. That's because it's invitation only, according to Business Insider. This credit card is only offered to a select number of customers.
Famous people rumored to have this card include Oprah, Beyoncé and Jerry Seinfeld, according to CondeNast Traveler. If you're wealthy enough to have spent and paid off between $350,000 to $500,000 across any of your American Express accounts, you might land on the Centurion's radar. Allegedly it has a $7,500 initiation fee and a $5,000 annual fee, as well, so you really have to have deep pockets to make this card work for you. 
And, why would you go to such an expense to get this card? For one thing, there is allegedly no spending limit on the card. Second, you'd want it for the perks and benefits, which include: special status at such hotel chains as Marriott, Hilton, Intercontinental Hotels Group and Relais & Châteaux. This status entitles the card user to upgrades, later checkout times, credits for resort and spas and complimentary breakfast. 
This card will also get you airline perks, such as access to airport lounges and meals, free global entry pass and perks particularly with Delta Airlines, according to The Points Guy, such as free upgrades, bonus miles and cash-back rewards when you redeem miles, priority check-in and other fee waivers, to name a few. You can also get discounts and deals on cruises, car rentals, wine and dining.
Find Out: Why It's Still Better To Use Your Credit Card Over Your Debit Card 
And just when you thought those were good perks, you can also earn up to $1,000 in credit at the swanky Saks Fifth Avenue per year with this card, according to Business Insider.
But perhaps the most coveted reason that anyone wants an AmEx Centurion is due to the unique concierge service that comes with it. While AmEx advertises these services as such things as helping you to find babysitters, body guards, tour guides, send gifts, attend to business items and make reservations, rumor has it they've gone to extreme lengths for clients. According to CNBC's "Make It," concierges have purchased such wild items as the horse Kevin Costner rode in "Dances with Wolves" (delivered to Europe), and sand from the Dead Sea, obtained by motorcycle.
JP Morgan Reserve (Palladium) Card
Another status symbol credit card is the J.P. Morgan Reserve (Palladium) card, however this is a card that just screams "hedge fund manager" instead of "jet-setting celebrity." What's the Palladium got to do with it? The card is made of the precious (pricey) metal, as though plastic isn't high status enough, according to Credit Card Insider. That metal makes it the heaviest credit card you'll ever carry in your wallet, which would also need to be pretty heavy given the financial requirements of the card.
This card is also invitation only, and above that, you need to be a member of J.P. Morgan private bank. To be a member of said bank requires you have at least $10 million in "investable assets," according to the Wall Street Journal.
Perks include lots of ways to earn rewards points, such as through travel and dining and extra points for Lyft rides (through March 2022).
Other perks include annual travel credits; priority pass membership that gives you airport lounge access at over 1,200 airports; complimentary DoorDash subscription that waives your delivery fee; travel insurance; and rental car coverage. You'll also have access to free room upgrades and breakfast at Chase's luxury hotel and resorts among others.
But mostly, when you whip out your shiny metal card, you'll have a status symbol few can claim.
See: What Happens When You Get Denied for a Credit Card — And What To Do Next
Dubai First Royale MasterCard
If you thought Palladium sounded cool, wait until you hear about the Dubai First Royale MasterCard, which CNBC says is illuminated in real gold and includes an actual diamond of .235 carats in the card's center. According to a past article of ours, it's rumored to have a $2,000 annual fee.
While little is known about its fees, according to LendedU.com, it is considered "the most exclusive credit card in the world" and may only have about 200 cardholders total, most of them members of the Dubai and Saudi royal families and other extremely wealth people. This is one card that may be so elite, even the average millionaire doesn't stand a chance of receiving an invitation to use it.
Though little is also advertised about the perks, LendedU reports that this card is said to come with a "dedicated relationship manager and lifestyle manager" who is available 24/7 and can arrange pretty much anything your heart desires.
More From GOBankingRates
All information about American Express card offers has been collected independently by GOBankingRates and has not been reviewed or approved by American Express. These offers are not available through GOBankingRates.
Editorial Note: This content is not provided by American Express. Any opinions, analyses, reviews, ratings or recommendations expressed in this article are those of the author alone and have not been reviewed, approved or otherwise endorsed by American Express.