Do You Need To Alert Your Credit Card Company Before Making a Big Purchase?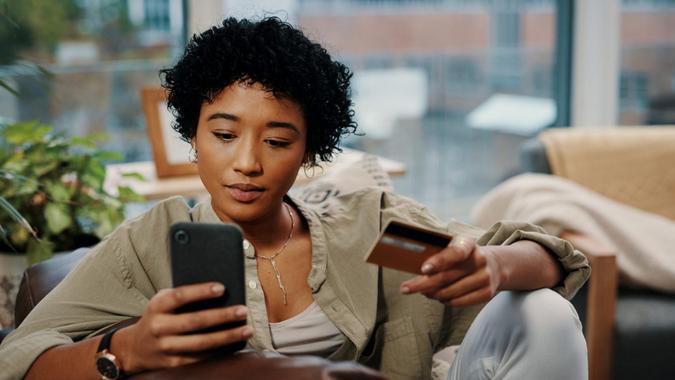 Delmaine Donson / Getty Images
It's a familiar story: Most of the time, you use your credit card for smaller purchases. Perhaps doing some shopping or paying a few bills. But then a new iPhone is released with its ever-increasing price tag. You want to put it on your credit card, but you aren't sure if you should alert your credit card issuer first.
See: 10 Things to Do Now If You Have a 500 Credit Score
Read: The Top Things To Consider Before Applying for a New Credit Card
Like many things in life, though, there isn't a simple "yes" or "no" answer to this question. In reality, there are some considerations that could affect whether you have to alert your credit card company. That's what we'll take a look at in this article.
Your Spending History Matters
The first thing to know is that, indeed, your spending history matters. In other words, what is a big purchase for you may be small for someone else. If you have rarely if ever spent more than $200 at a time and now you are planning to spend $999 or more on a new iPhone, that could be a red flag and trigger security measures.
Discover: 10 Credit Score Myths You Need To Stop Believing
Another way to look at it is in terms of your credit limit. For example, so the credit card you want to use to buy your new iPhone has a $5,000 limit. If you charge $1,000 to that card, you would be exhausting 20% of your limit with a single charge. That could be a red flag because you are using so much of your limit on a single purchase.
"Consider alerting your credit card company if you typically have a modest spending profile and are buying a big-ticket item at a new store, particularly if the item's price is above 50% of your credit limit," said Andrew Latham, certified personal finance counselor and managing editor at SuperMoney.com. "Credit card companies flag purchases in new ZIP codes or if you suddenly change your spending patterns."
Thus, one step you could take is to glance at your credit card statement. If you have spent this much on your card several times in the past, then it is normal and wouldn't be cause for concern from the credit card company.
Find Out: 10 Signs That It's Time To Ditch Your Credit Card
Your Card Issuer Matters, Too
Every company that issues credit cards is different. They all have different policies and procedures, meaning the way they treat big purchases is different, too. Some will send you a text message asking you to confirm, some will decline the transaction and others may take no immediate action at all.
For instance, Chase Bank sends fraud alerts via text message, email or push notification. Chase notes it will send these alerts when there is a "high" transaction, according to its website. Bank of America sends alerts for unusual activity.
Be Aware: 18 Reasons Why You Should Be Using Your Credit Cards More
With Citibank, if there is suspicious activity, the bank will contact you by text, email, phone or mail to confirm the activity on your account. Your experience may vary, but the larger point is that every bank is different and has different policies and procedures.
In general, it never hurts to let your card issuer know about larger purchases ahead of time. If you don't, there won't be any major consequences; at most, the issuer may put a hold on the transaction until you verify by call or text. Still, if it gives you peace of mind to call ahead of time, there is no harm in doing so.
Tips: I Use These 3 Foolproof Strategies To Avoid Credit Card Debt
International Travel
What about international travel? Even if you aren't making large purchases, you might wonder if using your credit card while abroad could be a red flag. However, keep in mind that some credit cards are specifically meant for travel. Major banks like Chase used to recommend cardholders alert them about upcoming travel, but that has since changed.
Read More: How To Use Your Credit Cards To Make Money — and To Save Money, Too
According to Chase, its enhanced security measures mean you no longer have to alert the bank. Instead, you will simply receive an alert if there is any unusual activity detected.
Because security measures are always changing and evolving, it's best to check with your bank whether travel notification is necessary. Chances are, they will simply reach out to you if anything unusual is detected. Still, it can't hurt to find out whether your bank requires notice ahead of time. That way, you can be sure there will be no interruptions during your trip — one less thing you have to worry about.
More From GOBankingRates
Last updated: Oct. 5, 2021