How To Log In and Pay Your Fortiva Credit Card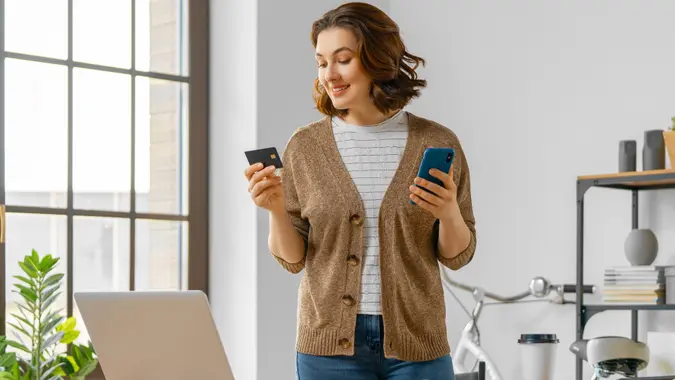 Choreograph / iStock.com
The Fortiva credit card is an unsecured credit-building card for those with fair to poor credit. To help cardholders avoid late payments, Fortiva provides several ways for most cardholders to submit a payment — by mail, phone, online account access or using the Fortiva app.
To pay online or through the app, you will need a Fortiva credit card login.
Creating a Fortiva Credit Card Login
You can create a Fortiva credit card login on the Fortiva website or using the Fortiva Account Center app.
On the Fortiva Website

To create a login on the Fortiva website:

From the main menu, select "Account" and then "My Account." 
On the Fortiva My Account page, click "Create Account."
With the Fortiva App

To create a login using the Fortiva app:

Download the Fortiva Account Center app to your mobile device from Google Play or the App Store.
Install and launch the app.
From the launch screen, tap "Create Account."
Making a Fortiva Payment 
You can make a Fortiva payment by mail. Some cardholders can also pay by phone, online or by mobile app.
By Mail
To make a payment by mail, send a check or money order and your payment coupon to the payment address on your monthly statement.
Mailing the payment to any address other than the one on your statement or without a payment coupon may delay payment posting and result in late fees. Payment must be received by 5 p.m. Central Time on the due date to be credited on time.
Online or Mobile App
If your Fortiva credit card account is set up to allow payment online or through the mobile app, you need to link a checking account to the app to serve as the source of payment.
Once you have connected an account, you can log in and schedule payment of any amount. 
By Phone
Some cardholders can make Fortiva credit card payments by phone. Contact Fortiva customer service to determine if pay-by-phone is available for your account.
Contacting Fortiva Credit Card Customer Service
For customer service, contact Fortiva by phone at 1-800-245-7741. You can also email service@myfortiva.com or submit an email form on the Fortiva website's Contact Us page.
The mailing address for customer service correspondence is:
FortivaP.O. Box 105555Atlanta, GA 30348-5555
This address is for customer service only. Do not send Fortiva payments to this address. 
Takeaway
Fortiva reports credit card account activity to all three major credit reporting agencies, including late and missed payments. If you are using the Fortiva credit card to improve your credit score, you don't want payments to be late. 
When paying by mail, be sure to send payments to the correct address and in plenty of time to get credited as an on-time payment. If you have a Fortiva credit card login, you may find it easier to make on-time payments online or using the Fortiva app.
Editorial Note: This content is not provided by Fortiva. Any opinions, analyses, reviews, ratings or recommendations expressed in this article are those of the author alone and have not been reviewed, approved or otherwise endorsed by Fortiva.