Here's How to Save Thousands by Negotiating Lower Credit Card Interest Rates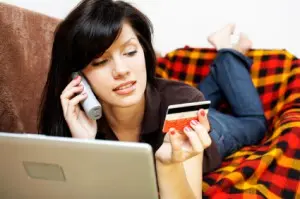 Credit cards are great tools when used appropriately, but sometimes you find yourself getting in over your head. Before you get too deep, take a few minutes to make a phone call that could save you hundreds or even thousands of dollars. I'm talking about negotiating lower credit card interest rates.
Learning how to negotiate lower credit card rates doesn't have to be intimidating. It's actually easy once you learn a few tips and tricks. You no longer have to be intimidated by credit card companies, and you might be surprised how often they'll agree when you ask for a lower rate on your credit card.
When you first signed up for your credit card, chances are you were given an introductory rate. Introductory rates often end after a period of six months to a year. At the end of this time, your credit card rates typically go up automatically, even if you've been a good customer and paid your credit card bill in full, or at least on time each and every month.
Armed with your credit card bill and a few of those advertisements you've received in your mail box for a lower interest rate credit card, it's time to get to work on lowering your rate with your current company. (Tired of preapproved credit card offers? Opt out!).
Keep reading: Shut Off Preapproved Credit Card Offers and Other Solicitations 
The Art of the Negotiation
Remember, you have nothing to lose. They already have you as a customer, and if you've been paying on time, and have been a customer with them for any length of time at all, they'll likely want to continue doing business with you.
So call your credit card issuing company and ask to speak with a customer service representative. Gently, but clearly, remind them that you've been a loyal customer for however many months or years. For instance, "I've been a loyal customer for five years now, and I have a question." This is a polite and affirmative way to begin the conversation.
Ask the customer service rep if there is any way they can reduce your interest rate, then wait and see what they offer. Occasionally, you'll get a customer service representative who asks you what you have in mind for an interest rate.
Watch how easy it can be to negotiate your interest rate with a credit card company:
Utilize the Evidence
Using the advertisements you've received in the mail, and any online resources you've been able to find, tell them that company X has offered you a credit card at X percentage rate. Ask, "Can you beat that deal?"
If they say they can beat it, listen and find out how. If they can't beat the rate you mention, find out what they can do for you. Perhaps they can waive your annual fee or offer you some other perk.
If the company you're with isn't willing to make a comparable offer to the others you have in hand, it's time to seriously consider going with one of the other companies. However, before you close your first account and sign up with someone new, compare your current interest rate with the new one. If the new one is only introductory, ask if you can transfer your balance from the old card to the new card.
Also, compare annual fees and confirm they're comparable as well. Once you've completed these checks and you're sure the new company is a better deal, then go ahead and transfer your cards if the current company won't work with you.
It certainly won't cost anything but a phone call to negotiate a lower credit card interest rate. And you just may find that you've gained a few more dollars in your bank account every month by getting your rate lowered. Remember what mom always said: You'll never know unless you ask.