How Do I Avoid APR on My Credit Card?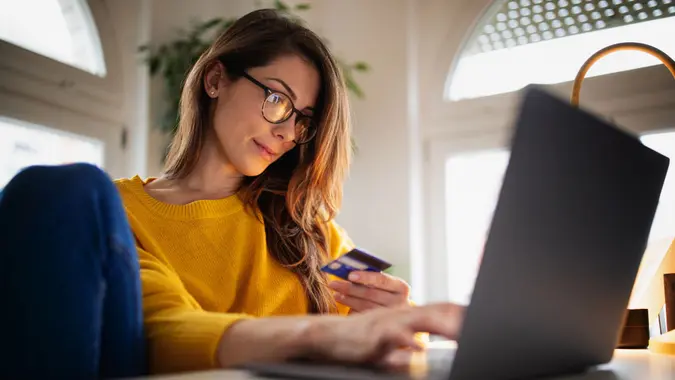 Dusan Atlagic / Getty Images
Credit card account holders typically incur interest on the money they use from their credit line every billing cycle. The toll this can take on their wallets may leave them wondering how to avoid interest on credit cards altogether. The most common answer: paying in full on time.
However, there are some other methods that can spare credit card users the financial pain of paying more than they borrowed.
How To Avoid Interest on a Credit Card
There are numerous ways to avoid interest on credit cards, the most obvious being to pay your bill before the due date so you don't carry a balance. Here's are the most common methods.
Paying the bill in full every month
Taking advantage of introductory and promotional APRs
Steering clear of cash advances
Using balance transfers
1. Paying the Bill in Full Every Month
This is perhaps the most obvious technique for keeping credit card debt at bay and avoiding interest. Most credit card issuers give account members a grace period to pay their balance in full before they apply any interest. However, any revolving balance that carries over to the next cycle will mean losing this privilege and accruing interest on new purchases immediately.
Paying your bill in full and on time every monthly billing cycle is also the best way to improve your credit score.
2. Taking Advantage of Introductory and Promotional APRs
Introductory 0% APRs allow cardholders to finance big purchases without having to think about interest — at least for a while. Using this privilege wisely can allow them to skip any hefty payments even if they aren't able to pay their balance in full throughout the duration of the promotion.
Yet account members need to be mindful of how long their introductory APR will last and the conditions behind the promotion before spending that money. This way, they can avoid any nasty surprises down the line and still receive a prime rate.
3. Steering Clear of Cash Advances
Cash advances refer to money withdrawn from an ATM using a credit card. These transactions don't get a grace period; they immediately start accruing interest, which tends to be higher than the APR incurred for normal credit card purchases.
Additionally, most issuers also charge a cash advance fee, which is typically higher than 5%.
4. Using Balance Transfers
Sometimes, account members can take their outstanding balance from a credit card and transfer it to a new account with a 0% introductory APR. This allows them to avoid paying any interest until the promotional APR on their new credit card ends. This is an excellent way to minimize credit card debt, especially for those who owe a significant amount of money.
Staying vigilant on your average daily balance can help in the long run. It can even allow cardholders to pay their old balance in full without having to worry about interest at all if they play their cards right.
What Is Credit Card Interest?
In a nutshell, interest refers to the cost of borrowing money from any type of lender, including credit card issuers. Credit cards allow cardholders to borrow money to pay for their purchases upfront. The only condition is that they must pay it back, along with any accrued interest that has been applied to their monthly statement.
With credit cards, interest normally comes in the form of an annual percentage rate — or APR. Banks and other issuers use a set formula to determine the APR cardholders must pay on their outstanding balance. The APR may vary depending on the type of loan and numerous other factors. Depending on the card, it can be calculated daily or monthly.
When Do Credit Card Issuers Charge Interest?
To learn how interest works, it's important to understand the concept of a revolving balance. This refers to the unpaid portion of a cardholder's debt that is carried over to the next billing cycle. A revolving balance is the most common cause of interest for credit card accounts — and any balance that has accrued interest also gets charged interest on top of that, known as compound interest.
It's the account holder's responsibility to perform their due diligence before applying for a new credit card to know how their particular issuer will handle interest.
Types of Credit Card Interest
Although APR is the primary type of interest charged for outstanding credit card balances, there are some other rates associated with borrowing money. Sometimes, certain accounts may also have different interest rates and fees for specific transactions and late payments. In order to avoid interest on their credit cards, cardholders should grasp the following concepts.
Variable Rates
This type of APR is based on an index that lenders turn to when setting their rates. A variable-rate APR may also be impacted by creditworthiness and late payments, depending on the card. Credit card agreements will state how this type of interest can change over time.
Fixed Rates
These rates are steadier than their variable counterparts; however, they still may change over time. It's the issuer's responsibility to let cardholders know about adjustments to fixed rates ahead of time so that they can plan accordingly.
Fixed-rate APRs may also be affected by late payments, but they don't take an index into account.
Promotional Rates
Some issuers offer special rates to new customers or those who complete a balance transfer. The rate may vary from one financial product to another, but some go as low as 0% for the first few months — or even up to 21 months.
Promotional and introductory rates are designed to attract new account holders, so they can be rather generous.
How Much Should You Pay on Your Credit Card To Avoid Interest?
Paying the balance in full each cycle is the best way for cardholders to stay out of debt and avoid interest. The amount due will vary from one customer to another, simply because everyone has different spending habits and will owe different amounts.
Some introductory APRs may allow cardholders to pay only a small portion of their balance every cycle without incurring any interest until the promotion expires. Still, debtors must tread carefully and check their credit card agreement before they make any final decision that could increase their interest over time.
Final Take
Credit card interest rates are rising nowadays. That's why more and more customers are on the lookout for different ways to bypass these hefty charges and avoid credit card payments that are higher than they should be.
The guide above is meant to empower cardholders to reduce their debt and play it smart when it comes to interest. Paying their balance in full and being responsible for how much they borrow each cycle will help keep any credit card owner out of financial trouble.
Daniela Rivera-Herrera contributed to the reporting for this article.
Our in-house research team and on-site financial experts work together to create content that's accurate, impartial, and up to date. We fact-check every single statistic, quote and fact using trusted primary resources to make sure the information we provide is correct. You can learn more about GOBankingRates' processes and standards in our editorial policy.